JETRO Showcases US-Japan Business Relations at the Japan-Northeast Indiana Summit
Tsubasa Hashimoto, JETRO Chicago
Fort Wayne, Indiana


The Japan-Northeast Indiana Summit 2019 took place at Purdue University, Fort Wayne- Indiana on April 26th.


The purpose of the event was to develop and nurture the Japanese business community in Northeast Indiana and to update and discuss current economic issues related to the US-Japan and Indiana-Japan economic relationships.


The highly motivated economic development team of this area, the Northeast Indiana Regional Partnership, acknowledged the importance of creating opportunities to meet one another, in order to share information to retain, attract and grow Japanese companies' investments in the region.


At the Summit, the President of Northeast Indiana Regional Partnership, John Sampson, made his opening remarks, reporting how the population and the economy in Northeast Region are growing steadily. The northeast Indiana region had an inflow of 5,000 people last year.


Hon. Naoki Ito, Consul General of Japan in Chicago, explained the current US-Japan political relationship and celebrated the special economic and cultural connections between Indiana and Japan.


Ms. Kristin Dziczek, Center for Automotive Research, explained the current automotive industry, trade negotiations, and the U.S. tariff issue.


Understanding cultural differences was also mentioned during the panel discussion. Yoshi Ogawa from the Japan America Society of Indiana gave a lecture on the cultural differences that Americans could face when contacting Japanese companies, illustrated by examples that we have all experienced.


The last part of the Summit focused on workforce development.


Fred Payne, Commissioner of Indiana's Department of Workforce Development, explained the platform to boost up the state's workforce productivity. In a panel discussion moderated by JETRO Chicago's Chief Executive Director Ralph Inforzato, Payne presentated about Japanese companies' investment trends and JETRO's initiative on labor force issues. Rick Sereno of Oji InterTech shared some successful cases from his company and showed how his company is collaborating with a local high school.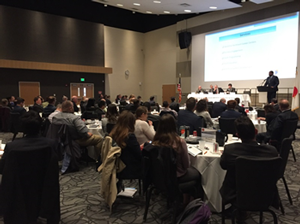 Ralph Inforzato, Chief Executive Director of JETRO Chicago, presentated about labor force issues.
After the event, the attendees were invited to a tour of Ivy Tech's Keith E. Busse Technology Center. The tour led by the Dean and faculty members provided attendees with better understanding of the school's technical programs for educating students who could transition seamlessly into the regional workforce.


This event serves as a state and Midwest benchmark for other U.S. economic development teams that wish to demonstrate the benefits made from Japanese companies' investments.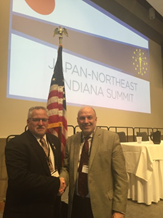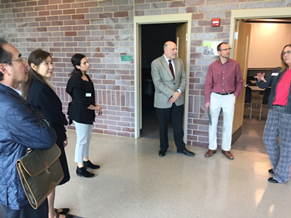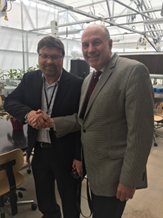 Mayor Long, City of Wabash and Ralph Inforzato. Local leaders also joined to build a relationship with Japanese companies.

For details about the Northeast Indiana Regional Partnership, click HERE.