JETRO Organized SHOWCASE: JAPAN at Shoppe Object 2019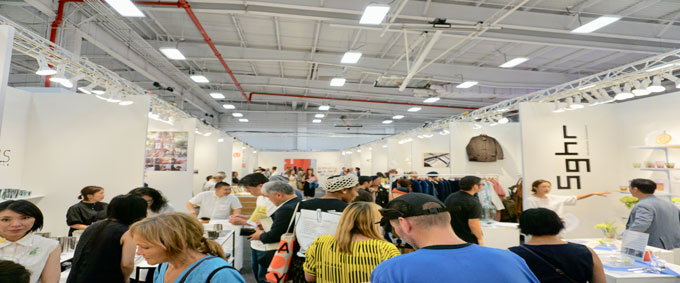 Shoppe Object is NY's latest concept in changing the trade show scene to a more specialized, engaging, niche feel. Specializing in hand craftsmanship, not only does the show present it through the 465 exhibitors this year, but also adds similarity to the type of food vendors they brought in, gallery-esque sections, and even a bookstore inside the floor.


The show this year also added some international touch, for example, introducing Japanese companies with true craftmanship. Joining forces with the organizers of Shoppe Object, JETRO brought 20 exhibitors from Japan to showcase their own craftsmanship harnessed and developed in Japan. This is the first year that JETRO organized booths for this show. Each company was also selected by members of Shoppe Object, who created a floorspace of newcomers, never before seen up-and-comers, as well as industry leaders and now adding the international aspect to it.


Shoppe Object and JETRO brought 20 exhibitors from Japan to showcase their
own craftsmanship harnessed and developed in Japan.


On why JETRO selected Shoppe Object this year, Shunsuke Sakado, Director of Public Affairs at JETRO New York stated,


"In recent years, trade shows lost uniqueness and we started seeing a trend of buyers shopping online instead of attending trade shows. JETRO has participated in other trade shows and we felt the same way or even felt that the trend got accelerated. To that extent, when I first visited Shoppe Object in February 2019, I was so impressed with how the organizers curated the exhibitors by hand selecting them. Not only that, I felt the atmosphere, size of the event, and the type of buyers attending were best suited to showcase these Japanese products."


Spanning an entire aisle on the Southern end of the show, you could immediately notice a different vibe. The moment you enter the section, 20 exhibitors are lined up colorfully displaying unique craftworks. From a bread lighting up, metal and glass tumblers, traditional cleaning supplies, various silkscreen prints, "Aizome"- centric clothes and handkerchiefs, woodwork skills featuring cookware and music, eco-sensitive material, and many more. Not surprisingly, a number of these exhibitors have won awards in Japan, some even in other countries.


A few exhibitors also mentioned that this is the first time to exhibit outside of Japan. While speaking with the exhibitors, we often heard that the show gives them a perspective of how different the US market is and the way attendees interact with exhibitors. One noted, "In Europe, the shows I exhibit generally have attendees that are mainly distributors. Compared to that, I was surprised to see many shop owners attending this show." However, there were several occasions where attendees would take their time speaking to each exhibitor and end up coming back with friends the second time for them to get a demonstration or presentation.


PAMPSHADE BY YUKIKO MORITA showing the entirely new concept of interior
lights made of real bread.


On SHOWCASE: JAPAN, Shunsuke quotes, "I believe SHOWCASE: JAPAN brought a new breath to the show and based on the amount of foot traffic, it showed results. The Japanese exhibitors were able to gauge their product outreach in the US market by speaking to many similar US based companies and the Attendees certainly were able to see the dedication and work behind these Japanese crafts."


I personally spoke with a few others who have been exhibiting with Shoppe Object prior to this year. Perhaps maybe because this trade show is all about craftsmanship and Japan is well known for its skills, they were excited that JETRO brought these Japanese companies and took interest in visiting the booths themselves.


SHAQUDA: handcrafted brush brand created through a fusion traditional Kumano
brush craftsmanship.


On getting comments from some of the exhibitors after the show:


"Compared to other trade shows, the buyers showed a lot of interest and transactions on closing a deal was much faster."


"Walking around the show, I felt immersed in creative and unique products. You can tell each exhibitor had a high level of craftmanship and mentality towards this industry."


Shunsuke adds, "We hope to continue supporting the Japanese exhibitors and assist with any follow ups with buyers."


To learn more about Shoppe Object and each exhibitor: https://www.jetro.go.jp/en/events/shoppe_object2019/

Presented by JETRO NY