Jconnect Webinar Series #11: Battery - Advanced Materials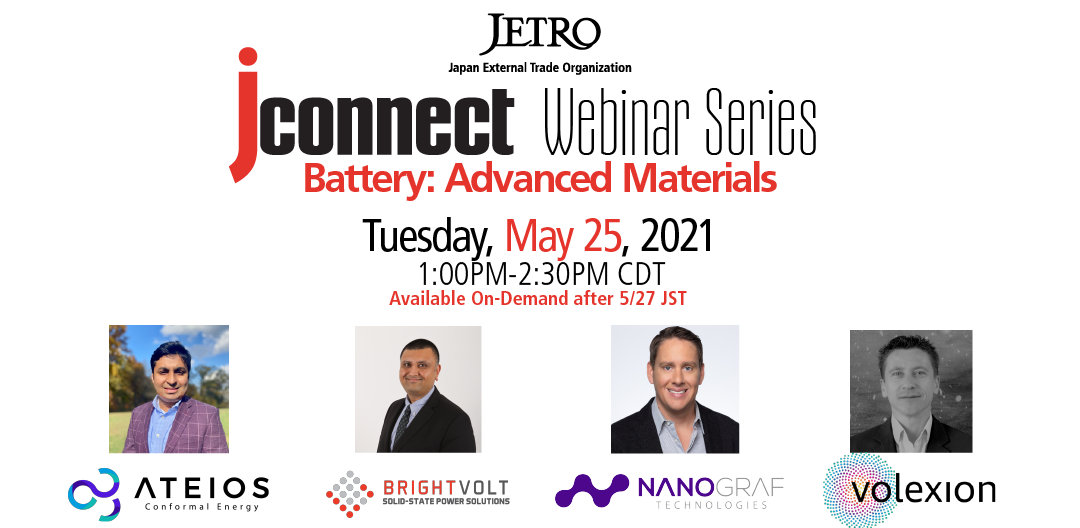 Join JETRO live for the eleventh installment of its "Jconnect" webinar series
with this webinar focused on the topic of 'Battery - Advanced Materials'
DATE & TIME
Tuesday
May 25, 2021
1:00 - 2:30 PM CDT

VENUE
Online

COST
FREE




OVERVIEW
The Jconnect Webinar Series was created by JETRO to introduce innovation from American startups to global Japanese corporations, and to help facilitate business relationships between them. The Jconnect series will feature different topics among advanced technology industry segments including artificial intelligence, IoT, mobility, Industry 4.0, robotics, health tech, and more.

The focus of our next webinar will be on the topic of 'Battery - Advanced Materials'. We will explore how four Midwestern companies are developing innovative battery chemistries and more efficient and flexible design to help reshape battery manufacturing and production, as demand from electric vehicles, consumer electronics, medical wearables, and more continue to soar.

This event will take place in English. The webinar recording can be watched live or viewed at a later time by registered attendees only.




SPEAKERS


Ateios – Rajan Kumar, CEO
Rajan Kumar leads Ateios Inc., a firm that attracted more than $1.8 million in funding and for which he invented a patented battery technology and its manufacturing process. With a bachelor's degree in nanoengineering from State University of New York Albany and a master's and Ph.D. in the same discipline from the University of California San Diego, Rajan was described by his nominator as "one of the few engineers that can translate research into commercial products and use innovation to change the way existing industries operate." His goal is to grow his company around innovations that will increase the life and charging speed of batteries while also lowering the cost.

BrightVolt – Salil Soman, VP of Business Development
Salil Soman is Vice President of Business Development at BrightVolt, a Seattle-area based company working on a disruptive new solid-state lithium ion battery technology. Prior to joining BrightVolt, Soman was Vice President of Business Development at Natron Energy, where he led corporate business development activities for their Sodium-Ion battery technology in datacenter and telecom UPS, electric forklift, and stationary grid storage markets. Soman carries more than 20 years of experience across multiple battery technologies, including ZincFive, BASF, and Robert Bosch Battery Systems. He holds a Master of Science degree in Electrical Engineering from the University of Massachusetts, and an MBA in Technology Management from the University of Colorado.

NanoGraf – Chip Breitenkamp, VP of Business Development
Chip leads business development and marketing for NanoGraf and manages partnership efforts with customers and manufacturers. Trained as a polymer material scientist, he also previously co-founded and served as Chief Technology Officer of Intezyne Technologies, a biotechnology company focused on the development of advanced, polymer nanoparticles for targeted drug delivery. As a researcher, Chip is listed as an inventor on 20 patent families that represent 28 issued US and international patents and 18 peer-reviewed publications. He received a Ph.D. in Polymer Science and Engineering from the University of Massachusetts-Amherst and a B.S. in Polymer Science from the University of Southern Mississippi.

Volexion – Damien Despinoy, CEO
Damien is the Chief Executive Officer of Volexion, Inc. In his role, Damien is responsible for driving the business development, commercial, and strategic planning activities of the company. Damien has 15+ years of leadership experience in the Materials, Energy and Industrial sectors with expertise in Management Consulting (McKinsey), Technology Commercialization & Venture Capital (Energy Foundry), and Chemical Operations & Capital projects (Total). Damien received his MBA from INSEAD, his MS of Chemical Engineering from IFP School and his MS in Chemistry from Chimie ParisTech.


PRESENTED BY
Japan External Trade Organization (JETRO) Chicago