[Food] Japan's Healthiest Noodle Attracts Interest of American Restaurants - Guest Post by Mike Sula
On New Year's Eve, Brian Mita, owner of Chicago's Izakaya Mita serves toshikoshi soba, or "year-crossing noodles," the traditional Japanese bowl eaten to welcome the New Year. Served in steaming hot mentsuyu broth, fortified with dashi, mirin, sake, and soy sauce, and garnished with kamaboko, green onions, and kizami nori—or perhaps a kakiage, a "birds nest" of onion, carrot, scallop, and shrimp tempura—the slippery, tentacular noodles are meant to signify the hope for long life, while the sturdy, resilient buckwheat plant from which their flour is milled embodies strength.
Historians place the origins of this New Year's tradition back in the 13th or 14th century when the hungry were treated to the noodles on the last day of the year by a lord or temple. The practice really took off during the Edo period when the merchant class adopted it to ensure good luck.
Soba is the Japanese word for buckwheat. But it also refers to the thin grayish brown noodles made from buckwheat flour, and also for thin noodles in general. In Japan, buckwheat is largely grown in Hokkaido, which is why for centuries they were more commonly eaten in the north, while in the south, wheat flour udon noodles were more popular.
There are an infinite number of ways to eat soba noodles, and they aren't limited to holiday celebrations. In the summer Mita serves a version of cold, refreshing zaru soba. Normally the noodles are eaten from a special bamboo tray. Instead he serves his in a bowl of mentsuyu broth with shrimp tempura, nori, green onions, and kizami tamago.
At Lure Izakaya, Chef Kee Chan serves a bowl of imported soba noodles with yamaimo, or mountain yam, mountain vegetables, scallion, and narutomaki in warm bonito broth. The slipperiness of both is contrasted by bits of fried tempura.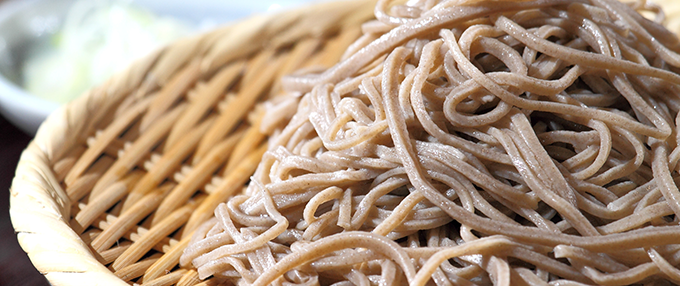 These days, in the United States ramen is the popular Japanese noodle, partly because so many Americans grew up eating cheap instant ramen. High quality restaurant versions of ramen speak to nostalgic impulses, even as chefs are learning to make their own noodles. Though not as popular, something similar is beginning to happen with soba noodles. The more subtle delights of fresh soba noodles with their nutty, almost beerlike flavor are catching on.
Buckwheat is gluten-free, so soba noodles are a good substitute for eaters on restricted diets. For this same reason soba noodle are difficult to make. Noodles made with 100% buckwheat flour are known as juwari soba. Frequently these are manufactured with specialized machines and sold dry. Increasingly in the United States chefs are turning toward fresh house made soba noodles cut with a small percentage of wheat flour to make the dough more manageable. These are known as nihachi soba.
Chefs aren't limiting themselves to traditional Japanese preparations either. Chef Jonathan Zaragoza of the Mexican Birrieria Zaragoza in Chicago hosts frequent special pop up dinners after hours at his family's restaurant. Recently he and his partner Chef Charles Welch hosted a special all pasta "carbo-load" dinner for which they served fresh cold soba noodles with roasted mushroom broth, pickled mushrooms, walnuts, and walnut oil, seasoned with soy sauce and rice vinegar. "It was a first course so we wanted something cold, bright, and acidic to just kind of wake them up," he says.
Soba alla chitarra, as they called it, was a fusion of Japanese and Italian techniques. They blended buckwheat and wheat flours so the dough wouldn't break apart and then rolled it out and cut it on a press to form square Italian-style noodles. "The noodles are floral, almost sweet on the nose," says Zaragoza. "It tasted like something being baked. It was nutty and earthy, and that's why we paired the walnuts with it."
Freshness is important for the distinctive buckwheat flavor and aroma to come though. The noodles dry out if exposed to too much air, and they clump if they're too wet. Chef Nicole Pederson of Found Restaurant in Evanston, Illinois makes her own fresh soba noodles in the spring, and executes them in a number of different dishes. She takes nihachi blended flour, hot water, and salt, and blends them in the food processor. She turns the dough out onto her cutting board and kneads it until smooth, then covers and lets it rest until cool. The dough must be rolled out by hand—pasta machines cause it to crumble. She breaks the dough into sections and rolls it out between 1/8 to ¼ inches thick, hangs it, and lets it air dry for 20-30 minutes. It is cut into noodles with spaghetti cutters then blanched for less than a minute. "It's best to keep the water moving so it doesn't stick together,' she says. "We pull it and plunge it into a cold salt water bath, then strain and toss with extra virgin olive oil. The noodles will hold their texture for a couple of hours tops. The dough has to be made fresh every day and often times we would make it twice on Fridays and Saturdays."
Pederson has served the noodles a number of different ways: as a cold noodle salad with spicy squash blossom vinaigrette, as a warm salad with persimmon, spinach, and brown butter, and as a warm dish with tomato soffrito and warm basket ricotta.
It just goes to show how far these simple, supple, ancient noodles have come.
---
Mike Sula - A Senior Writer at the Chicago Reader and the Paper's Lead Restaurant Critic

Mr. Sula won the James Beard Foundation's 2013 M.F.K. Fisher Distinguished Writing Award.

The Chicago Reader is Chicago's largest free weekly newspaper, nationally recognized as a leader in the alternative press. Since 1971, the Reader has served as Chicago's political conscience, cultural guide, and music authority. With a highly targeted-circulation of 90,000 and a consistent return rate of less than 2%, the Chicago Reader is the city's most essential alternative media resource. www.chicagoreader.com