Japanese Tea 101: Seminar & Tasting in San Francisco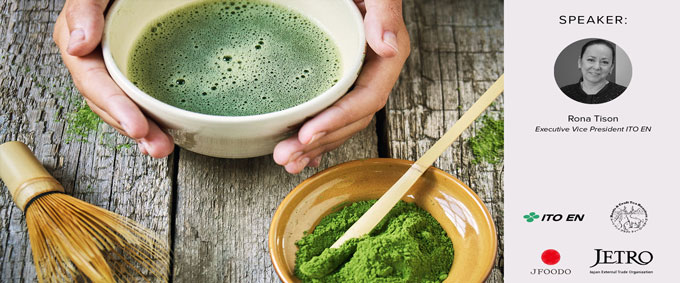 Enjoy the soothing flavors of authentic Japanese green tea and
discover its market with ITO EN's Executive Vice President Rona Tison!
DATE & TIME
Monday
December 9, 2019
5:00 PM - 7:30 PM PST

VENUE
Tinker Kitchen
3233 22nd Street
San Francisco, CA 94110
Google Map

COST
FREE



OVERVIEW
In this event, the Executive Vice President of ITO EN, Rona Tison, will take you on a journey through the world of Japanese tea. You'll learn about the various types of tea including sencha and matcha, their health benefits, as well as the story behind ITO EN's successful expansion in the US. You'll also get a chance to taste various teas prepared in ways that reflect current trends.

Roots & Craft and Kagoshima Seicha will be offering tastings of their authentic Japanese tea. Small sweets provided.

Spaces are limited, register to reserve your seat.

AGENDA
| | |
| --- | --- |
| 5:00 - 5:30 PM | Doors open |
| 5:30 - 6:30 PM | Seminar & Tasting (Rona Tison) |
| 6:30 - 7:30 PM | Networking |
| 7:30 PM | Doors close |

SPEAKER
Rona Tison, ITO EN, North America, Inc., New York
Executive Vice President
https://itoen.com

A tea industry connoisseur with a refined approach to the U.S. Japanese culture and innovative marketing, Rona Tison is the Executive Vice President of Corporate Relations at ITO EN (North America) INC., Japan's #1 green tea brand and the world's leading purveyor of award-winning, premium and sustainably-grown green tea and healthy beverages. Tison is a graduate of University of California, Berkeley, where she studied Oriental Literature. She received the 2017 John Harney Lifetime Achievement Award for her educational contributions to the tea industry, the first woman to ever receive this prestigious award.

TEA VENDORS
Roots and Craft Tea Roasters
https://www.rootsandcraft.com/shop

Roots and Craft is an independent tea brand based in San Francisco offering organic, single-origin, and small-batch teas from Miyazaki prefecture. All teas are sourced directly from reliable growers they've built relationships with by regularly visiting their farms.

Kagoshima Seicha
http://kagoshimaseicha.co.jp/en/commitment/manufacture

Founded more than 130 years ago in 1881, Kagoshima Seicha takes pride in preserving the culture and tradition of Japanese tea. In order to deliver high-quality tea to customers, choice ingredients are carefully selected by identifying the right "season" in order to bring out the maximum flavor of the tea.
PRESENTED BY
Japan External Trade Organization (JETRO)