Japanese Startups Present their Products at SXSW 2019
The Japan External Trade Organization (JETRO) hosted 10 innovative Japanese startup companies at SXSW Interactive in Austin, TX, one of North America's largest technology conferences, from March 10-13, 2019. Each startup engaged with both prospective investors and potential customers from around the world about their upcoming products. Their products ranged from nerve-sensing clothing to social media platforms to artificial intelligence (AI) software.


Seven of the ten showcasing companies were selected for the J-Startup Program from Japan's Ministry of Economy, Trade, and Industry (METI). This highly competitive program chooses a select group of Japanese startups from over 10,000 applicants to help them successfully transition into foreign markets. This includes granting private business spaces, professional mentoring from leading technology companies, and opportunities to exhibit at the world's largest technology conferences.


Throughout SXSW, crowds gathered to see the products driving the Japanese startups' innovation. ALE Co., Ltd. showcased their ongoing Sky Canvas, the world's first man-made meteor shower project that uses space as a stage to perform "stardust" performances. Spiber Inc. displayed their synthetic protein materials designed as technologically advanced and affordable alternatives to traditional metals for apparel and automobile companies. Unipos Inc. showed their social media platform that encourages employees to honor each other's workplace contributions through intuitive message features.


On Day 3 (March 12) of SXSW, the Japanese startups also pitched their products and services to interested investors during the International Innovation Platform. Seven of the ten startups demonstrated live from the stage about the progress of their projects, the amount of money that they raised, and the next steps for their companies moving forward. Of all the countries that attended the Platform, Japan had garnered one of the largest crowds, a testament to investors' ongoing trust in Japanese ingenuity.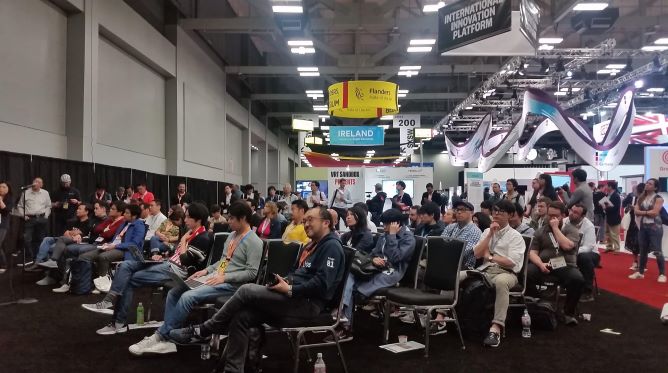 To see the previous report about all the Japanese startups attending SXSW 2019, please click HERE.