Industry Professionals Raise a Glass to JETRO's Texas Sake Events
JETRO Houston organized three sake seminars this June in three Texan cities: Austin, Dallas, and Houston. The theme of these seminars was pairing sake with seafood. Although sake pairs wonderfully with traditional Japanese cuisine, our celebrated guest lecturers took this opportunity to instruct participants on how to pair sake with seafood outside of Japanese cuisine. In total, around 100 participants attended these educational events.
The first sake seminar took place in Dallas at Sushi Rock on June 5th. The event began with business matching sessions where professionals in the restaurant industry could network with sake distributors. After the matching concluded, John Gauntner, the world's foremost non-Japanese expert on sake and the first recipient of the "Sake Samurai" award, gave a lecture to the attendees about sake and how best to pair it with different types of seafood.
The second sake seminar took place in Houston the following day at the Texas Wine School. John Gauntner served as the lecturer for this event as well, and his lecture was followed by a business matching seminar that allowed participants from the Houston area to network with a variety of distributors as well.
The final sake seminar took place in Austin at Fukumoto Sushi & Yakitori Izakaya on June 20th. This marked JETRO Houston's first business-to-business sake event in the city of Austin. The lecturer for this event was Timothy Sullivan, who also received the distinction of "Sake Samurai." Sullivan led participants through a tasting of different sake and seafood options as well. Although there was no business matching session included in the event, participants had the opportunity to speak to Sullivan after his lecture concluded.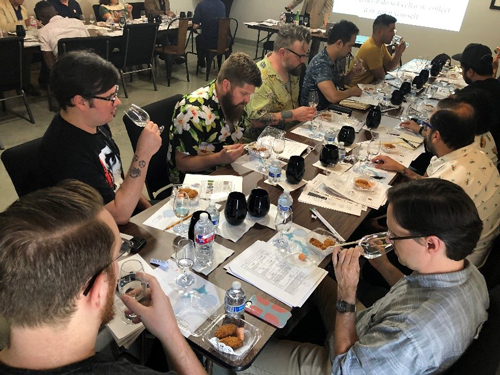 Pairing sake with seafood at the Houston seminar on June 6th



Lecturer John Gauntner at the Dallas seminar on June 5th



Lecturer Timothy Sullivan at the Austin seminar on June 20th