Hamachi Promotion: Recipes from JETRO New York
JETRO New York is currently organizing a campaign to raise awareness of the hamachi fish, also known as the Japanese amberjack. It is popularly consumed throughout Japan, but has recently become a main staple for hundreds of retailers and sushi restaurants thoughout the United States. Particularly, its fatty and soft texture is similar to that of yellowtail tuna and makes it a prized fish for countless Japanese establishments. It has also become more commonly available in fish and Asian supermarkets throughout major American cities.

To promote the versatility and delicousness of hamachi, JETRO is collaborating with Chef Takanori Akiyama, owner of the popular Japanese restaurant Tsukimi in New York City, to bring you the following hamachi recipes. We encourage you to try cooking the below recipes in the comfort of your home: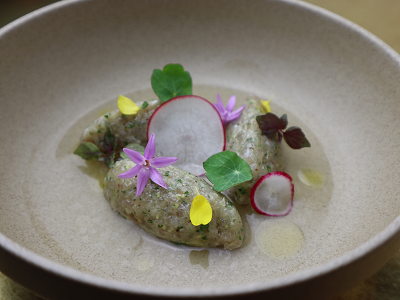 -HAMACHI TARTARE-

Ingredients
TARTARE MIXTURE
Chopped hamachi 4oz
Chopped onion 1tbsp
Chopped ginger 1/4tsp
Chopped cilantro 1tsp
Chopped caper 1tsp
Saikyo miso 1tsp
Wasabi 1/2tsp
Salt 1tsp
Black pepper

CITRUS DASHI
Dashi 1/4cup
Key lime juice 1tbsp
Olive oil 1tbsp
Salt 1/2tsp
Sugar 1/2tsp

Directions
1.) Combine the ingredients for the tartare mixture and chop everything together on a cutting board. Alternatively, you may combine in a food processor.
2.) Shape the tartare with a spoon to plate.
3.) Pour the citrus dashi over the tartare.
4.) Garnish as you like.



-HAMACHI KATSU SANDO-

Ingredients
Hamachi 4 oz thick cut
Salt & pepper
Panko (Japanese bread crumbs)
Thick cut sandwich bread
BATTER MIXTURE
Flour, 1 oz
Water, 1 oz
Egg, 1
TARTAR SAUCE
Mayonnaise 1cup
Tonkatsu sauce 1/4cup
Chopped onion 3tbsp
Chopped parsley 1tbsp
Chopped caper1tbsp
Chopped boiled egg 2pc
Salt 1tsp
Black pepper

Directions
1.) Season the hamachi with salt & pepper, then coat with batter mixture first before covering with panko.

2.) Prepare oil at 350F, and deep fry the breaded hamachi for 2 minutes and 30 seconds.
3.) Spread butter on the bread before layering on the tartar sauce and sandwich the fried hamachi in between.
4.) Cut in half and plate.


-PAN-SEARED HAMACHI-

Ingredients
Hamachi, 2 oz piece
Salt & pepper
Flour
BROWN BUTTER SAUCE
Unsalted butter 3oz
Soy sauce 2tbsp
Lemon juice 1tbsp
Chopped Shallot 2tbsp
Chopped Tomato 2tbsp
Chopped Caper 1tsp
Chopped Parsley 1tsp
Salt 1/2tsp
Black pepper
Hamachi Tartar
Directions
1.) Salt & pepper the hamachi and coat with flour.
2.) Pre-heat a frying pan on high heat with cooking oil, and pan sear the hamachi 2 minutes on each side.
3.) Remove the excess cooking oil from the pan with a paper towel, then add the butter to start making the brown butter sauce. Add all other ingredients. 4.) Pour the sauce into the pan to combine with the butter and mix over medium heat for
about 1 minute.
4.) Plate as you like.