Food & Beverage B2B Pitch & Networking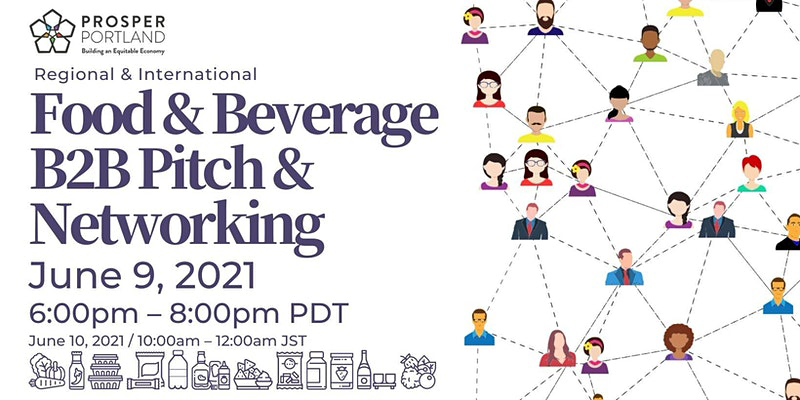 Zoom Roundtable of over 100 NW Regional & International Food & Beverage Companies. Connect with Retail Buyers, Distributors, and Suppliers.
DATE & TIME
Wednesday
June 9, 2021
5:45 - 8:00 PM PDT

VENUE
Online

COST
FREE





OVERVIEW
Advance your business through Regional & International Connections.

The Food & Beverage B2B Pitch & Networking Zoom Program connects food industry businesses with potential buyers, distributors, and suppliers. Prosper Portland have conducted this networking program twice annually at physical locations throughout Portland since 2012, and four times by Zoom since May 2020. Based on survey results, participants in these programs achieved notable success. Participants can expect even greater results as the enhanced breakout room algorithm eliminates duplicate assignments. Attendees can expect to:

- Generate 25-35 new contacts from the PNW, Canada, and Japan
- Meet new potential customers, suppliers and investors
- Enhance their business and product / service exposure
- Establish new relationships and strategic partnerships
- Discover resources to increase efficiencies and grow their business
- Improve their company and product pitch


PROGRAM FORMAT

The program format is the key to this event's continued success. They will be utilizing the Zoom meeting breakout session system to conduct the following:

• Video attendees will be separated into groups of 10 businesses with one facilitator, one buyer, and some observers.
• The program offers three 30-minute breakout sessions, where each business and buyer will speak for 2-minutes. Pitch practice video and materials will be sent in advance after registration.
• Each breakout session offers participants opportunities to answer questions about themselves, their business, and their product.
• At the conclusion of each session, participants will move to a new breakout room with new people.
WHO SHOULD ATTEND
*No service providers please.

Any Food, Beverage and Body-Care related businesses, including:
Food Processors, Co-Packers, Farmers, Distributors, Restaurants, Wholesalers, Trading Companies, Retailers, Grocers, Online platforms & Services, Packaging, Food processing machinery, Investors and etc.

Partners:
Oregon Department of Agriculture, Business Oregon, Japan Representative Office of Oregon, Built Oregon, XXcelerate, Business Impact NW, Eugene's Table, OEN, Japan America Society Oregon, City of Kobe, City of Setagaya, City of Sapporo, Hyogo Business & Cultural Center, Portland - Setagaya Association of Cultural Exchange (PSACE), Consular Office of Japan in Portland, British Columbia, First Stop Portland, JETRO San Francisco

※日本・日系企業対象・セールスピッチ強化セミナー(6月3日)
日本・日系企業よりご参加の日本語話者の皆様に向けて、英語でのセールスピッチの技術向上、強化のための特別セミナーを開催します。詳細については、ご登録時に参加の有無をおしらせください。
For questions, please contact: pdxb2bmatchmaking@gmail.com
PRESENTED BY
Prosper Portland

SUPPORTED BY
Japan External Trade Organization (JETRO) San Francisco