[Press Release] 'Experience Japan, Chicago' Shows Diversity of Japan's Food Products
CHICAGO, IL June 16, 2015 - JETRO Chicago's most recent tasting and networking event for the food and beverage industry was held on June 16th, 2015 at Kendall College. "Experience Japan, Chicago!" was one of the most diverse exhibitions JETRO has held for this sector, presenting 35 tables of products imported from Japan. Nearly 200 attendees representing restaurants, bars, hotels, grocery and liquor retailers, distributors, culinary schools and other U.S. food & beverage entities sampled a wide variety of goods, many of which were new to JETRO Chicago's tasting events.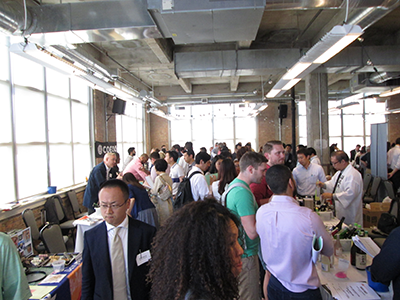 Some of those new to the event were award-winning Wagyu beef from Miyazaki Prefecture's Wagyu cattle; traditional confectioneries Manju, Dango and Daifuku made from rice with red bean or chestnut filling, cherry and yuzu flavors; juices from Japanese lime (sudachi), lemon (kabosu) and yuzu (a tart citrus resembling grapefruit-tangerine); whisky barrel-aged soy sauce and fish sauce; black garlic molasses and juice; frozen wasabi paste and whole wasabi stem; and seafood-based appetizers that pair well with sake. Several other tables also offered seafood, both processed such as fish cakes for ramen and a surimi crab leg product, and sushi-quality tuna, yellow tail and scallops. Two green tea exhibitors brewed a range of shade-grown, toasted, pan-fried and matcha teas.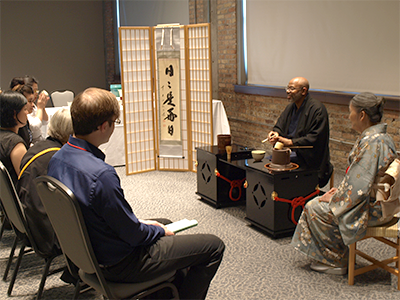 Attendees sampled 125 sakes of all grades and categories some of which were unpasteurized, aged, sparkling, or flavored with yuzu or strawberry. Six shochus and five beer styles were offered as well. In total, 25 out of the 47 prefectures in Japan were represented by the breweries.
As part of the event, guest speaker Joseph Stellner, General Manager of The Green Teaist tea salon, demonstrated how best to prepare three types of Japanese green teas; full sun, shaded and roasted. Of the types of green teas he brewed , full sun (Sencha varieties) types require moderately hot water and brief steeping time, shaded (Gyokuro, Tencha, Kukicha) require low water temperature and longer steeping time, and roasted (Hojicha, Kyobancha, Genmaicha) require high water temperature and brief steeping time. Once you know the type of green tea you are preparing, Stellner says, keeping these guidelines in mind will make a major difference in the resulting flavor and only add to your enjoyment of one of Japan's signature products.