Entering Japan's Healthcare Market: Three Regions with Great Incentives for Foreign Businesses
Japan's population continues to age, and the generational shift is opening new doors for healthcare companies. To meet the demands of its new "silver economy," local government bodies are revamping their subsidy and business incentives to attract foreign healthcare companies to the world's second-largest pharmaceutical market.
Here is an overview of three regions in Japan that offer significant government benefits, robust business support programs, and an established life science community for foreign healthcare companies:
Toyama Prefecture
Overview:
Toyama Prefecture is northwest of Tokyo. The prefecture has a population of 1.1 million and is famous for its abundance of cheap, clean water, a prominent power source for the Kansai Electric Power Company. Toyama is a popular location for manufacturing due to its stable supply of electricity, its lack of natural disasters, and its accessibility via airline, expressway, and shinkansen.
Accessibility:
Toyama City is a two-hour trip from Tokyo and a three-hour trip from Osaka by the shinkansen "bullet train." The prefecture is also accessible by multiple expressways, domestic air service, and international air service. International flight destinations include China, South Korea, and Russia.
Economy:
Toyama has a labor force of .5 million and is home to over 100 IT-related manufacturing companies. Goods produced include pharmaceutical goods, industrial machinery, plastics, and electronic components.
The prefecture's manufacturing industries are supported by a network of government support centers, manufacturing subsidies, regional development centers, and research centers. Toyama Prefecture is also supported by the Toyama Entrepreneurship School, a program that fosters local startups and product development.
Foreign healthcare companies in Toyama Prefecture:
PuraPharm Corporation – Hong Kong S.A.R.
Kansai Region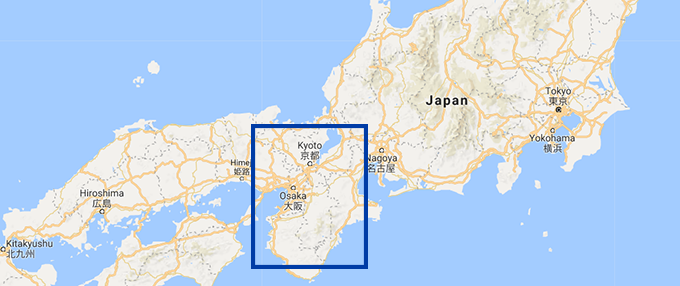 Overview:
The Kansai Region is made up of seven prefectures and eight major cities, including Kobe, Kyoto, Nara, and Wakayama. Approximately 23 million people live in the region, making it the second-most populous urban region of Japan after the Greater Tokyo Area.
Accessibility:
The Kansai region is served by two major airports, which offer 24 service and specialized transport and storage facilities for pharmaceutical products. Nonstop international flight destinations include Bejing, Hong Kong, Singapore, Dubai, and Honolulu.
Osaka is a 2.5 hour trip from Tokyo and a 15 minute trip from Kyoto by shinkansen. The entire region is accessible by local train and multiple expressways.
Economy:
The Kansai region has an economy has an estimated GDP (PPP) of $671 billion, putting the region on par with cities such as Shanghai ($594 billion) and Chicago ($563 billion). Major industries include business & finance, manufacturing, transportation, and construction.
The area is internationally well-known for its pharmaceutical industry and pioneering medical research. In addition to several life science incubation centers and life science parks, the local governments also offers a wide array of incentive programs for foreign pharmaceutical investors.
Pharmaceutical product research and approval is supported by the PMDA's Kansai Branch, AMED West Japan Divison, and a network of research universities including Kyoto University, Osaka University, and Riken, Japan's largest research institute.
Foreign healthcare companies in the Kansai region:
Bayer Chemicals – Leverkusen, Germany
Eli Lilly & Co. – Indianapolis, IN
AstraZeneca – Cambridge, UK
Procter & Gamble – Cincinnati, Ohio
Kanagawa Prefecture
Overview:
Kanagawa Prefecture and part of the Greater Tokyo Area. With a population of nine million and a labor force of 4.2 million, the prefecture is one of the largest urban hubs for business in Japan. It's capital, Yokohama, is the second-largest city after Tokyo, with a GDP (PPP) equivalent to Sacramento or Copenhagen.
Accessibility:
Kanagawa Prefecture enjoys much of the high-quality urban planning that Tokyo does. The prefecture is connected to Japan by multiple expressways, including the Tomei Expressway, one of Japan's major roadways between Tokyo and Nagoya.
The local Haneda Airport offers a variety of direct international flights to Kanagawa prefecture. Nonstop flight destinations include London, New York, Los Angeles, and Dubai. To support business needs, Haneda Airport provides international flights scheduled to help business persons avoid travel during normal business hours.
The prefecture is also serviced by the shinkansen and the Port of Yokohama, Japan's third-busiest port. A trip between Yokohama and Tokyo's business districts can take between 15-30 minutes.
Economy:
Kanagawa is the fourth-largest prefecture by GDP ($253 billion), similar to Phoenix ($215 billion) and Miami ($299 billion). As a result of its rich international history (Yokohama was the first port to open itself to international trade after 220 years of no outside contact), large population, and proximity to Tokyo, Kanagawa Prefecture hosts a diverse range of industries. These include IT, semiconductor, bio technology, wholesale, and telecommunications.
Kanagawa Prefecture is noted for its IT and life science industries in particular; nearly 3,500 IT-related companies are based in Kanagawa, including a Samsung Research Institute, Apple Inc. research and development center, and TSMC.
Government incentives and a new Life Innovation Center (LIC) for the study of regenerative medicine and cell therapy also provide a network for life science companies in the prefecture.
Foreign healthcare companies in Kanagawa Prefecture:
Agilis – Cambridge, MA
Thermo Fisher Scientific – Waltham, MA
Get Market Intelligence for Your Industry
Want to know what's happening in your industry in Japan? Connect with JETRO to get tailored market intelligence reports for your business. JETRO's vast network of government and private resources allow it to provide up-to-date market intelligence on a wide variety of industries.
These reports are absolutely free. To learn more about JETRO's market intelligence report services, contact your local JETRO office for a free business consultation.