[Press Release] East Bay Event Connects Local Businesses with Japanese Assistance Programs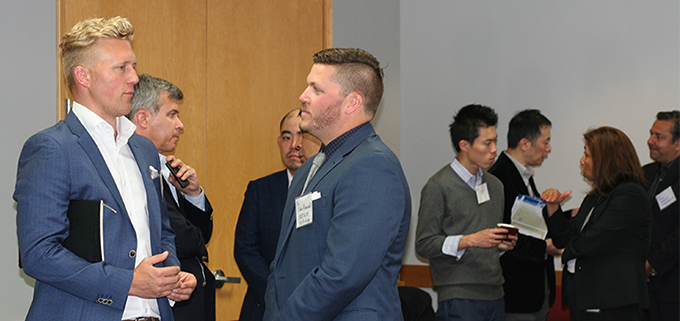 OAKLAND, CA - The East Bay Economic Development Alliance (East Bay EDA) hosted a business meeting to connect the Consulate-General of Japan in San Francisco and Japan External Trade Organization (JETRO) with six local businesses interested in expanding their products and services to the Japanese market.
Each company delivered a 5-7 minute presentation, followed by a brief Q&A session with the Consulate-General and JETRO San Francisco staff. Business presentations outlined each company's individual business model and investment goals for Japan.
The individual Q&A sessions touched on a number of subjects, including Japanese consumer demographics, consumer spending patterns, industry growth and demand, cultural considerations when doing business, and emerging business opportunities. The sessions also provided JETRO with the opportunity to inform companies on the number of services and incentive programs available through JETRO and other similar business assistance organizations.
The six companies represented a wide range of industries, including accounting, 3D printing, winemaking, and healthcare. A full list of the companies that presented at the East Bay Event are listed below:
RINA Accountancy Corporation
A regional full service accounting and consulting firm with offices located in San Francisco, Oakland, and Walnut Creek, California as well as Bellingham, Washington. RINA serves closely-held businesses and their owners, high net worth individuals and families, and many not-for-profit organizations and private foundations. RINA is one of the leading independent accounting firms in Northern California and among the largest in the Greater Bay Area.
Website: www.rina.com
Comfy
A 2013 startup that utilizes advanced technology and machine-learning capabilities to produce heating and cooling solutions for offices.
Website: https://comfyapp.com/
FATHOM
An advanced technology driven company with expertise in 3D printing and additive manufacturing. FATHOM's core focus is providing production services that accelerate a company's product development process.
Website: www.studiofathom.com
OSISoft
A manufacturer of application software for real-time data infrastructure solutions, called the PI System. Founded in 1980, OSIsoft, LLC is privately held and headquartered in San Leandro, CA, with operations worldwide.
Website: www.osisoft.com
POC Medical Systems
A young company founded by well-experienced technology and biomedical professionals with a patent-protected Point of Care Testing product for Breast Cancer.
Website: www.pocmedicalsystems.com
Wente Vineyards
The U.S.'s oldest, continuously operated family-owned winery. The winery has been in operation for five generations. It released the nations' first varietally-labeled Chardonnay in 1936.
Website: www.wentevineyards.com
The business event was led by East Bay EDA, an established facilitator and convener of international trade and investment practices and strategies for governments and businesses in the region. East Bay EDA has arranged similar meeting in the past to help its local businesses find new market opportunities abroad. Previous events include meetings with the Consuls General of Norway, Indonesia, and Singapore.
Other attendees included the Japanese Chamber of Commerce of Northern California, as well as East Bay EDA members The Honorable Keith Carson, East Bay EDA's Chair and Supervisor of Alameda County's District 5, and Alameda County Administrator Susan Muranishi.