[Webinar Review] Common Pitfalls in Japan's Medical Device Market and How to Avoid Them
FEBRUARY 21, 2017 — In JETRO's latest monthly webinar, Keisuke Kaye Suzuki, principal of Keisuke Med Tech Consulting, LLC, brought his quarter-century of experience to bear on the subject of how U.S. companies should enter the Japanese market for medical devices. Suzuki focused on Japan's market potential, how to avoid common mistakes that impede device approval, what companies can do to improve market adoption, and common misconceptions that hold back companies from entering the market.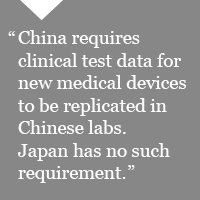 Suzuki's firsthand knowledge of Asian markets comes from his tenure as an executive vice president and chief regulatory officer for Japan Guidant K.K., and as vice president of Asia for Abiomed. In his opening statement, Suzuki cited two key reasons why medical device companies should consider Japan over other foreign markets (particularly Germany):
First, approximately 27 percent of Japan's population of 126 million people is 65 years of age or older. Despite their age, many Japanese citizens continue to pursue productive, independent lifestyles both at home and in the workforce. This desire for un-assisted living, combined with Japan's exceptionally long life expectancy rate (84.74 years, the second-highest in the world), make it an ideal market for new medical and pharmaceutical technologies, particularly those aimed towards an elderly demographic.
Second, Japan's universal healthcare system offers excellent reimbursement opportunities for foreign healthcare companies, resulting in a potentially more lucrative market than its closest competitor, Germany. This advantage is compounded by Japan's larger population (126 million compared to Germany's 80 million) and overall longer life expectancy (84 years compared with 81).
Another part of Japan's appeal is its market size: Japan is the world's second-largest market for medical devices after the United States. Although China is a larger market in terms of population, Japan offers greater technology infrastructure and stronger rule of law. Another crucial distinction between the two countries is that China requires clinical test data for new devices to be replicated in Chinese labs, whereas Japan has no such requirement.
Throughout his talk, Suzuki emphasized that companies planning to launch a device in Japan need a long-term strategy. Just getting ready, he said, will take "one to two years. If you are a newcomer, start thinking about Japan now." U.S. businesses will also need to understand Japan's regulations and rules of reimbursement, such as the fact that certain devices are not reimbursed at all or only reimbursed as part of a larger overall treatment, if they are to succeed.
A critical component to successfully launching a new device in Japan, he said, is engaging with the physicians who will be the customers for a new product. Their credibility will prove essential in getting regulatory approval. "Are they [the physicians] going to be willing to advocate for your technology?" asked Suzuki. Physicians are more likely to take up a new device if it can demonstrate that it meets a medical need no other product on the market fulfills.
In spite of his optimism for the Japanese market, Suzuki did not downplay the challenges of launching a new device in Japan. A significant cultural difference companies should be aware of is that Japan is a risk-averse society; the Pharmaceuticals and Medical Device Agency (PMDA), Japan's equivalent of the Food and Drug Administration (FDA) in the U.S., will consider risk first, benefits second when approving new products — the reverse of how the FDA operates. He added that the PMDA will regard even minor errors or omissions in a foreign company's application as indicative of larger problems and a sign that they will need to scrutinize everything the company submits more carefully.
That said, Suzuki lauded the PMDA's procedures. Over the last 10 years, the PMDA's average time of approval for new devices was 684 days compared to the FDA's 589— a difference of only three months, despite Japan's reputation for onerous bureaucracy. When companies submit clinical studies to prove their devices' efficacy, the PMDA likes to see both foreign and Japanese data. However, no less than 50 percent of new devices are approved with foreign data only. This will be welcome news for U.S. companies, Suzuki said, because doing a clinical study in Japan can be "painful and expensive."
Regardless of where they perform their clinical studies, foreign companies will want to have data demonstrating their devices' efficacy at hand. The Japanese government's promising new Sakigake "Early Bird" program aims to make the approval process 50 percent shorter for technologies that show significant benefits.
Before closing, Suzuki discussed many of the myths about doing business in Japan: in particular, he countered the common assumption that Japan's general business practices are completely unlike those of the U.S. On the contrary, the two countries' policies are actually about 80 percent similar — but the devil is in the details of the remaining 20 percent. Not only is Japan a risk-averse society, but "Japan is about image, reputation and pride." International companies seeking to enter the market there need to have sound business practices and be mindful of the local culture if they are to succeed.
To improve the odds of success, Suzuki recommended working with the Japan External Trade Organization (JETRO) as part of their business development process. JETRO provides free and low cost business solutions to foreign companies who wish to expand to Japan. For companies seeking to find qualified, bilingual Japanese staff, JETRO can be especially helpful.
JETRO's monthly webinars highlight business opportunities in various sectors of the Japanese economy. Previous webinars have discussed healthcare, smart devices, and energy, and can be here: www.jetro.go.jp/usa/topics.html.