An Incentives Guide to Business in Nagoya

Nagoya Market Overview
Although not officially recognized as a city until 1889, the city of Nagoya has served as a major focal point for trade in Japan since the 1600s. Its halfway location between Osaka and Tokyo made it an ideal stop for travelers and merchants moving through the country on business.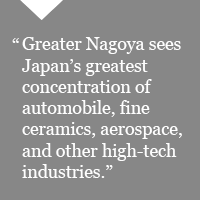 Since the 20th century, Nagoya has continued to build itself as an important city for national and international trade in Japan. The city is now the fourth-largest city in Japan, with a greater area population of 9 million inhabitants and an annual GDP of $363 billion.
Nagoya has a diversified economy spread out over a variety of industries. These include automotive, aerospace, robotics, machine tool manufacturing, and ceramics. Of the estimated 121,000 businesses located in Nagoya, 600 are foreign-affiliated. In addition to its sound economic base, Nagoya is supported by a strong research and development environment; local research institutes include the renowned Nagoya University and Nagoya Institute of Technology.
The City of Nagoya offers a variety of business incentives for foreign-based companies planning to open office or research facilities within the city jurisdiction. In addition to subsidy programs, the city provides serveral business support programs designed to simply business setup and ease the transition process for foreign nationals moving to Nagoya.
To learn more about the subsidy and business support programs available to foreign businesses, please download our Incentives Guide to to Business Nagoya report.