"The Treasure Trove": Japan, a Treasure Island for Investors
On September 28th, JETRO New York hosted the Invest Japan Seminar 2015 at a venue in the heart of Manhattan. Prime Minister of Japan Abe Shinzo made an appearance and welcomed the seminar audience. The star-studded list of guest speakers included Jamie Dimon (Chariman of the Board and Chief Executive Officer of JPMorgan Chase & Co.), Eikei Suzuki (Governor of Mie Prefecture), Douglas Beck (Vice President, North America and Northeast Asia of Apple, Inc.), Fumiko Hayashi (Mayor of Yokohama City), and Eran Westman, CEO of Vidyo. Each of these leaders in their respective fields spoke on the attractiveness of the Japanese market and business environment. Attended by more than 250 guests from industries ranging from finance, consulting, and legal firms to service providers, government representatives, and educational organizations, the seminar attracted the attention of many industries, showing the diverse interest in Japan.
In his address, Prime Minister Abe introduced to the audience the allure of the Japanese economy and how it is attracting foreign direct investment. The Prime Minister especially noted how the Japanese regenerative medicine market and IoT market were expected to grow 20% and 10% per year respectively. He also restated his commitment to make Japan the best place to do business in the world. To that end, he added that he will lower the corporate tax percentage rate down to the 20s over several years, create additional government support for SMEs, and promote the "treasure trove" of monozukuri (manufacturing technology) companies in Japan.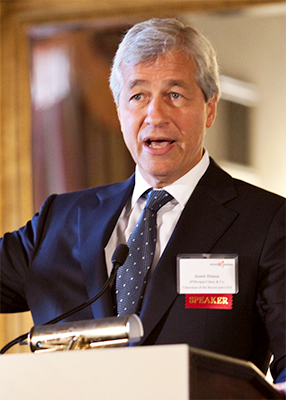 Prime Minister Abe was followed by Jamie Dimon, Chairman of the Board and Chief Exective Officer of JPMorgan Chase & Co.), who noted that Japan was "an enigma to [him his] whole business career," calling it "a country that had done everything right." Dimon praised Abe's rational and realistic initiatives, saying that "I am extremely optimistic about the moves being made." Stating that the key for Japan being able to grow and take care of its aging society was to raise productivity, Dimon commended the ongoing development of corporate reform with independent directors and more transparency.
The Governor of Mie Prefecture, Eikei Suzuki, started his presentation with a brief introduction to his home prefecture, which will host the 2016 G7 Summit at Ise-Shima. Suzuki noted that Ise-Shima is known as one of Japan's most religious and pure sites, and hopes that as the host of the Summit, they would be able to "send a message and ask for the realization of world peace." Suzuki also mentioned that Mie was showing the positive effects of Abenomics, and hopes that foreign firms would consider Mie for investment.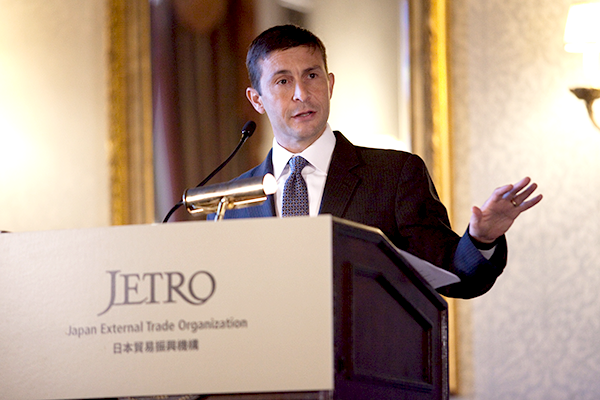 Doug Beck, Vice President, North America and Northeast Asia of Apple, Inc. spoke on Apple's long relationship with Japan over three decades and how the company continues to flourish within Japan. Beck gave examples of how Apple Japan strives to reflect the communities it is a part of and how it has integrated into Japanese life, ranging from the use of Apple products in the medical, fishing, and educational sectors. Beck is thrilled to build the R&D facility in Tsunashima, Kanagawa Prefecture, Apple's newest investment in Japan. Beck closed his remarks saying, "Japan is a wonderful place to do business, and we have some of our most passionate and enthusiastic customers and partners there. We continue to bet on Japan and will be doing so for many years to come."
Yokohama City's mayor, Fumiko Hayashi, followed Beck's ending statement and explained the various incentives and reasons why foreign companies should invest in the second largest city in Japan. Hayashi introduced the technologically progressive city to the audience, noting Yokohama's Smart City Project, promotion of life innovations, and human resources being reasons to why Yokohama was ranked number one among major Japanese cities for siting cases by foreign companies and establishment of R&D centers.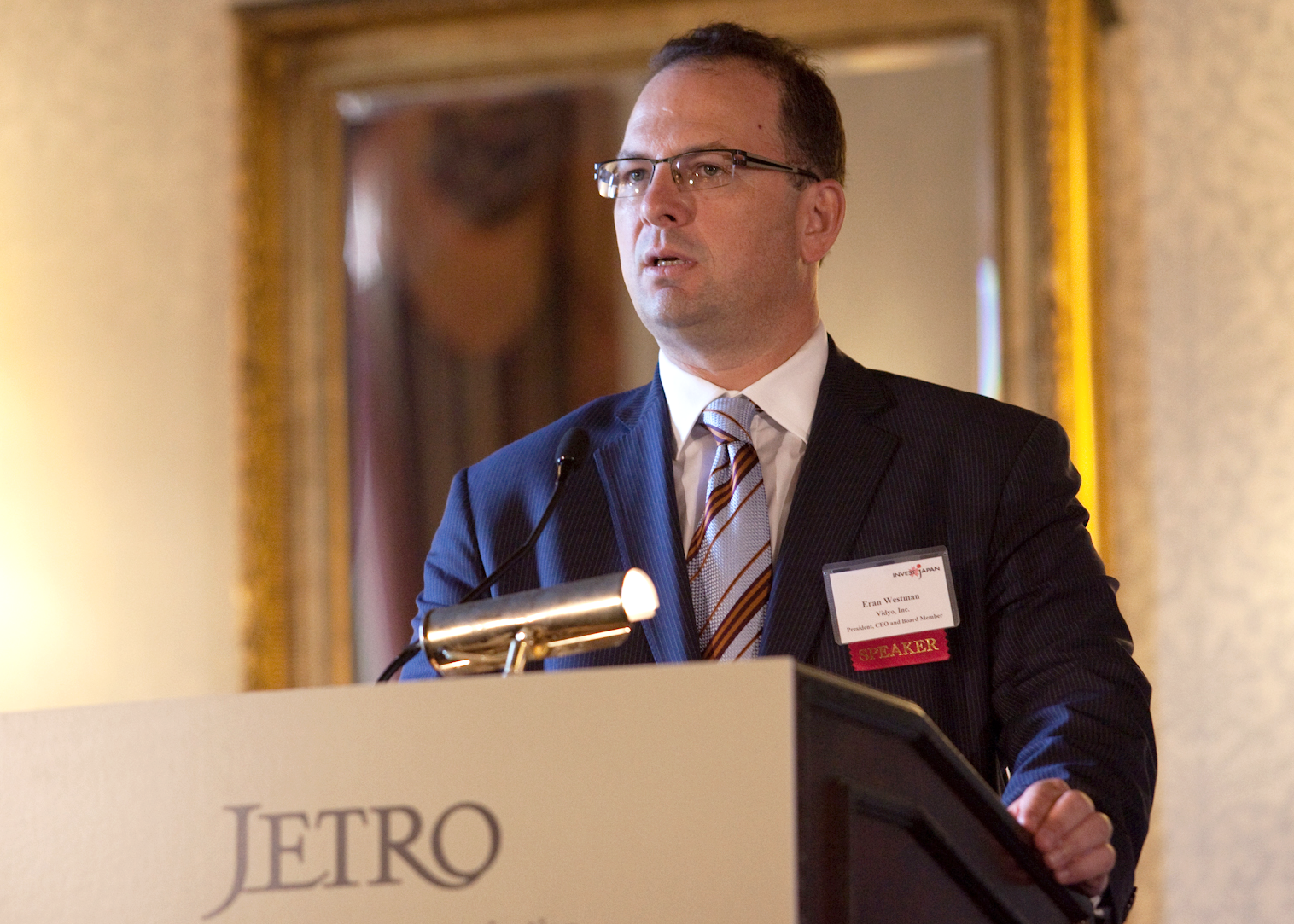 Eran Westman, CEO of video conferencing software company Vidyo, closed the seminar with a brief background on the company and details on how they worked with JETRO to establish an entity in Japan. He specifically indicated that Vidyo hired its first employee in Japan through the assistance of JETRO. JETRO also provided its "IBSC", free office space, in Akasaka, Tokyo which additionally supplied legal, accounting, and networking support. Westman provided key advice to foreign firms considering investing in Japan, stating the importance "to evaluate what [foreign companies] want to do," and to understand the Japanese market and partnerships.
RELATED LINKS
Promotion of Global Alliances for Japanese Mid-ranking Companies and SMEs
http://www.meti.go.jp/english/press/2015/0929_01.html
Investing in Japan