[Partner Event] NEDO Silicon Valley News - Vol. 10
NEDO Silicon Valley News Vol. 10
Chairman Furukawa Speaks at VerdeXchange 2016 in Los Angeles, CA
On January 25, NEDO Chairman Kazuo Furukawa spoke at the 9th annual VerdeXchange 2016, an international environment conference held in Los Angeles, California.

He took part in a panel made up of distinguished members including California Air Resources Board Chair Mary Nichols to discuss the state's ambitious clean energy policies.

Chairman Furukawa introduced several of Japan's most advanced technologies and expressed his confidence that California and Japan can work together and be a model for the world on how to build a clean and sustainable society.

Please feel free to contact us if you have any questions.

Go Takizawa
Chief Representative, NEDO Silicon Valley Office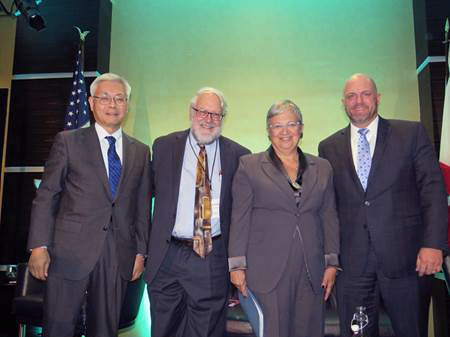 Panel Discussion members from left: Kazuo Furukawa, Chairman, NEDO, Robert Weisenmiller, Chairman, California Energy Commission, Mary Nichols, Chairman, California Air Resources Board,
and Steve Berberich, President and CEO, California ISO.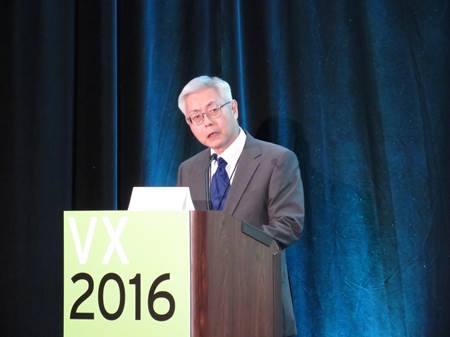 Mr. Furukawa's speech can be viewed here
About NEDO
As Japan's Largest public R&D management organization, New Energy and Industrial Technology Development Organization (NEDO) promotes research and development of energy, environmental and industrial technologies. With approximately 1.5 billion dollar annual budget, its activities range from robotics, to machinery systems, electronics, materials, nanotech, energy conservation, renewable energy, smart community, environmental technologies, and more. NEDO's activities also include international smart community demonstration projects such as those in New Mexico and Hawaii.

Our mailing address
3945 Freedom Circle, Suite 790, Santa Clara, CA 95054
Tel: 408-567-8033 Fax: 408-567-9831
If you want to subscribe or unsubscribe from our newsletter, please email to
nedo.siliconvalley@nedosv.org
Your contact information will not be shared with others outside NEDO.
Copyright © New Energy and Indus
trial Technology Development Organization. All rights reserved.