5.5 The Registration Process
Section 5: Trademark & Design Protection Systems
This section touches on Japan's trademark and design protection systems, registration vehicles, periods of protection, and trademark and design registration procedures.
5.1 Legislation on Trademark and Design
5.2 Japan's Trademark System
5.3 Validity and Term of Trademark Registration
5.4 Cancellation of Trademarks
5.5 The Registration Process
5.6 International Registration of Trademarks
5.7 Protection of Designs
5.8 The Registration Process
5.9 International Registration of Industrial Designs
5.5.1 Application and Registration Fees
Following a revision of the Trademark Law in 1992, Japan's trademark system has been operated under the same international classification system as other countries; there are 45 classes of goods and services, as well as those for goods and services unique to Japan. Applications can be made for individual classes or in several classes at once (known as "multiple-class" applications). Since April 1, 2008, however, a notification of reasons for refusal pursuant to the body of Article 3, Paragraph 1 of the Trademark Act is now issued if goods and services in eight or more similar groups are designated per class due to operational requirements at the Japan Patent Office.
It is always best to consult a professional advisor such as a patent attorney—known in Japan as a benrishi—when applying for trademark registration. Naturally, applying for and being granted registration of a trademark incurs fees. The fees for this process in Japan are as follows.
Application fees


One trademark in one class: 12,000 yen.
One trademark in multiple classes: 12,000 yen for the first class, and an extra 8,600 yen for each additional class.
Note that the above amounts are official fees only, and do not include patent attorney's fees, etc.

Registration fees
When filing an application, fees differ according to whether the application is for a single class or multiple classes. Registration fees, on the other hand, are 37,600 yen per trademark per class regardless of the type of application. Remember that, if you engaged a patent attorney, you will be charged fees in addition to the above registration fees; these may include fees for the work involved in paying the official fees.
Renewal expenses
48,500 yen per class must be paid as a renewal registration fee at the time of renewal. As in the case of applications and registrations, you will also be charged other fees, such as a fee for the work involved in paying renewal registration fees, if you engaged a patent attorney.
5.5.2 From Application to Registration
If the examination process goes smoothly, a trademark can be registered in as little as three months from the time of filing the application. Generally, however, the examination takes approximately six months, and the registration takes another one or two months. Allow about eight months after application to complete the process.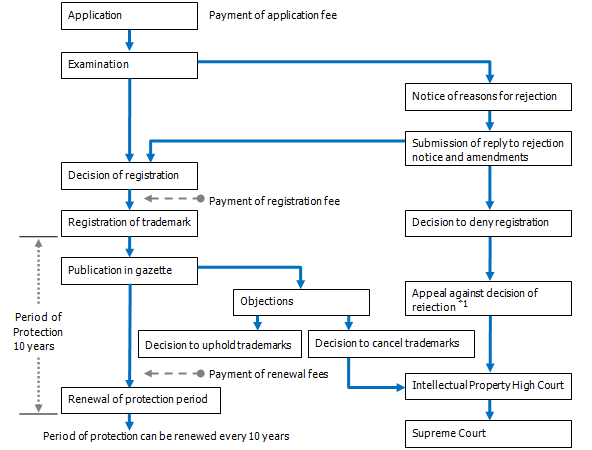 (1) Under revisions to the law in FY2008, the deadline for demanding an appeal was changed from 30 days to 3 months from the transmittal of the examiner's decision of refusal.