JETRO & JICE supports Smart Dubai's Design Cities Training Program in Japan
Smart Dubai – a Dubai government office charged with facilitating Dubai's citywide smart transformation, to empower, deliver and promote an efficient, seamless, safe and impactful city experience for residents and visitors – has organized a "Dubai Happiness Champions Japan Visit", labeled "Design Cities Training Program", from 24th to 29th November 2019 in association with JETRO and JICE (Japan International Cooperation Centre).
The 30 plus member strong Smart Dubai delegation, comprising of senior representatives from government departments as well as semi-government and major private sector establishments had a hectic schedule in Japan, visiting places of governmental, academic, scientific and technological importance. The aims of the visit include understanding the Japanese design and philosophy in adapting to smart city concepts as well as to learn how to utilize data to solve various kinds of social problems in Japan.
JETRO was directly involved in the team's visit to Tsukuba City, with JETRO Dubai representative Mr. Tomohiro Tsuchiya accompanying the team throughout the city tour. The team visited City of Tsukuba and exchanged ideas on Tsukuba Smart City Project. Other important locations the team visited were Cyberdyne, Inc., Tsukuba Startup Park and Japan Aerospace Exploration Agency (JAXA) site, where they conducted several field visits and attended lectures and workshops.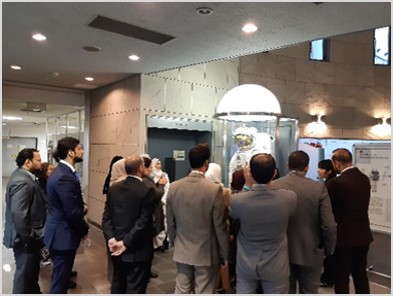 The team concluded the training program on 29th November with visits to the Hitachi Central Research Institute and its research laboratory, the United National Institute of Training and Research (UNITAR) which were arranged by JICE on 28th and a concluding workshop and farewell reception on 29th. The final leg of the tour was a courtesy visit to the UAE Embassy in Tokyo where the team met H.E Khaled Alameri, UAE's Ambassador to Japan.