Japanese food products expanding its potential in UAE and the region
The GULFOOD 2018 which was held from 18th to 22nd of February at the Dubai World Trade Centre, wide variety of Japanese products were displayed by the 36 exhibiting Japanese companies under the Japan Pavilion. They found several distributors and agents in the country this year. Japanese companies achieved sales target of 1 Billion Japanese Yen during the exhibition.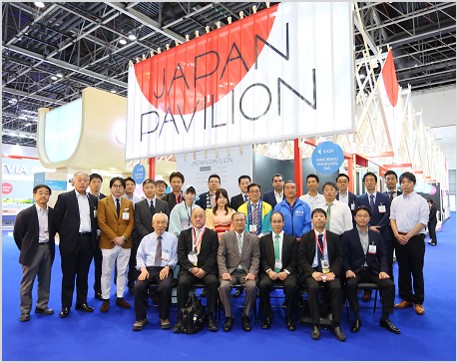 Currently, Japan is expanding its food trade through the global halal market by tackling the opportunities in the Middle East market.
In light of GULFOOD Exhibition, it's worth mentioning the success of Japanese companies participated in Japan Pavilion last year could partner with local distributors to expand their business in this country.
The most attractive products for the buyers were genuine "wagyu" beef; creamy and smooth vegetable soup; processed fish sausages; naturally brewed non-alcoholic soy sauce; wasabi and yuzu flavor seasoning that is good for health; in addition to the popular Japanese Green Tea that fights various diseases and keeping people in good oral condition.
In GULFOOD 2018, Japan pavilion displayed products such as instant noodles, instant soup, soup (that contains no chemicals or preservatives) that can be used for hotels & restaurants, crab sticks, fish sausage, food seasoning & dressings, in addition to Japan top selling "Soumen noodles".
Also, there had been variety of drinks including body infiltrating drink (sports drink), Japanese energy drink, dietary slimming green smoothie, collagen drink, variety of Japanese green tea (matcha) and also fresh milk.
Using Japanese quality food and ingredients will help your food business. As proof of this, use of Japan's genuine "wagyu" beef is expanding in the fine dining restaurants all over the UAE rapidly.