Japan Pavilion @ Food&HotelAsia 2016

Event Details
Date: 12 - 15 April (Tue - Fri), 2016
Time: 10:00 - 18:00 (10:00 - 16:00 on 15 April)
Venue: Singapore Expo, Hall 8
Event Outline
As part of the "Export Support Project" by the Ministry of Agriculture, Forestry and Fisheries (MAFF) in Japan, Japan External Trade Organization (JETRO) is organizing the Japan Pavilion at Food&HotelAsia 2016 in Singapore, one of the largest food trade shows in Southeast Asia.
With the rise in popularity of Japanese food in Singapore, the continued increase in demand for fresh produce and processed food products from Japan can be expected. The Japan Pavilion consists of over 70 companies/ organizations who will be showcasing a wide variety of healthy and safe Japanese food products.
On top of that, cooking demonstrations by well-known chefs will also be held at the pavilion. They will be taking up the challenge of creating non-Japanese cuisine using ingredients brought over by our exhibitors to tap on the hidden potential of Japanese produce.
Come join us and immerse yourself in the wonderful world of Japanese food!
Exhibitor List & Floor Plan
View the list of participating exhibitors below or download the full catalog here. <PDF> (3178KB)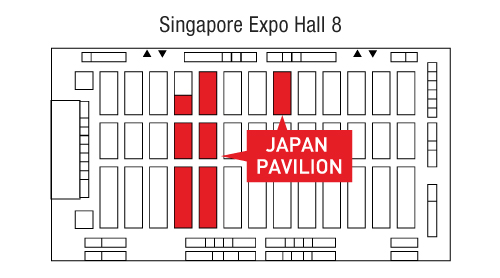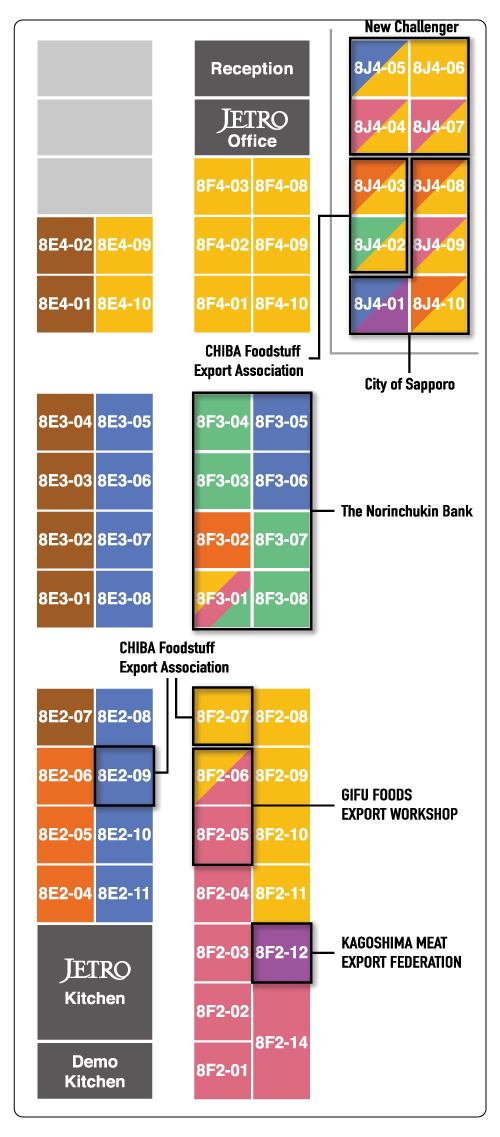 Category
Booth
Company Name
Products
8E2-04
IMURAYA
Azuki Bar (Ice Cream Bar - Red Beans), Yude Azuki (Canned Red Bean Jam)
8E2-05
Nikkoh Confectionery
Almond Matcha Chocolate, Marmo (Chocolate Biscuit)
8E2-06
SHIBATA TRADING
Super Lemon Candy, Squid Pea Snack
8F3-02
MARUMITSU SANYO
Amanatsu Jelly, Blueberry Jelly
8J4-03
Pecan Nuts Chocolate Cocoa, Pecan Nuts Chocolate Matcha
8J4-08
AICHI FOODS

Furano Wine Chocolate, Furano Melon Chocolate

with White Wine

8J4-10
MIREICA
Sapporo Catalana, Brioche Chou Cream
8E2-07
HIKARI MISO
Organic Miso Series, Halal Miso Products
8E3-01
Mizkan

Sesame Sauce with Brown Rice Vinegar, Seasoning

for Rice

8E3-02
Hakata Salt
Hakata Salt Coarse Salt, Fleur de Sel (Flake Salt)
8E3-03
Fukuyama Black Vinegar

Kakuida Blueberry Fruit Vinegar, Kakuida Izumi 3 year aged Organic Black Vinegar

8E3-04
ARAI OLIVE
Shodoshima Extra Virgin Olive Oil
8E4-01
SUMIYA BUNJIRO BREWERY

Sanshu Mikawa Mirin, Sanshu Plum Liqueur

(Mild type)

8E4-02
Amari Spice Foods
C & A Curry Powder Gold, Yuzu Kosho Paste
8E2-08
True World Japan
Farmed Yellowtail Fillet, Farmed Bluefin Tuna
8E2-09
YOSUKEMARU
Dried Japanese Abalone, Steamed Frozen Japanese Abalone
8E2-09
AOYAGI FOOD
Sabamisoni, Sanmacyousini
8E2-10
SHINAGAWA SUISAN
Dried Sea Cucumber
8E2-11
Shimizu Shoten
Steamed Octopus (Nagasaki), Boiled Squid
8E3-05
MARUSAYA
Dried Bonito (Katsuobushi), Dried Kelp (Konbu)
8E3-06
Nosui
IQF Oysters, IQF Steamed Scallops
8E3-07
KAMEWA SHOUTEN
Natural Sea Bream, Spanish Mackerel picked with Saikyo-miso
8E3-08
Azuma Foods
Assorted Rare Grains, Sushi Core (Kanikama Tempura)
8F3-05
National Federation of Fisheries Co-operative Association
HOTATE (Scallop), NIJIMASU (Rainbow Trout)
8F3-06
Maruchu
Liquid Frozen Japanese Spiny Lobster, "Miyabi" Red Seabream Snapper
8J4-01
Rinkou syokuhin
Fuwatoro Shaomai, Wasabi Edamame
8J4-05

Mishima Foods

Temari Sushi (Traditional Sushi Ball)
8E4-09
YiEM INTERNATIONAL
Vegelife Enzyme Drink, Shugo Densetsu
8E4-10
TONOHATA
Kishusan Nanko-ume shio-dake no UME, Kishusan Nanko-ume ICE UME (Pickled Plum)
8F2-06
LAKE LOUISE
Shiragawa-go Noodle (gluten-free), Dry Fruits Chips
8F2-07
MIYAKOICHI
Teppan Yakisoba, Sanninmae Udon
8F2-07
SHIGENO SEIMEN
Ajisenryu Tsurushiko Soba, Ajisenryu Zaru Chasona
8F2-08
MARUKOH FOODS

Frozen Diced Chinese Yam, Frozen Grated Tororo

Yam L

8F2-09
DREAMFARM
White Rice (Koshihikari), Rice Noodles
8F2-10
Panel Japan
Nana's Wonderland éclat Marine Collagen Peptide, Nana's Wonderland Marine Collagen Peptide
8F2-11
Marinfood
Milky Dairy Series - Candy Cheese & Smoked Butter
8F3-01
Mulberry Tea (Powder), Mulberry Fruit Jam
8F4-01
TAKANO FOODS
OKAME GOKUKOTUBU MINI3, HOKKAIDOKOTUBU MINI3 (Fermented Soybeans)
8F4-02
WADAMAN
Sesame Dacquoise
8F4-03
Sinei Foods

Vegetable Gyoza, Salmon Gyoza (No-Meat,

Non-GMO, additive-free)

8F4-08
SENKINTAN CARE'S
Black Sesame Paste
8F4-09
KYUSYUYA
Shinano Gold Apple, Sumo Orange
8F4-10
HAKUBAKU
Rolled Barley, Roasted Whole Grain Barley Tea
8J4-02
I.H.S.
AJI ONE Dry Tomato
8J4-03
Suwa Shoten
Crab Miso Soup Rich Taste and Fried Green Soybeans
8J4-04
339
Fruit Curry, 339 Delicious Koshihikari (Rice)
8J4-05
TAKIKAWA OBLATE
Oblate (Bag Type), Edible Oblate
8J4-06
ISLE
Vegetable Sheet (Carrot), Vegetable Sheet (Japanese Radish)
8J4-06
Sawa
Yuzu Paste
8J4-07
Miwasoumenkonisi
Miwa Somen (Japanese Style Noodles)
8J4-08
Goyobussan
JAGAPO Crab Potato Dumplings, JAGAPO Choco Pumpkin Potato Dumplings
8J4-09
OTARU DINING
Hokkaido Melon Mousse, Hokkaido Melon Shortcake (Low-Carbo)
8J4-10
NISHIYAMA SEIMEN
Nishiyama Norenten Ramen, Nekkyo Miso Ramen
8F3-01
JA-OKINAWA
Sweet Potato Beniimo, Tomato
8F3-03
JA Chikuzen Asakura
Fuku no Fuyu Fuyu Kaki Chip (Persimmon Chip), Toyomituhime Jam
8F3-04
YANAGAWA AGRICULTURAL COOPERATIVE
AMANERO (Spice Sauce with Habanero & Strawberry), Soy Mayo
8F3-07
KASHIWAZAKI SEIKA
Black Garlic Oyakoukou, Black Burdock Tea
8F3-08
KOTO KYOTO
Frozen Kujo Leek, Frozen Ebi-imo (Shrimp-shaped Potato)
8F3-08
Pear Sparkling Wine Facilite, Plum Liqueur YOI UMEKO
8J4-02
Shingura

Nagasa Rice Koshihikari, Soft Steamed Brown Rice

'Oh! Musubi'

8F2-01
CURETEX CORPORATION
Dried Baby Sardines Flake, Waku Waku Beer (Koshihikari Ale) 4.5%
8F2-02
Maruyama Tea Products
Matcha/Japanese Green Tea, Bean Paste Rice Cake Wrapped in Cherry Leaf
8F2-03
JAPAN GREENTEA
Kyoto Uji Matcha (Ceremonial Grade), Kyoto Uji Matcha (Cooking Grade)
8F2-04
KOSAKA
Nagomicha 'Bai', 'Gen'
8F2-05
TENRYOU SAKE BREWING
Japanese Sparkling Sake SmaSma
8F2-05
MIWA SHUZO
Shirakawago Tansan-Junmai Awanigori-Sake, Shirakawago Junmaiginjo Sasanigori-Sake
8F2-06
UCHIBORI VINEGAR
Rice Vinegar, Premium Fruit Vinegar - Sinsyu Apple
8F3-01
Okinawa Products Associated
Shikwaasaa RAMNE, Pineapple RAMNE (Soda Drink)
8J4-04
HAIBARA
Covered Tea produced by Sizuoka's Chagusa Noho
8J4-07
Lapilos Water
Tarumizu Premium (Portable Spa Water from Kagoshima Pref.)
8J4-09
Field Technology Laboratory
Bankei Red Wine (No Additives), Bankei Cider Wine
8F2-14
TAKASHIMAYA TRANSCOSMOS INTERNATIONAL COMMERCE
Sake, Chilled-Udon
8F2-12
STARZEN INTERNATIONAL
KAGOSHIMA WAGYU Beef (Yakiniku Set), Kagoshima KUROBUTA (Loin and Belly)
8J4-01
Yotsuba Milk Products
Yotsuba Buttermilk Pancake Mix, Yotsuba Hokkaido Cream Whip
Organiser's Contact
"Japan Pavilion @ Food&HotelAsia 2016"
is organised by Japan External Trade Organisation (JETRO) and supported by
Ministry of Agriculture, Forestry and Fisheries (MAFF) in Japan.

For enquiries, please contact:
Mr. Mingxian (JETRO Singapore)

TEL: +65 6221-8174

Email:
spr@jetro.go.jp