Japan Pavilion @ BEX Asia 2015
Exhibition Details
Date: 2 - 4 September (Wed - Fri), 2015
Venue: Marina Bay Sands Convention, Hall A - B (Booth N10)
Time: 10:00 - 19:00 (10:00 - 18:00 on 4 September)
JETRO (Japan External Trade Organization) is setting up the Japan Pavilion at BEX Asia 2015 in Singapore to promote building-related products that boast of advanced technology as part of our efforts to support the overseas development of Japanese companies in the respective related industries.
The "Japan Pavilion" occupies an area of 270 m2 and is one of the biggest country pavilions among the many countries participating this time. The BEX organizers have high expectations for our Japanese exhibitors' showcase of various world leading products, renowned for eco-friendliness on top of their superior functionality and high-performance.
We are participating for the third time this year, and have 14 building material-related exhibitors in our pavilion, all of which are manufacturers of remarkable products which boast of cutting edge technology. They are presenting a wide range of products such as paint, floor materials, laminated glass, building material cutters, elevators and so on. JETRO would like to promote awareness of these companies in Singapore, so as to assist them in their overseas business expansion and sales channel development in ASEAN.
Exhibitor List
| | | |
| --- | --- | --- |
| Booth# | Exhibitor | Products on Exhibit |
| N10-01 | Embark Trade & Consulting | Composite Panels |
| N10-02 | DG TAKANO Co., Ltd. | Water-saving Nozzles |
| N10-03 | KUMALIFT CO. LTD. | Dumbwaiters, Home Elevators |
| N10-04 | Kumamoto Prefectural Lumber Promotion Council | Kumamoto Lumber |
| N10-05 | TOKAI KIKI KOGYO CO. LTD. | Tatami Mats |
| N10-06 | SHINKO GLASS IND.CO. LTD. | Bent Glass, Laminated Glass |
| N10-07 | Kuriki Manufacture Co., LTD. | Soft Close for Doors |
| N10-08 | X'S CORPORATION | Photocatalyst Technology, Non-organic Rub-on Tiles, Non Slip Coating |
| N10-09 | HISATOYO TEC INC. | LED Lighting, Phosphor Films, Fluctuation Lamp |
| N10-10 | TAIYO TORYO CO., LTD. | Inorganic Water-based Paint for Construction Materials |
| N10-11 | Chemipro Kasei Kaisha, Ltd. | Wood Preservative Coatings |
| N10-12 | SANKO T.A.P. Corporation | Sunlight Charge Panel |
| N10-13 | YAMAGATAYA INDUSTRY CO. LTD. | Premium Natural Wood |
| N10-14 | GOJYO CO., LTD. | Tipped Saw, Cutter, Router Bit |
Pre-Arranged Business Matching
To request for a business meeting with any of our exhibitors, kindly contact our coordinator for more details.
Ms. Aki Ishii
TEL: +65 9278 9519
Email: aki@pro-gress.asia
Floor Map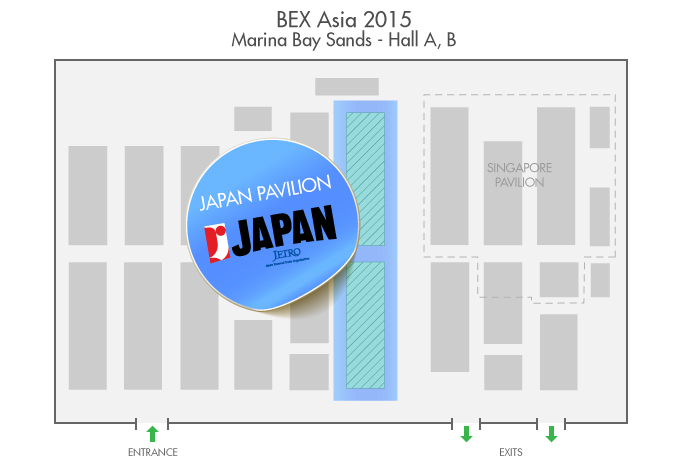 Organiser's Contact
Japan Pavillion @ BEX Asia 2015 is organised by Japan External Trade Organisation (JETRO).
For enquiries, please contact:
Mr. JIAN Mingxian (JETRO Singapore)
TEL: +65 6221-8174
Email:
spr@jetro.go.jp