4th Japan Seminar Encourages "Confidence in South Africa"
The Japan External Trade Organisation (JETRO), in cooperation with the Embassy of Japan in South Africa, the Japanese Chamber of Commerce and Industries in South Africa, Brand South Africa, Black Business Council and Proudly South African hosted the 4th Japan Seminar on Tuesday 31 January under the theme "Confidence in South Africa".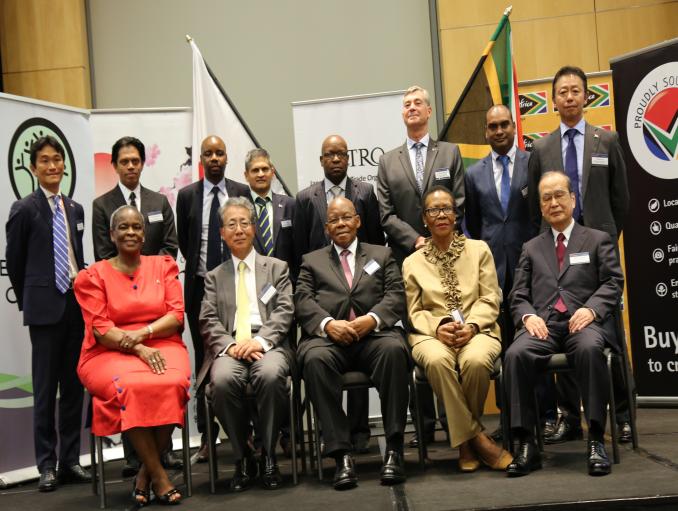 The objective of Japan seminar is to deepen mutual understanding and strengthen collaborative relations between the businesses and public entities of both South Africa and Japan. Previous seminars have featured eminent speakers such as the Deputy President of South Africa, Mr Cyril Ramaphosa, and Trade and Industry Minister, Dr. Rob Davies.
This year; under the theme "Confidence in South Africa, the seminar aimed to celebrate South Africa's strengths and its great opportunities for businesses to grow and invest in the country. JETRO invited the Executive Managing Director of the Institute for International Trade and Investment in Japan, Mr Saburo Yuzawa as the keynote speaker. He gave a presentation on the attractiveness of South Africa to Japanese investors.
Mr Saburo Yuzawa shared some of the lessons Japan had learnt in building one of the world's most globally competitive brands and how it had mobilised the nation behind this objective. Drawing on this experience he proposed that South Africa should concentrate on building its national brand through the development of iconic national products.
This year the seminar successfully invited a wide range of speakers from government and the private sector, including the Ambassador of Japan to South Africa, H.E Shigeyuki Hiroki and Dr Ben Ngubane, Chairman, Eskom.
Head of Invest SA, Mr Yunus Hoosen, briefed the audience on what South Africa is doing to ensure it is a competitive investment destination. Mr Hoosen also introduced the establishment of a Japan Desk at the dti. The desk will provide investment information and facilitation service for the South African government and companies wanting to enter the Japanese market.
At the seminar, small to medium South African companies were also invited to take part in the Proudly South African exhibition. The aim of the exhibition was to help highlight the innovative and creative potential of local businesses in South Africa to guests.
The very successful seminar came to end with a networking session where guests had the opportunity to interact with the speakers and fellow businessmen and women.