Business delegation from Kita-Kyushu area of Japan visited Israel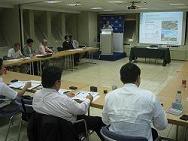 In June 27-29, a Japanese business delegation from Kita-Kyushu area, led by JETRO visited Israel for first time.
The aim of this delegation was to learn the Israeli market and to find business opportunities with the Israeli industries.
The delegation's members included executives of eight companies, in several fields, such Analytical devices, Electric appliances, Electric sensors, Machinery, Optical devices, Stamping and Tourism. 
The delegation met over 15 Israeli companies by direct visits and through a business event which hosted by The Israel Export and International Cooperation Institute (IEICI).
In addition, the delegation visited the Technion university and Weizmann institute, to learn about the latest unique technologies and how these are transfers and implements into the business sectors.


About Kita-Kyushu area of Japan
Kita-Kyushu city is located in the northernmost of Kyushu, which is the southwesterly main island of Japan.
Being close to the main land of Japan and Asia countries, with excellent transportation and ports infrastructures, makes Kita-Kyushu to be an attractive location for business.
The major Japanese manufactures in the fields of Automotive, Chemicals, Metal, Electronics etc. are manufacturing in Kita-Kyushu, part of them for over century.