JETRO Global Connection -Accelerate Innovation with Japan-
Interview


New Beginnings and Entrepreneurship with Kyo Ueda, Japanese serial entrepreneur

(Japan)
January 25, 2023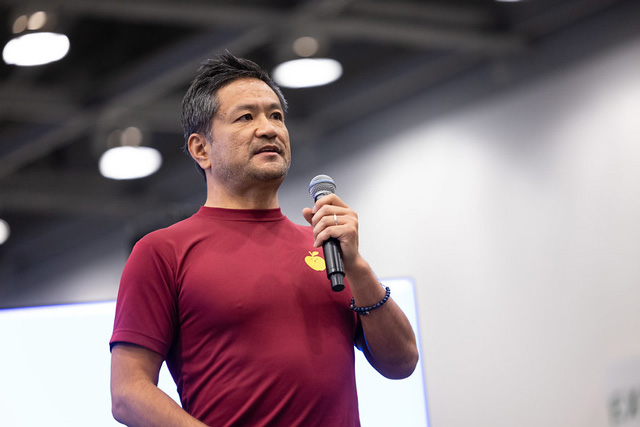 Today's interview is with Lingo Mii

founder and serial entrepreneur Kyo Ueda

. We spoke with him about new beginnings of all types, including building a company, changing direction in your business and learning a new language.
Lingo Mii pitch at Disrupt 2022 (Photo provided by Kyo Ueda)
Can you tell us about yourself?
When I was a high school student in Hokkaido, I played rugby and American football. I wanted to be number one in American football at my university. After I graduated, I was burned out on my sports and was looking for a new goal, a new ambition to be the focus of my life. I wanted to meet many interesting people and build good relationships with others who were serious about business success, so I decided to become an entrepreneur. I had the idea to create a startup, and that was 25 years ago.
How did you begin your career at the first startup?
I started a trading company selling second-hand computers. It scaled to 40 million dollar (4.5 billion JPY) in sales, and I exited the company. I started 4 or 5 other businesses. Then I started a business to help with child development disorders, working with the Hong Kong government, universities in Hong Kong, China and Japan, and UCLA. I moved to the US to start this business, but my English was not good when presenting to investors. I decided to make a pronunciation system to help me, so I founded Lingo Mii about 1.5 years ago.
What were your biggest challenges as an entrepreneur?
Money is the biggest challenge for many entrepreneurs, and I overcame this by building close connections and also finding my strengths and applying them to the business. Other aspects like programming and marketing strategy were hard for me, so I concentrated on building the best team with those skills like I did when I played rugby. It's about success as a team, not by myself.
How does Lingo Mii work?
When I studied pronunciation, I couldn't find a good system for English conversation. Sound is invisible and disappears, so it's difficult to learn. I thought AI might be able to record and visualize sounds. This method could be very helpful for English learners to study pronunciation.
With AI, you can visualize for phone, intonation, accent, and rhythm. AI can show what kinds of sounds were mispronounced and how to correct them. It does have limitations like each person has a different mouth shape, and a teacher can help with that. Videos and live lessons with a teacher, also part of Lingo Mii, can help overcome that.
Lingo Mii Image (Photo provided by Kyo Ueda)
What's the difference between ELSA Speak and Lingo Mii?
ELSA Speak gives sentences to practice pronunciation. That is not a conversation; that is just reading. Lingo Mii is based on conversations with AI or teachers. Then it creates a transcript to check grammar and visualize pronunciation or intonation. Learners can review this after the class.
Tell us more about your current team.
I am the founder, our co-founder Zan Appell is American, and we also have an IT engineer. Our advisor is a university professor, and we have part-time engineers too. Everyone works remotely in different locations, but we all share the same values and we all love a challenge.
Who is the target customer for Lingo Mii?
We started in the B2C market, but the B2B market is more popular. Companies and schools want to improve the English pronunciation of their staff or students. Our current target is Japanese universities and schools worldwide using the Benesse Corporation network. One significant barrier for Japanese people and companies to expand internationally is language. If we can help people grow their knowledge and talents, it will be very meaningful for us. I want to expand to other languages too like Spanish, Mandarin and Cantonese.
You have founded startups in Japan as well as overseas. Is it difficult or easy to start a business in Japan compared to the US or Hong Kong?
I don't think it's difficult to start a business in Japan, especially in the last ten years, because VC firms and capital have increased. However, for the IT market in Japan, it is hard to scale startups to other countries. Large Japanese companies like Rakuten and Mercari are not well known in the US. The American market enables us to scale up. Language and cultural differences are the biggest challenges for Japanese startups trying to grow overseas.
Which JETRO services have you ever used?
We were part of Disrupt 2022, and it meant a lot to us to get in front of 70 potential customers and investors. At X-Hub Innovation Hub in San Francisco, we connected with people to help us with the skills we needed. Meeting people is very significant for us. I'm satisfied with the service, but I would like JETRO to help expand into Singapore and other parts of Asia.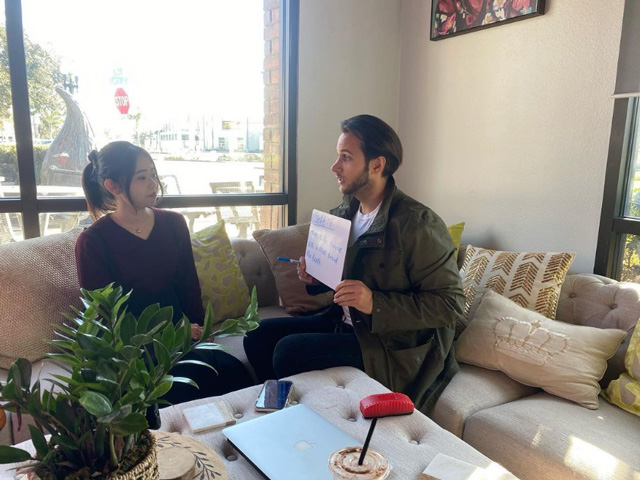 Customized Lesson by Lingo Mii (Photo provided by Kyo Ueda)
Report by:

KAGA Yusuke, Innovation Promotion Division, JETRO