JETRO Global Connection -Accelerate Innovation with Japan-
Interview


Breaking into the Medical Devices Market with iCorNet 

(Japan)
Mar 30, 2023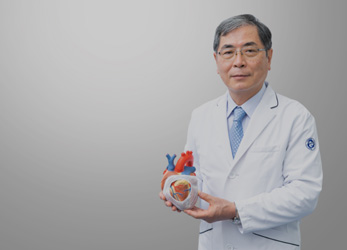 iCorNet

is a health-tech startup founded by Toshiaki Akita and Toshiya Sasaki, an expert in medical knit products. JETRO met with CEO Toshiaki Akita and CBO Sumio Sugiyama from iCorNet to learn more about their startup and the medical devices market.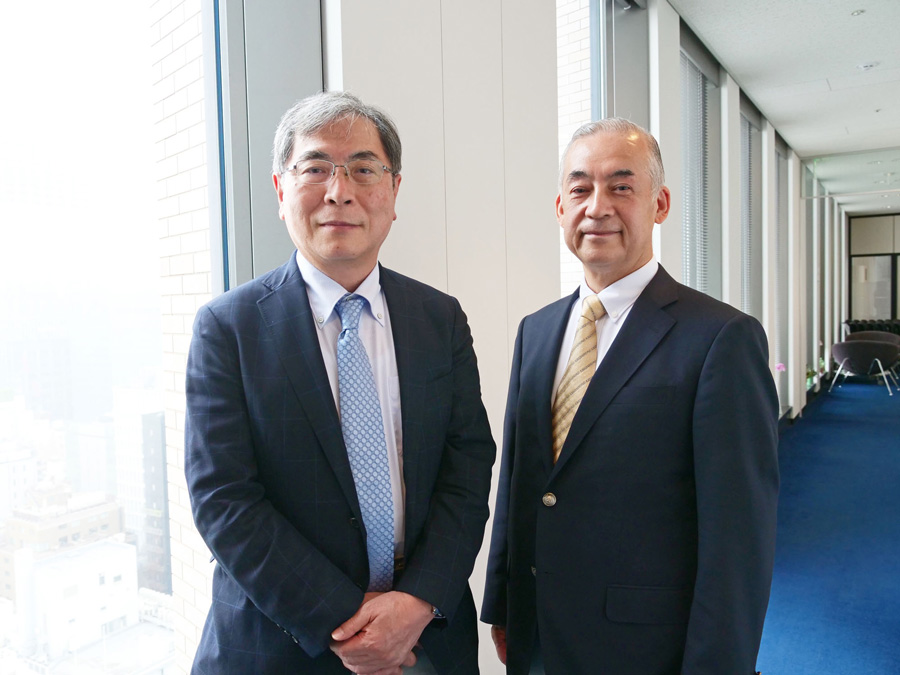 CEO Toshiaki Akita and CBO Sumio Sugiyama (Photo provided by iCorNet)
Can you introduce us to what iCorNet does and the problem you're trying to solve?
I am the CEO of iCorNet, a cardiovascular surgeon and professor at Nagoya University. I developed the personalized cardiac assist net for dilated cardiomyopathy (DCM) patients. Currently, there is no effective treatment for DCM since drugs usually cannot stop cardiac dilation and dropping cardiac function. A normal heart has a left ventricular ejection fraction of 60%, but at the end stage of heart failure, this drops to less than 20%. The heart's size becomes more than three or four times bigger than usual. In Japan, heart transplant donors are usually less than 60 per year, so patients have to wait more than five years for a transplant. Ventricular assist devices are very expensive and have serious complications. This means no effective treatment for about 20,000 registered DCM patients with symptomatic heart failure in Japan and 70,000 in the US.
Our device is a personalized product, with right ventricle side window architecture patented in Japan, the US, the EU and China. In 2019, the product was designed starting with cardiac images, and a patient-specific 3D cardiac model and computer-assisted knitting machines produce the final cardiac assist net. In three cases with DCM patients, the device improved exercise capacity by 2.8 ml/kg/min at Peak O2, more than a 30% increase. All three patients improved in the distance they could walk in 6 minutes soon after the operation and kept those improvements until now. It's been three years since then, so these results exceeded our expectations.
After the study was successful, we were nominated to the fast-track approval system by the Japanese regulatory office. We started a feasibility trial last year, and the pivotal trial will start next year. We are seeking funding for Series C to help with this pivotal trial and also business partners to conduct global clinical trials and distribution. As a business model, iCorNet is the license holder and device manufacturer. We will sell wholesale to worldwide distributors and be a part supplier to OEMs. We plan to start domestic sales in 2026 and expand to global sales in 2027.
The personalized cardiac assist net designed by CEO Toshiaki Akita (Photo provided by iCorNet)
What is your opinion of the Japanese medical care market and medical technology?
At present, all Class 4 implant devices in Japan are dominated by US and European companies. Because of this, the Japanese government wants to push Japanese startups to develop implantable devices like our product. Even the biggest Japanese medical supplier, hesitates to enter that critical medical device business. So, we don't have enough support even from big Japanese suppliers. They are not aggressive enough to participate in this type of product development, and that is our main pain point. If we had good support from medical companies in Japan, our product development cycle could be accelerated.
What kind of support would help to solve these challenges? Is there support from VCs or JETRO?
Fortunately, we were chosen by JETRO to join acceleration programs such as CIC. I attended three forums between JETRO and the government and contacted VCs from the US. However, they said it's not yet the stage for their investment. We must show that we are at the global stage of building a branch overseas first.
JETRO provided the acceleration program for us, but the next step will be helping us to go to international medical exhibitions. We have only been able to attend Japanese exhibitions. If JETRO has an exhibit with several Japanese products, iCorNet can join since it's difficult for us to participate in these events independently.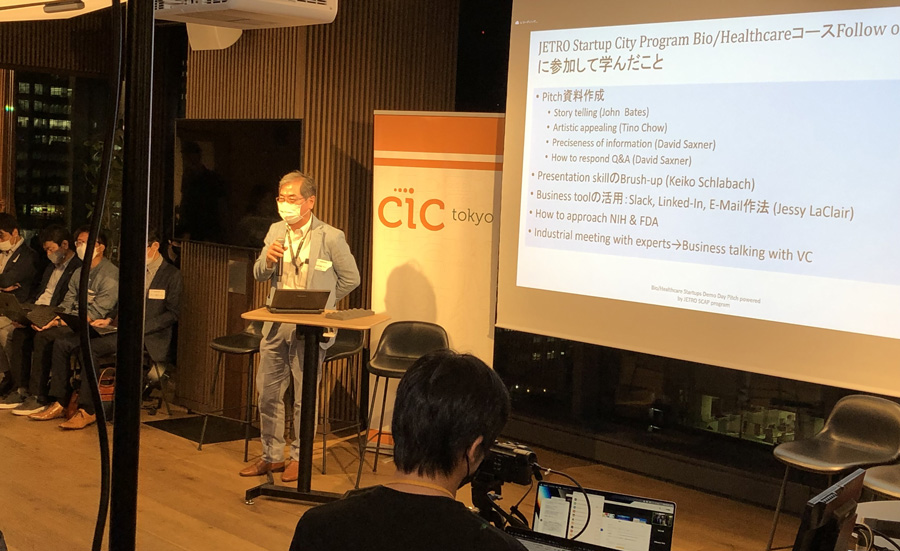 Demo Day at CIC Tokyo (Photo provided by JETRO)
What are your plans for global expansion?
We are negotiating with big Japanese medical device companies, but all of them say they don't have enough resources for global clinical trials. We are considering collaborating with Medtronic, Abbott or Boston Scientific, the giant medical companies and letting them do the clinical trials in other countries like the US.
We had first contact with Abbott, Medtronic and Johnson & Johnson. They said three cases are not enough to recommend this product to management. Once we complete a feasibility study here, we may have more than ten cases. Then we will restart the negotiation again with them.
Does your technology have any global competitors?
Dilated cardiomyopathy is just 25% of the total heart failure market. If we look at dilated cardiomyopathy, there is no competition because no medical device can stop cardiac remodeling directly. Other competitive products to treat heart failure never directly stop cardiac remodeling. However, we think our product will not compete, but it will cooperate with drugs, regenerative medicine, or preventive medicine in the total heart failure market.
What is the biggest challenge to expanding your business globally?
Because our device is produced as a patient-specific type of device, going abroad will take standardization because it is difficult to communicate with every country and every patient. For producing large numbers of devices, it isn't easy to customize products, so standardization will be a need to expand overseas markets. We need patient data from at least 100 cases to achieve standardization. UK Biobank could be a solution for this task. They have a lot of patient data that we can use to accelerate our standardization efforts.
What is the next step in advancing and developing the technology?
We have four academic surgeons who ensure that our devices are excellent surgically, as shown in clinical trials. The biggest concern now is conducting the pivotal clinical trial in Japan. If we finish that stage, we are confident that our products will be accepted in the global market.
Profile of Toshiaki Akita, Chief Executive Officer (2016~to date)

Cardiovascular Surgeon, Designated Professor of Nagoya University(2016~to date).
Professor and Chairman, Department of Cardiovascular surgery, Kanazawa Medical University (2007~2016)
Expert in congenital, ischemic, and valvular heart disease. Lots of research work for heart failure and electrophysiology.
Profile of Sumio Sugiyama, Director Business Development (long version)

Expert in Marketing, Business Development and Business Management experienced various medical devices and equipment, and led the business at Medtronic for arrhythmia devices, at Becton Dickinson for Perfusion, finally at LivaNoVa for infusion system and neuro modulation device as Country Manager.  Also, lots of experience in dealing with MHLW (Ministry of Health Labor and Welfare) as a representative of medical device industries and a specialist for reimbursement system. Particularly as the sub chairman of European Business Committee (EBC) responsible for Reimbursement Issues.
Report by:

KATO Yuka, Innovation Promotion Division, JETRO