JETRO Global Connection -Accelerate Innovation with Japan-
Interview


Exploring Agriculture in Space with TOWING

(Japan)
June 20, 2023
TOWING

(in Japanese only) is an Agri-tech startup spin-off from Nagoya University with a mission to develop super-recycling agriculture using high-performance soil technology. We met with Teppei Okamura, Technical Expert and Shogo Okishio, Sales of Business Group to find out how the technology works and their plans for global expansion.
CDO / Technical Expert Mr. Teppei Okamura
(Photos provided by TOWING)
Sales of Business Group Mr. Shogo Okishio
(Photos provided by TOWING)
Could you tell us about the company and what it does?
We are a startup company utilizing microbial cultivation technology to achieve sustainable agriculture. Our product, called "SORATAN", combines high-performance biochar and porous materials to artificially generate soil. With this technology, we can accelerate the soil formation process, which typically takes three to five years, to approximately one month.
SORATAN serves as a soil amendment, similar to compost, and enhances soil productivity, resulting in higher yields. Furthermore, the use of SORATAN allows for carbon sequestration in agricultural lands, making it environmentally friendly, and product users may be eligible for carbon credits.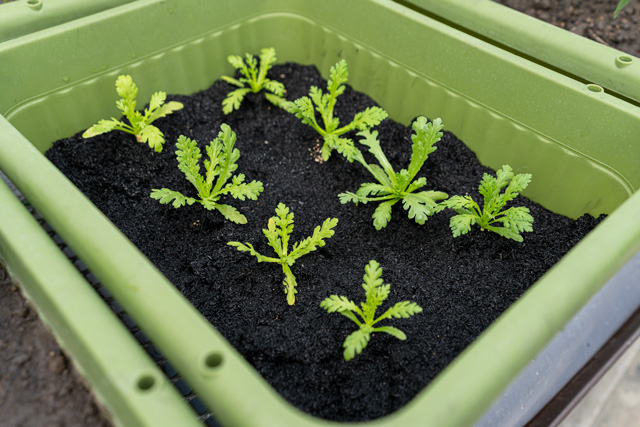 The high-performance soil "SORATAN" (Photo provided by TOWING)
When did the company start, and how did it get started?
TOWING was established in 2020. Our CEO, Kohei Nishida, learned about a research laboratory at Nagoya University's Department of Earth and Planetary Sciences that was working on agricultural technology in space and was inspired to pursue it. He obtained a patent for the technology and founded the company with the aim of implementing it in society.
With the goal of enabling food production in space, during the process of creating a business plan, we discovered the potential of using this technology to address the challenges of global warming on Earth. This led to the development of "SORATAN".
SORATAN is capable of upcycling unused biomass and utilizing it in agriculture, thus achieving a sustainable food production system. In addition to working on space agriculture using this technology, we are also dedicated to the sales and development of SORATAN plants for its production and operation.
What is the difference between space agriculture and agriculture on earth?
How it works doesn't change on earth or in space. The difference between the environments is what we use to make the soil. Inputs to make the soil can be local materials, so when we go to space, we will use moon soil to convert to high-performance soil.
Do you have any feedback from customers or people who have used the product?
Thank you for sharing the feedback from your customers. We are delighted to hear that your high-performance soil has been yielding positive results in various tests and comparisons.
According to the feedback, customers have been pleasantly surprised by the efficient growth achieved when using SORATAN on their seeds compared to using only organic fertilizers. Previous results have shown yield improvements ranging from 20% to a maximum of 70%.
In another case, when testing the product with an organic farming company specializing in tomato cultivation, we found that they were highly skilled in organic fertilizer production.
However, our soil was able to generate yields comparable to their past year's harvest, which led them to express a desire for continued use. They particularly appreciated the lightweight nature of our soil. Compared to conventional soil, our soil weighs approximately one-third to one-fifth, providing them with several advantages.
Use case (Photo provided by TOWING)
Who are your target customers?
The biochar industry has been getting very big since 2008, and it's getting bigger and bigger. Many fertilizer makers sell biochar as a fill or as soil additives, but their problem is adding value. In the world, the potential biomass is very big, and they have not reached their full production potential, but the problem is the price they sell at is not very high. We want to cooperate with those biochar companies, and we can add value to their products so that they can sell at a higher price. Then their business could expand with our service.
Use case (Photo provided by TOWING)
What is the biggest challenge to expanding your business globally?
The challenge does not change even if we do business in Japan or globally. We need a good supply chain because we collect biomass waste, make the biochar, combine it to make our product and then sell it back to the farmer. So, we don't want to increase the cost by delivering over a long distance. Access to the local biomass space is required. Finding local partners who can access those waste providers and the collecting system is crucial for us. The other aspect is the carbon credit system, which depends on the country. Sometimes they have a solid carbon credit system with the government leading it, and sometimes not.
What did you learn from participating in BRAVE GLOBAL* last year?
Participation in BRAVE GLOBAL was a good opportunity to develop our business strategy. Until then, I had been giving fairly detailed explanations to Japanese investors and corporations. At this event, on the other hand, the mentoring by foreign investors asked simple and basic questions, which encouraged us to rethink our business model from scratch. Thanks to the event, we came up with a simple, clear business model, and now we are implementing that plan.
*BRAVE GLOBAL is a short intensive acceleration program for Japanese deep tech startups organized by Beyond Next Ventures, OIST, and JETRO.
Pitching

at BRAVE GLOBAL(Photo provided by JETRO)
Have there been any challenges that you faced as a startup?
As a startup, we have minimal time and limited human resources, but there are many things to design. Eventually, we want to make commercial products, so we always look for a better way to achieve this goal. Sometimes we need to ask for help, which differs from established companies with sophisticated businesses.
Because we are an Agri-tech company, we need to do a lot of R&D without knowing the result. If you do a university study, you can stick to one study for a long time, and it's not a problem if the results are not great. We need good results from our studies, so that is the challenge.
What is your outlook for the future?
TOWING is in the process of obtaining patents for its proprietary biochar processing and microorganism cultivation technologies and is also collaborating with companies with technological capabilities, such as sensors and carbonizer companies. We are now running many projects in Japan. Once those projects have positive results, we will expand our business globally. For that, we are starting to research overseas markets this year. We will further accelerate efforts toward an IPO in 2027.
The thumbnail photo shows CEO Kohei Nishida at the TOWING farm. (Photo provided by TOWING)
Profile of Mr. Teppei Okamura, CDO/Technical Expert

Mr. Okamura is one of the founding members of TOWING and is engaged in the development and design of soil production and cultivation equipment as a technical expert. He holds a doctorate in environmental studies and has broad equipment development experience, as well as research projects in Africa and Asia.
Profile of Mr. Shogo Okishio, Sales of Business Group

Mr.Okishio, Sales of Business Group of TOWING, joined the company in 2022. He was interested in the company's vision of lunar agriculture since he conducted research on lunar thermal control at Nagoya University.
Report by:

KATO Yuka, Innovation Promotion Division, JETRO