JETRO Global Connection -Accelerate Innovation with Japan-
Interview


Osaka Heat Cool Explores Temperature Haptics 

(Japan)
May 11, 2023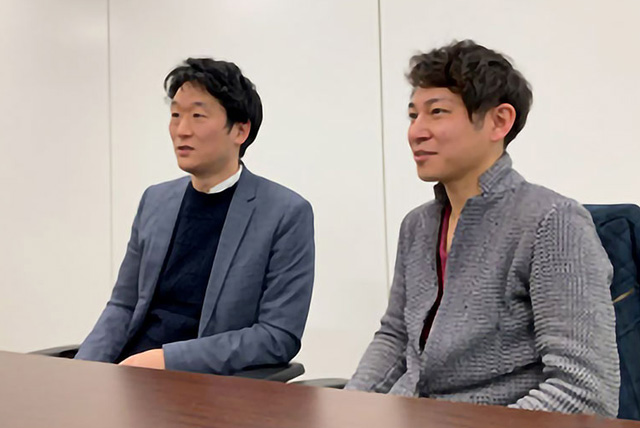 Osaka Heat Cool

is an early-stage startup founded by top university professors in engineering, material chemistry, and technology. We spoke with the CEO to learn about their innovative new technology product developed for the healthcare industry.
Could you tell us about yourself and the technology?
My name is Kenzo Ibano.

I'm the CEO and founder of Osaka Heat Cool. I'm also an Assistant Professor at the Graduate School of Engineering of the Division of Electrical, Electronic and Infocommunications Engineering at Osaka University. Our business is trying to make a thermal interface for humans. People are increasingly interested in haptics, but they usually only produce vibration or pressure sensations. We are adding temperature sensation to these haptic technologies, and the first application will be healthcare.
We're developing an itch reliever because we think a pain of itch is an under-estimated and unmet need. The technology uses heating and cooling at the same time to give the illusion of flickering sensations and soothe the itching. Our device simply mimics a scratching sensation to work with itching from any cause, such as insect bites or skin diseases. We are also trying to develop other products using haptic technologies.
Kenzo Ibano

, CEO and Tohru Sugahara, Director (Photo by JETRO)
ThermoScratch, Osaka Heat Cool Product (Provided by Osaka Heat Cool)
What made you choose this particular area of research and technology?
My background is doing research on nuclear fusion technology, but I met Professor Sugahara, who was working on technology that can create heating and cooling. It was pretty interesting, and we started thinking about how to make a business out of it. Then he invited other professors to form Osaka Heat Cool together. Not only are we all university researchers, but we also started other research as a company.
The topic of thermal haptics hasn't been widely used for healthcare applications yet. Also, I was trying to look for a solution for itching because my family has experienced that problem. If you scratch too much, you'll get skin damage, but it's very difficult to stop children from scratching.
Is your product available to customers now?
Not yet, but our crowdfunding program just started this April. If the project is funded, we will begin producing the product in June and shipping it later in the year.
How many team members do you have? Are they all Japanese or multi-national?
We have five directors and a total of ten team members. There is one Canadian, our intern, who's studying for an MBA at a Japanese university and doing incredible work. She can speak English, French and Cantonese. We hope to have more multilingual or multicultural people join the company.
What challenges have you faced as a startup?
The disadvantage is we don't have a lot of business people on our team. In the beginning, we thought it was better to concentrate on technologies and solutions, but now we need to understand financials, marketing and manufacturing, so we need skilled people in those areas. We will hire people with those skills and experience if we get more investment.
Do you currently have any investors in Japan?
We have small angel investors, but we're looking for more investors. Right now, we are looking for investment to do pilot manufacturing and expand our business globally.
We're looking for venture capital firms to partner with because we need some support to plan our business and build a team. Since we have the background of university professors, we need a professional opinion. Someone who has experienced the decisions of an early-stage startup would be a good investment partner for us.
Your core mission is to reproduce the five senses with state-of-the-art technologies, but you are focused on temperature. What brought you to choose this area?
Producing temperature sensations is one of the more complicated things to do, and the technology did not exist. Recent developments with lithium-ion batteries and other heat removal technologies make it possible to make thermal haptics smaller and more effective for device use. We are buying components for our current products and also ones that can improve how we sense taste and smells. Controlling the temperature will give us some opportunity to track and test the entire process.
Startups in Japan are strong in engineering or innovative materials, and there are a lot of areas we can overlap and collaborate. There's another Japanese company already working with haptic sensations or other sensing technologies. We are fortunate to be able to collaborate with this company already.
How has JETRO supported you with expanding your business overseas?
So far, we are getting so much support from JETRO, and we've been to Australia twice, meeting with companies in the healthcare industry. We also got market information about the US, and one of our members went to Germany to find out how to launch in Germany.
Do you have any plans for expanding globally?
Yeah, we do. We went to the CES trade show in January this year, and we found that for scratching and itching, there is a market for it in the US, EU and also Southeast Asia. We want to develop business in these countries, especially Germany, the US, Malaysia and Singapore. We need to learn about a new market for a while before launching, so we need to have connections with hospitals or medical experts in these countries.
The Team of Osaka Heat Cool in CES (Provided by Osaka Heat Cool)
Profile of Kenzo Ibano, CEO, Osaka Heat Cool Inc.

Born in Evanston, Illinois, U.S.A. He received his Ph.D from Kyoto University, and was a postdoctoral fellow at Ritsumeikan University and the University of Tokyo. Then, he became an assistant professor in Osaka university.Main research area is system design and plasma physics of nuclear fusion power plants. At the same time, he is working with Prof. Sugahara on the technology of thermoelectric semiconductors, applying the knowledge he has cultivated in fusion research. Recently he founded Osaka Heat Cool inc. which creates innovative products using the thermoelectric semiconductors to provide unique solutions to people's pains.
Profile of Tohru Sugahara, Director

Born in Arita-gun, Wakayama Prefecture. After graduating from the University of the Ryukyu (B.S., M.S.) and Kyushu University (Ph.D., Engineering), he worked as a postdoctoral fellow at the Graduate School of Engineering, Osaka University, where he was engaged in research and development of thermoelectric materials. After transferring to the Institute of Scientific and Industrial Research, Osaka University, he has been researching semiconductor packaging technology and ceramic thin film technology. He is developing flexible Peltier devices based on his experience in the development of thermoelectric semiconductor materials and semiconductor packaging technology.
Report by:

YAMAZAKI Yusuke, Startup Support Division, JETRO
Report by:

KAGA Yusuke, Startup Support Division, JETRO