Japan External Trade Organization (JETRO) will host a Japan Pavilion at the CeBIT 2017, the world's foremost event on everything essential to the wave of digitalization and the world's largest exhibition showcasing B-to-B solutions utilising cutting-edge technologies including IoT, big data, artificial intelligence and robotics, held in Hannover, Germany, from 20th to 24th March.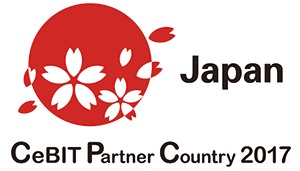 The CeBIT Japan Summit will be held on the first day of the fair and is the highlight event of the Japan Pavilion. The Summit will also feature discussions and presentations on key digitalisation and opportunities for partnering with Japan's innovative ICT sector. The speaker lineup includes top government representatives from Germany and Japan.
Date: Monday 20th March 2017
Time: 11.30am - 13.00pm
Location: Hall 8, Sakura Stage
Language: German (simultaneous interpreting: English, Japanese)
Registration
Attendance free of charge to CeBIT ticket holders.
For more details on the Japan Pavilion at CeBIT 2017, please visit the following page: