The certification program of Japanese Food and Ingredient Supporter Stores Overseas
Interview of Supporter Stores

Social Sushi Izakaya

The first Japanese Food and Ingredient Supporter Store in Argentina is a highly unique izakaya-style pub

Buenos Aires / Argentina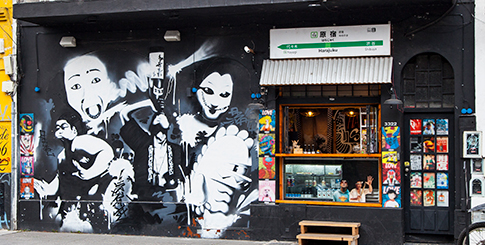 Both the pub and its owner are full of individuality
The Nunez barrio, north of the central area of Buenos Aires, is a residential district. And this is where we find an eccentric Japanese pub called Social Sushi Izakaya. The eyes of those passing by are drawn to the black wall featuring a unique graffiti and a sign for Harajuku railway station, as well as Japanese anime posters, photos of Japanese baseball players, and a shop curtain written with the Okinawan phrase of "nankuru naisa" (meaning it will be all right if you do what can be done). The inside of the restaurant is designed to look like a Japanese "izakaya" pub, but also reflects the preferences of the local customers such as by emphasizing the colors of red and blue. The owner, Sergio Asato, is also a unique personality. An Argentinian of Okinawa descent, his trademarks are the long white beard and his cap. He says he wanted to reproduce the cozy atmosphere of the izakaya pub that he would often go to when he stayed in Japan for business, or in the scenes found in the TV dramas "Shinya Shokudo (Midnight Diner)" or "Churasan (The Promise to the Chura Sea)" that he saw in Japan.
A Japanese "izakaya" pub experience in Argentina
The majority of customers are Argentinians who had been to this restaurant before. The regulars seem to enjoy the friendly and affable personality of the owner. "Most of the customers have a strong interest in Japan, but since they haven't had the opportunity to go there, they come here seeking for an experience that feels like they're in Japan. They also enjoy coming here as a place where they can make Japanese friends," says the owner, Mr. Asato. Recently, the restaurant is attracting not only younger Koreans and Chinese but also musicians, artists, and influencers, and the owner also enjoys conversing with these customers.
He has also made some effort in developing the menu so that the orders would not only be for sushi. He provides a course that starts with spring rolls, fried dishes, pickles, gyoza dumplings, and fried shrimp as appetizer, followed by main dishes of grilled chicken, deep-fried skewered meat, salmon teriyaki, pork cutlet, and ginger pork, with sushi served at the end to round off the meal. When the people of Argentina think of sushi, the first thing that they think of is salmon. However, Mr. Asato wants people to learn about whitefish, so he works on creating a sushi menu that is comprised 40% of whitefish.
Hoping to overcome obstacles to deliver "Japan" to the local people
His son, Matias Asato, is responsible for the kitchen. The food, flavored to suit the tastes of the Argentinians, have also been heavily influenced by the flavors of his grandmother, who is from Okinawa. He says that the Japanese ingredients that he cannot do without are such condiments as broth seasoning, Japanese mustard, and soy sauce. However, he also says that Japanese ingredients are hard to get by, or may not be feasible in terms of costs. For example, Japan-made soy sauce is usually put away, and brought out when a customer who knows the real soy sauce makes a request for it. The locally made soy sauce is sweet. He says it is unfortunate that Argentinians think this is how real soy sauce tastes. Also, due to the recent popularity in craft beer, there is an increase in the number of consumers looking for international beer. Social Sushi Izakaya provides Orion Beer which is the main beer brand in Okinawa. Many customers come looking for that beer. However, due to the heightened import restrictions arising from the declining economic situation, there is a lack of Japanese beer in the country, resulting in Japanese restaurants vying with each other to acquire Japanese beer. They also want to provide many Japanese sake and awamori, but the concern is that the prices for such drinks would not be appropriate for their current customer range. Even so, they are actively encouraging their customers to try sake and shochu in their effort to increase awareness about the Japanese food culture.
Promoting "Japan made" to differentiate from large local stores
Social Sushi Izakaya is the first restaurant in Argentina to be recognized under the Japanese Food and Ingredient Supporter Store certification program. Mr. Asato, who is also the founder and current chairperson of Gastro Japo, an organization that mutually helps small-scale Japanese restaurants, says, "It is a difficult period for small-scale restaurants like ourselves. However, we are making various efforts, such as by getting the approximately 60 member restaurants to come together as one to host a promotional event, or purchasing ingredients jointly in order to reduce costs. In order to compete with major sushi restaurants in the area, we need to promote high-quality Japanese ingredients as well as the Japanese food culture. To that end, the certification as a Supporter Store is a good tool that helps us differentiate ourselves from those local restaurants." So saying, Mr. Asato says that the use of Japan-made ingredients is one of the keys for distinguishing themselves against other restaurants. He continues, "I want Argentinians to learn more about Japan. I wish to create a Japanese Town in Buenos Aires lined with stores selling Japanese ingredients and other shops related to Japan." This is the big dream that he shared with us.
---
List of shops
Social Sushi Izakaya

Av. Cramer 3322, Nuñez, Ciudad de Buenos Aires, Argentina
+54-11-4783-8917
http://www.socialsushi.com.ar/
https://www.instagram.com/Socialsushiar(Instagram)