The certification program of Japanese Food and Ingredient Supporter Stores Overseas
Interview of Supporter Stores

Okiren Sushi Bar & Restaurant

A restaurant offering a taste of the Okinawan food culture for the whole family to enjoy

Buenos Aires / Argentina
A place for getting together that was built up by the people of Okinawa over many years
In 2021, the Okinawa Kenjin Rengokai (Centro Okinawense en la Argentina, also known as "Okiren") welcomed its 70th anniversary since its founding. Of Argentinians of Japanese descent, about 70% to 80% are from Okinawa or are descended from Okinawans, and the Okiren Kaikan building which is located at the center of Buenos Aires is known as a place for the people of Okinawan descent to meet one another. On the second floor of this building is the Okiren Sushi Bar & Restaurant, which is popular for its Okinawan and Japanese food. In 1993 when the restaurant first opened, it was a modest place that served simple meals for members. However, the restaurant changed over the years into a place where Argentinians and other non-member guests are able to come and dine, says Rafael Kanagusuku, the Chairperson of Okiren.
You can't tell what the restaurant is like from the street, but once inside, you find yourself in Okinawa. The guardian lions of Okinawa known as Shisa stand in the entrance hall to welcome visitors. Going up to the second floor, the passage leading to the restaurant is lined with red lanterns, creating a friendly atmosphere that also feels somehow nostalgic. There are lanterns, Shisas, and posters within the restaurant to conjure images of Okinawa.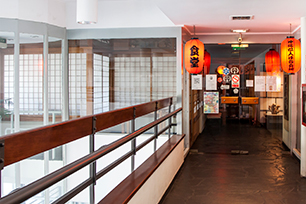 Providing Okinawa traditional cuisine while also making use of local ingredients
Anabel Morishige has been the chef here since seven years ago. Although she is not of Okinawan descent, she learned to cook Okinawan cuisine from the previous chef who had trained in Japan. Their menu includes sushi and sashimi that are popular among Argentinians, as well as Okinawa Soba noodles with lots of pork and fish cakes. The noodle, made by a local pasta maker based on a recipe provided by Okiren, tastes authentic and delicious. Depending on the season, the restaurant also serves Goya Champuru made with bitter gourd cultivated by a local Argentinian of Japanese descent. They also serve other traditional Okinawan cuisine such as Uchina tempura, Rafute of braised pork, and Tebichi made with pig's feet. However, Ms. Morishige says it's difficult to reproduce the authentic flavors to perfection because the quality of the ingredients differ from those that are available in Japan. "For example, our pork in Argentina is more fatty than the ones in Japan." As for Japanese ingredients, condiments such as bonito flakes and broth seasonings as well as wakame and nori seaweed are essential to Japanese cuisine, which she ways are difficult to replace with local ingredients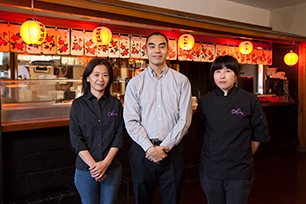 Okinawa Soba might become a popular trend!
Previously, the people of Argentina were known to be conservative in their tastes for food. However, as the popularity of sushi caught on, they seem to have become interested in trying different ingredients and other country's cuisines that they hadn't tasted before. As people are unable to go overseas due to the COVID-19 situation, they have started turning their attention to imported food which are slightly expensive. And now that sushi has become so common as to be easily available on delivery, there are an increasing number of foodies (gourmands) who actively seek new food to try. At Okiren, they have customers who come wanting to try the bitter gourd, which is a rare ingredient in Argentina. However, its bitterness is not something that the Argentinian palate is used to, so this might be something that would be difficult to overcome. Besides sushi, Argentina is recently seeing a rising popularity of ramen noodles. Okiren doesn't provide ramen, but the Okinawa Soba that they serve has the potential to become a hit item.
Hoping to pass down the Okinawa culture by making active use of SNS
Karina Uehara, who is responsible for the operation of the restaurant, says she is using SNS to actively providing information on the restaurant and about the Okinawa food culture. They have been providing promotional menus with discounted prices timed to such events as "Okinawa Soba Day" and "World Uchinanchu Day".
Mr. Kanagusuku, the Chairperson, says that since their organization represents Okinawa, they hope in the future to provide Awamori, a distilled alcohol made in Okinawa. Many of the Okinawans who live here now may not have been drinking Awamori before they came to Argentina, so the demand for Awamori may not be very strong among the people of Okinawan descent. However, Mr. Kanagusuku says he strongly wishes to import Awamori as part of their efforts toward passing down the Okinawan food culture to the next generation. "We are happy that many Argentinians visit Okiren, but we hope to make it a restaurant with a heart-warming atmosphere where people of Okinawan descent can come and gather like family, just like how it used to be when the restaurant first opened," says Mr. Kanagasuku about his future vision for Okiren.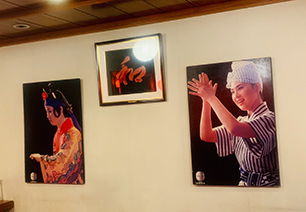 ---
List of shops
Okiren Sushi Bar & Restaurant

Av. San Juan 2651 1er. Piso, Ciudad de Buenos Aires, Argentina
+54-11-4942-6927
https://www.instagram.com/okirenresto(Instagram)