The certification program of Japanese Food and Ingredient Supporter Stores Overseas
Interview of Supporter Stores

KOKUGYU Tran Quang Khai

Under the direct management of a Japanese food wholesaler, the restaurant offers Japanese BBQ with wagyu beef which has become popular among the wealthy in recent years.

Ho Chi Minh City / Vietnam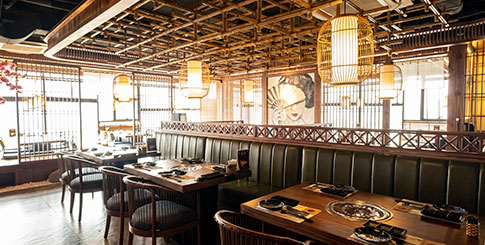 Authentic Japanese-style yakiniku produced by a Japanese food store
On the top floor of a high-rise building, there is a barbecue restaurant with a view of the Ho Chi Minh City cityscape below. The restaurant is directly managed by the Akuruhi Group, a Japanese food import and wholesale company based in Ho Chi Minh City. The group has about 1,500 customers throughout Vietnam, including hotels and restaurants, and supports local Japanese restaurants from behind the scenes. The group also operates the Akuruhi Super, a retail store, Sushi World, a Japanese restaurant that specializes in sushi and sashimi, and the Kokugyu restaurant.
"We import a lot of food from Japan on a regular basis. We import a lot of ingredients from Japan on a regular basis, and we have always wanted to make Japanese food more accessible to the Vietnamese people. In recent years, wagyu beef has become very popular, especially among the wealthy, and we opened Kokugyu in response to requests from customers for a restaurant where they can casually eat wagyu beef," said Nguyen Tu Duy, Group CEO.
Captivate people's taste buds with the original flavor of Japanese ingredients
There are many different styles of yakiniku in different countries, but Kokugyu offers pure Japanese style yakiniku BBQ. In addition to wagyu beef, they also offer US beef, but their top priority is wagyu beef from Japan.
"We started importing Wagyu beef around 2005, and the brand power of Japanese Wagyu is particularly impressive. As a result, although the price is not cheap, we have received very good feedback from our customers as a higher grade of meal."
Mr. Duy and his staff regularly taste test all of the items on the menu, and only those that they are satisfied with appear on the shelves. The most popular items are the sirloin and tenderloin, which are cut so thickly that they look like steaks, and the wagyu beef set, which includes a variety of parts. There are also hot pot dishes such as shabu-shabu and sukiyaki, seafood barbecue, and shirako crab soup made with cod milt and crab. Sukiyaki is too sweet for Vietnamese people, so the sweetness is reduced by 10-20%, but there is no special Vietnamese twist to the basic seasoning or cooking method of any of the dishes. This is because the taste of the Japanese ingredients themselves is so good that there is no need to change the flavor in dishes where you can simply enjoy the ingredients.
Restaurant's responsibility to use reliable ingredients
It is not only the meat that they are particular about. Taking advantage of the fact that they are affiliated with an imported food store, they also use a lot of Japanese seasonings such as soy sauce, salt, dried bonito flakes, and sesame seeds, which are the ingredients for the yakiniku sauce. The reason for using Japanese ingredients not only for the main ingredients but also for the seasonings, for which similar alternatives are available in Vietnam, is not only because they taste good, but also because "Japanese ingredients are of a very high level of quality and hygiene compared to those from other countries. As a restaurant, we have a responsibility to provide safe food. In this regard, it is very important for us to feel confident in using Japanese ingredients," said Mr. Duy.
The restaurant also offers a wide selection of alcoholic beverages. For example, there are about 15 kinds of Japanese sake and 10 kinds of shochu. Wine and whiskey are also available, but since sake is considered to be the representative alcohol beverage of Japan by Vietnamese people, they often enjoy pairing it with yakiniku.
Bring the goodness of Wagyu beef and Japanese cuisine to Vietnam.
At lunchtime, people working at nearby companies, both men and women, visit Kokugyu for lunch. At night, on the other hand, the restaurant is often used for family parties and business dinners. Although the majority of the customers are Vietnamese, everyone is interested in and looking forward to Japanese food. In this sense, the certification program of Japanese food and ingredients supporter is useful not only in terms of the quality and safety of the food, but also as part of PR to show the deep connection with Japan.
"Wagyu beef is a symbol of Japanese ingredients. We are currently focusing on sirloin and thigh meat, but there are many other delicious parts of beef, such as tongue and motsu (entrails), and we hope to offer these dishes as well. Japanese food is also delicious to me. That is why I would like to continue to use high quality Japanese ingredients and provide a menu that satisfies many customers."
(Interviewed in 2020)
KOKUGYU Tran Quang Khai

14th Floor, Akuruhi Tower, 124 Tran Quang Khai Street, Ben Nghe Ward, District 1, Ho Chi Minh City, Vietnam
+028-3822-0898
http://kokugyu.com.vn/
https://www.facebook.com/nhahangbbqkokugyu