The certification program of Japanese Food and Ingredient Supporter Stores Overseas
Interview of Supporter Stores

Ichishou

Long-standing Japanese restaurant continued by three generations of women

Buenos Aires / Argentina
A commitment made in a foreign land to make a living serving Japanese food
The Japanese restaurant Ichisou is located in Buenos Aires, the capital of Argentina, near the National Congress building in the Balvanera barrio in the central area of the city. Ichisou faces a quiet road lined with residential buildings in an area that has few stores with not many people seen walking around. Thus, it is difficult to tell at first glance that this is a Japanese restaurant. The name, Ichisou, comes from the names Ichi and Sou of the couple who founded the restaurant. The couple's names were combined and made to read as one. Alejandra Kano, the granddaughter of the founder and the third generation owner and chef of the restaurant, says, "My grandfather, who worked in the fisheries industry in the 1960s, came to Argentina, bringing my grandmother and mother along with him. My grandfather's business did not last very long, but my grandmother had previous experience running a Japanese sweets shop and an udon noodle shop in Yamaguchi prefecture, so they decided to remain in Argentina and use her experience to open a Japanese restaurant, which was rare at that time. And so, they opened their restaurant called Yuki in 1966. They continued to run this restaurant, sometimes moving to different locations. And in 1997, they separated from Yuki and opened Ichisou." Ms. Kano shared with us the history of how Ichisou was created.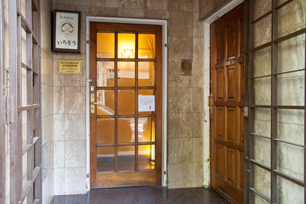 Traditional tastes that a wide variety of customers continuously come back to
Since Ichisou is situated slightly away from where popular restaurants are concentrated and from the business district, customers rarely come in from just happening to pass by. Almost all of their customers come with a reservation, either for lunch or for dinner. Ichisou is extremely well known among the Japanese people who reside in Argentina, since this is where they can enjoy the most authentic Japanese tastes in Argentina. If someone is looking for Japanese food in Argentina, the locals would most likely recommend Ichisou.
Argentinian families of Japanese descent and other long-time regular customers come to this restaurant looking for the comfort of enjoying the same tastes that has remained unchanged over many years. Due to the COVID-19 situation, the restaurant had to resort to providing delivery service. However, Ichisou continued to receive orders from their regulars, which helped them get through the tough times. Their long-time customers are families of Japanese descent and Japanese people residing in Argentina for business. But they are recently receiving an increasing number of Argentinian customers who come looking for authentic Japanese cuisine. But even more than that are the rising number of Asian customers. There are times when the restaurant becomes full with wealthy Chinese.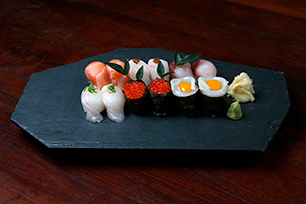 Inheriting the family business and continuing to protect the traditional flavors
Women have always presided over the kitchen at Ichisou, ever since the restaurant was founded. Setsuko Kanagashira, Ms. Kano's mother who inherited the recipes from her mother, is still preparing heated dishes, even now when she is over 70 years old. Ms. Kano's sister, Maria Ines, handles the frying. Ms. Kano, who is the owner and chef, is responsible for making sushi. She is a female sushi chef, which is rare even in Argentina. Ms. Kano says that she used to believe that her older brother would inherit the restaurant, in keeping with the Japanese tradition of having the eldest male inherit the family business. And so, there was a time when she thought of going into the movie production business. However, her brother went to Spain in search of new challenges. Left without a successor, they had at one time thought of closing the restaurant. But Ms. Kano did not want to lose the store that both her grandparents and parents had built up, so she suspended her path into the movie business. And now, she finds herself having been in the kitchen for 18 years. She initially had doubts as to whether she should continue in the path of a chef. But now, she has come to believe that preserving this restaurant, and being responsible for its food preparations and operations, is her true calling. She says that she wishes to pass on the traditional Japanese tastes into the future.
The restaurant offers the Ichisou course meal that includes marinated dishes, fried and simmered tofu, yakitori, sashimi, sushi, tempura, grilled fish, ginger grilled pork, rice, miso soup, pickles, dessert and tea, as well as set meals, rice bowls, ramen and udon noodles, hot pot, sukiyaki, and a wide variety of other dishes.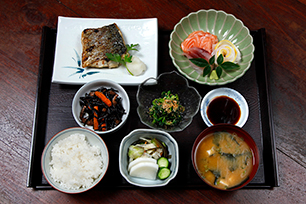 Acquiring ingredients from Japan still continues to be an issue
Currently, due to the difficult economic situation as well as import restrictions, it has become difficult to acquire ingredients that are made in Japan. In the past, they would ask people who would regularly go to Japan to bring back a suitcase full of ingredients and dishware, or had to resort to working with ingredients that they could get their hands on in Argentina. Some of the condiments that are key to how the dish tastes, such as soy sauce and broth seasonings, cannot be replaced by items that are not made in Japan in order to maintain the same flavors. Nori seaweed is another item that cannot be replaced with those made outside of Japan, because they are not suited for use in sushi rolls. Matcha has become popular even among Argentinians, and Ichisou also provides matcha ice cream. However, Japan-made matcha cannot be found, but the non-Japanese variety has a different taste which is giving her cause for concern. Japanese brand beer have also become widely recognized and are popular, but it is extremely difficult to acquire them. Ichisou continues everyday to try to answer the expectations of their local customer by making good use of Japanese ingredients and its alternative ingredients.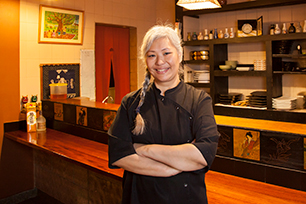 ---
List of shops
Ichisou (

いちそう

)

Venezuela 2145, Ciudad de Buenos Aires, Argentina
+54-11-2860-3910
https://www.instagram.com/restoichisou (Instagram)