The certification program of Japanese Food and Ingredient Supporter Stores Overseas
Interview of Supporter Stores

Cha No Ma

A Japanese tea specialty store where you can enjoy organic green tea and matcha latte smoothies in Vienna

Vienna / Austria
Japanese tea specialty store that welcomed its 15th anniversary
A Japanese tea specialty store is found right next to the Naschmarkt, the most famous food market in Vienna that is known for having food items from all over the world. Cha No Ma has welcomed its 15th anniversary this year since the store opened. The shelves are brimming with products from famous tea harvesting areas in Japan. President Ayumi Kondo says, "Things were difficult for us for about the first two years since we opened, as many people were unfamiliar with green tea or matcha and were wary of trying them. We opened our shop at the start of summer, so we would frequently offer samples of chilled matcha smoothies to those passing by, with our entire staff working to have people learn about green tea."
While the shop continued in their efforts, the people in Vienna started to learn over time that green tea is good for the health. This, coupled with a rising interest in health, helped bring many Austrians to Cha No Ma looking for delicious Japanese tea. Now, green tea-flavored drinks and green tea latte can be found even at regular cafes and supermarkets.
Rich array of tea leaves and tea sets, with popular items being sencha and matcha
The store's shelves are lined with many green tea, matcha and tea sets. Of their customers, 90% are local Austrians, with only a few Japanese residents visiting the store. All of the sencha are made in Japan. Their customers are divided into those who look for relatively expensive tea, and those who select the more reasonably priced products. However, since Austrians would drink their green tea by brewing them in a large pot that is kept warm for a long period of time over candles, the store gives advice to their customers about how best to drink their green tea. Matcha is generally in the high-priced range. But they also offer those that are more reasonably priced since the matcha powders are used in making baked confectioneries and smoothies.
Persisting in offering organically cultivated tea
Austrians have a high interest and demand for organic products, even when compared to others within Europe, and thus, many of their customers seek organically grown tea. President Kondo says, "We have been sticking to providing organic green tea, ever since we first opened, but most of the tea experts informed us that the organically harvested green tea does not taste well. It may actually be that the taste of organic tea falls short of those made from chemical fertilizers. However, we have been providing our products under the belief that organic items are better for our health." She continues, "In order to import organically harvested green tea from Japan, we need to overcome various obstacles, such as having to acquire an organic certification that is unique to the EU, which also greatly increases the cost of the products. However, we give detailed explanations about these factors to gain our customers understanding."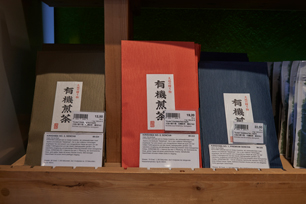 Matcha latte is popular at the cafe corner
At the cafe corner, featuring a tranquil setting of a Japanese design, popular items are not only sencha but also matcha latte and matcha smoothie, which are the preferred choices of the young local students. They have a diverse menu, with customers being able to choose from five different types of matcha served in a matcha tea bowl, as well as a number of different types of gyokuro and sencha. They also have matcha gelato and vegan matcha ice cream. Every day, their staff makes homemade rice balls and daifuku mochi sweets in the kitchen within the store. Rice balls are available in more than a dozen variety, making it difficult to choose from.
For the future, they are thinking of renewing the store but are debating whether to do so when they think of their customers, as this would require them to close the store for a while. President Kondo says, "In this COVID-19 situation, we are currently only selling take away items. But in the near future, we would like to bring the store back to a place where customers can come and relax within the store."
---
List of shops
Cha No Ma (

茶の間

)

Faulmanngasse 7, 1040 Wien,
+43- 1- 5879406
tee@chanoma.at
https://www.chanomavienna.at/