Survey Reports
Challenge! International Business - Spreading Kawaii from Sendai to the World: MerryMerryChristmasland, LLC.
Overcoming the Great East Japan Earthquake
MerryMerryChristmasland, a fancy goods store and rental gallery, was set up by a group of illustrators. The company works with artists under contract to sell their original character goods. A reconstruction aid project led the company to look toward the overseas market, and now it is going to deliver its products abroad for the first time.

Promoter and seller of original-designed fancy goods
MerryMerryChristmasland, a limited liability company (LLC, godo gaisha), has its origins in a series of promotion events that had been held under the same name in Sendai since 1995 to sell fancy goods as Christmas presents. The event was promoted by Ms. Tomoko Izumi, an illustrator and now a representative partner of the company. "My business began with a small annual event. I had never imagined that I would run a shop," said Izumi. She held the event with friends in the same profession who were just curious to know whether their works would sell.
In 1998, they set up a website for the fourth annual event to advertise it all around Japan. Partly because no entry fee was required, a large number of creators, tempted by the website, came to participate in the event. Since then, the size of event expanded in scale every year. In 2000, with 160 artists participating from around the country, the event attracted 10,000 visitors during a period of two weeks. Meanwhile, Izumi felt, that the event had grown too big to be managed by non-professionals, and she saw similar events springing up everywhere, selling art and fancy goods.
By 2004, the tenth anniversary of the event, Izumi felt that "I fulfilled in my duty as a pioneer. It's time to leave the stage," and closed the annual event. Soon after that, she opened a fancy goods shop under the same name, MerryMerryChristmasland, at a vacant room she had found through a friend. She and her partners renovated by themselves the former karaoke room on the second floor of a building with little sunlight. Next year, they moved to another building just behind Sendai Mediatheque, an art and film complex. In 2007, the shop was incorporated as MerryMerryChristmasland, LLC.
The main products offered by the company are original character goods designed by more than 120 artists working for the company under contract. The line of products includes mascots, notions, accessories, kitchen utensils, stationery, and picture books. One of the most popular goods is the "Fua-Fua Mascot" (380 yen-), with illustrations drawn on it by Izumi. Its other staple items, offered at affordable prices, are also popular with both children and adults as inexpensive gifts.
Busy working everyday as a store manager and illustrator, Izumi collaborates with another illustrator who has a similar perspective and sense to produce new works.
While selling its products at the store, the company started to wholesale its best-selling items to a zoo, an amusement park, an astronomical observatory, and a botanical garden for wild herbs in Sendai. Its business seemed to get off to a good start.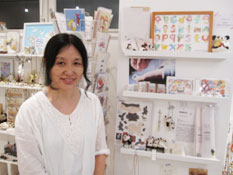 A reconstruction aid project provided an opportunity
It was then, March 2011, that the Great East Japan Earthquake struck Japan. The store, which was located in the central part of Sendai, escaped damage from the tsunami. However, it was severely damaged by the quake, which measured an upper-6 on the Japanese scale. The two-storied mortar-coated building was evaluated by the city authorities as "heavily damaged," and a decision was made in May that it should be demolished. Fortunately, they found a property—their current shop—a few hundred meters away, and started interior finishing work in the same summer. In autumn that year, they finally resumed their business at the new store.
The great earthquake also gave Izumi an opportunity to feel the closeness of foreign countries. For months after the quake, countries around the world paid close attention to Japan's Tohoku Region. Seeing on television the disaster-stricken areas that were very familiar to her, overlapped by the caring faces of people all around the globe, Izumi began to "feel much closer to foreign countries, though I had always seen them as something so apart from me." Suddenly she remembered Western European and Scandinavian countries she had visited as a student, with only a pen and map in her hand as a guide. She went there because she had been attracted by the worldview of European fairytales and the culture of Christmas.
She happened to find a design exhibition promoted by an organization to be held overseas as a reconstruction aid project for disaster-affected areas. She took part in the exhibition that was held in Hong Kong, where she got acquainted with an individual who introduced JETRO's overseas trade fair program to her.
In December that year, Izumi attended a seminar cosponsored by JETRO Sendai and Miyagi Prefecture for businesses intending to develop a market in the United States. She also took part in an individual consultation. Hearing a lecturer say, "Any company needs at least three years, including a period of preparation, before achieving success overseas," she felt, "With too high hurdles to clear, foreign trade seems impossible for our company." However, she refused to give up. She became a member of JETRO and continued collecting overseas business information.
At the Tokyo International Gift Show 2012/Spring, held in February 2012, MerryMerryChristmasland exhibited its products in a reconstruction aid booth set up by the Organization for Small & Medium Enterprises and Regional Innovation. Among the participants in the Gift Show was Konno Printing (Wakabayashi-ku, Sendai) , which had took part in the New York International Gift Fair (NYIGF) before, and Izumi had an opportunity to talk with its president. Discussing specific issues about the way to develop foreign markets excited and motivated her, she says.
Business with multi-brand stores in Europe and the United States
In September 2012, MerryMerryChristmasland at last acquired its first foreign customers at the "Design Select in Sendai: Foreign Trade Business Fair," a trade fair with buyers invited from overseas that was held in Sendai. It received inquiries from three of the seven buyers from abroad and successfully concluded contracts with two, one from the United States and the other from France. It is also talking final details with the remaining one. The two new customers are both sophisticated specialty stores located in a district attracting many wealthy people.
On the day before the trade fair, buyers visited MerryMerryChristmasland's store. "Seeing how they respond to goods they picked up there, I recognized that what I felt was "kawaii," or cute, was "kawaii" to them as well," says Izumi. She was convinced that there was something people love that is beyond boundaries between nations, and that "kawaii" is something everyone can share. The idea led her to realize that her mission was to make not only original products of her own but also other artists' works known to the world.
"I'm just happy to see them appreciate the works of creators unknown overseas, not that of the famous Japanese animation or comic characters," Izumi says with great hope for the recovery of Tohoku in mind. Eighteen months after the disaster, she realized the potential of local products made in Sendai growing into something global. "I'd like to promote local products directly toward the overseas market from Sendai involving more and more other artists," she says enthusiastically.
Direct and indirect damage from the Great East Japan Earthquake has left many businesses in great difficulty. However, there are some, like MerryMerryChristmasland, that have overcome the aftermath and have successfully entered a foreign market in a short period of time. The Christmas sales season this year will start with MerryMerryChristmasland's original "kawaii" goods from Sendai on the shelves of specialty stores in Paris and Philadelphia.
Keisuke Mizuno
JETRO Sendai
Established: August 2004
Representative partner: Tomoko Izumi
Capital: 200,000 yen
Annual sales: 50 million yen
Address: GIP Building 1F, 6-15, Kasugamachi, Aoba-ku, Sendai, Miyagi prefecture
Type of business: Production, retail & wholesale of original fancy goods and gallery management, etc.
No. of employees: 9
Website: http://www.merimeri.jp/index.html