Survey Reports
Premium Junmai Sake and Hamburgers - Sake breweries propose unique food pairings to promote Japanese sake
On January 30, Japan External Trade Organization (JETRO) and the Japanese Sake and Shochu Makers Association hosted an event on Japanese sake for food industry professionals in the Los Angeles area that included a seminar, tasting session and opportunities to network with representatives from visiting sake breweries at a restaurant in Santa Monica, California.
Nine sake breweries showcase their sake
The event was intended to introduce representatives from the restaurant and wholesale industries to the delights of fine Japanese sake and premium sake products through a seminar presentation from the National Research Institute of Brewing (Japan) and a local sommelier and a tasting session. Nine sake breweries from eight different prefectures participated in the event, which showcased 29 premium sake labels (brands) that had been carefully selected for the occasion.
During the seminar, Mr. Kazuya Koyama of the National Research Institute of Brewing talked about the basics of Japanese sake: its ingredients and how it is made, and explained the differences between junmai (no added alcohol) and non-junmai and in the flavor and characteristics of daiginjo, ginjo and junmai (including its fruity aroma, smooth taste and flavor).
This was followed by a presentation from local sommelier Ms Rachel Macalisang on the history of Japanese sake and a tasting session during which guests were given the opportunity to pair various types of sake with a range of different national cuisines.
Daiginjo labels were partnered with sushi from Japan, ginjo with Chinese spring rolls, junmai with the classic American hamburger, and sparkling sake with crème brûlée from France. All food pairings met enthusiastic praise as participants waxed lyrical on how well the flavor of each food matched that of its Japanese sake partner. This pairing of Japanese sake with non-Japanese cuisines was intended to raise the profile of Japanese sake in Los Angeles by providing information that will encourage local restaurateurs and wholesalers to choose Japanese sake from the vast range of alcoholic beverages available and help inform their choice of sake type.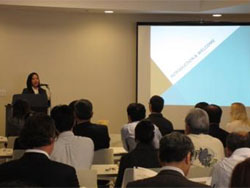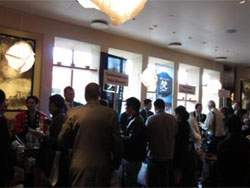 Meaningful networking opportunity wins applause
Following the seminar, representatives from the nine visiting sake breweries hosted a tasting session during which they talked business with local food industry professionals.
In a questionnaire presented to participants at the close of the event, all respondents stated that it had provided a meaningful opportunity to network and spoke favorably of being given the chance to negotiate with brewers directly and to meet other connoisseurs of Japanese sake.
Respondents were evenly split between vendors that already carry Japanese sake and those that have yet to introduce this product, but when asked whether they would be willing to stock the sake brands being showcased at the event, both parties indicated that they were either interested or would consider carrying some Japanese sake.