Survey Reports
First Japanese Sake Export Promotion in the Midwest U.S.A. Following the Great Earthquake
Attracts Food Industry Professionals
Members of Chicago area's food and beverage community had the chance to learn about Japanese sake both in theory and practice at the Sake Tasting & Pairing Event for Professionals sponsored by JETRO Chicago and the Consulate General of Japan at Chicago in cooperation with the Sake Export Association of Japan. The May 12th event was held at Kendall College to enable its students and faculty of culinary arts and hospitality management to take advantage of the rare opportunity to compare more than 50 brands of sake and learn about the drink's properties and compatibility with various foods. The afternoon event attracted 147 attendees, most of whom represented Chicago area restaurants, bars, hotels, retail and wholesale businesses, culinary schools, professional organizations and other arms of the food & beverage industry.
John Gauntner, President of Sake World, Inc. in Japan and respected sake expert, columnist and author on all things sake related, began the program by speaking on how brewing techniques, length of fermentation, the strain of rice used and percentage of its grain milled away are major factors in determining the different grades and subtle flavor profiles of sake.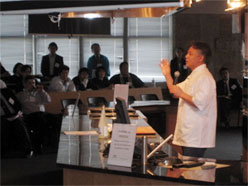 Chef Takashi Yagihashi, James Beard Foundation Award recipient and owner of the acclaimed Chicago restaurant Takashi, followed by preparing a recipe he had created to pair well with sake. He encouraged the audience to think of sake as complimenting many cuisines other than strictly Japanese. To help make his point, the audience was given samples of his dish, a combination of hamachi (yellowtail) sashimi, prosciutto and buffalo mozzarella, along with a sample of sake he recommended. Kendall College culinary students made the samples following Chef Yagihashi's creative recipe and instructions.
Armed with this information, attendees spent the second half of the event tasting sakes provided by 9 microbreweries from Japan who are members of the Sake Export Association and 8 U.S.-based distributors. One Japanese restaurant owner said that his "chef asked me to come to select sakes which match our dishes." Two of the SEA member breweries who participated, Nanbubijin, Inc. and Okunomatsu Sake Brewing Co., Ltd., are from the Tohoku region in Japan which was severely affected by the great earthquake on March 11th. Despite that, they, along with their fellow brewers, made the trip to in order to promote their high quality sakes to a growing market.
The disaster in Japan, although mainly impacting Tohoku breweries with damage and loss of inventory, actually affected the country's entire sake industry. In response (out of respect) to the enormous loss of life and suffering, the Japanese public stopped celebrating and, as a consequence, sake sales plunged. Sake makers depend on traditional sake drinking occasions such as "hanami" (annual parties under the spring blossoming cherry trees) and without them, began to quickly feel what the President of Nambubijin brewery, Kosuke Kuji, called The Secondary Economic Disaster for the industry. In a YouTube video viewed more than 500,000 times, Kuji urged his fellow Japanese to support the sake makers and hasten their recovery by once again enjoying sake during celebrations such as hanami.
Haruo Matsuzaki, the chairman of the Sake Export Association, commented to JETRO that "its members share the idea that promoting the U.S. sake market is becoming more important while the Japanese domestic sake market is not growing, especially after the great earthquake. This feeling urged us to actually come to Chicago to promote our sakes directly to food industry professionals. Members think it is their role to have an export promotional event now while the effects of the great earthquake disaster still continue."
As John Gauntner conveyed, by participating in the Sake Tasting and Pairing Event, the brewers from Japan sent the message "We are OK, we are still making good products, and we still value you as customers!" Many of the brewers and distributors predict U.S. sake sales will grow this year, especially in the Midwest. In John Gauntner's opinion, as long as the U.S.'s economy continues to expand, sake sales will increase.