Survey Reports

Organizations that Support for Building Business Networks


Seeking to Become a Frontrunner in the Field of Renewable Energy, Fukushima Partners with Europe (Part 1)
---
December 23, 2022
In order to promote the renewable energy industry, Fukushima Prefecture is ramping up economic exchange with Europe, known as a global leader in this field.
This is a two-part serial article reporting on major activities developed for this purpose. Part 1 provides an outline of initiatives the Fukushima Prefectural Government is implementing to promote the local renewable energy business, and a story about two organizations. (1) EnergyAgency.FUKUSHIMA (EAF)

, which plays a central role in facilitating partnerships with European entities, and (2) Fukushima Wind Turbine O&M Association (FOM)

, which provides support to local businesses engaged in wind turbine maintenance mainly by organizing international business matchmaking and skill-training programs. The article is based on interviews with the two organizations (note 1).
Fukushima Prefecture moves toward becoming a leader in the renewable energy industry
In Fukushima Prefecture, a number of collaborative projects are being carried out by the industry, academia, and government sectors, with the aim of becoming a front-runner in the field of renewable energy. These initiatives are also actively supported by the financial sector and propelled by several bodies including EAF, which was established by the prefectural government; the Fukushima Renewable Energy Institute, AIST (FREA), and the Fukushima Hydrogen Energy Research Field (FH2R) which is a public-private collaboration project (note 2).
A major reason behind the above-described advancement of regional energy policies was the fact that the region suffered from the Great East Japan Earthquake in March 2011 and the subsequent nuclear power accident at the Fukushima Daiichi Nuclear Power Station. Particularly in response to the nuclear disaster, the prefectural government decided that all the ten nuclear power stations located within the region should be decommissioned. The prefectural government also chose to move away from an energy policy that relies on nuclear power and instead develop renewable energy as part of its efforts to create a sustainable society. This represented a significant policy reversal made by the government, which previously was not greatly interested in introducing renewable energy.
In March 2011, immediately in the wake of the earthquake disaster, the prefectural government formulated the Fukushima Renewable Energy Promotion Vision. After one year, in March 2012, when the Vision was revised, it included the main goal of the prefecture's entire energy demand being more than fully covered by renewable energy by around 2040, and specific activities began to be implemented. When interviewed for the article, Yasuhiro Hattori, Managing Director of EAF, described the significance of this goal, referring to the indicator set to target the entire energy demand (primary energy supply), as opposed to the amount equivalent to the entire electricity consumption, the target indicator usually chosen by many other municipalities. In Fukushima, the amount of primary energy supply (including electricity, heat for household and industrial use, and transportation, among other purposes) is more than double that of electricity consumption.
This goal has been successfully achieved. As of fiscal 2020, the rate of energy demand covered by renewable energy was 43.4%, exceeding the interim goal set for the same year (see Figure 1). However, there were mixed factors behind this favorable performance. While plans to increase the use of renewable energy have been steadily progressing, energy demand, the denominator of the indicator, has been decreasing in recent years mainly due to the widespread use of energy-saving functions and a declining population. In December 2021, the Fukushima Renewable Energy Promotion Vision 2021
(12.37MB) was published, nearly ten years after the first revision was made in March 2012. The highlight of the recent revision is to raise the interim target for fiscal 2030 to 70% from the previous 60%. In association with this, the government announced its commitment to achieving carbon neutrality by 2050.
Figure 1. Fukushima Prefecture's renewable energy usage goal for 2040 and transition of regional energy demand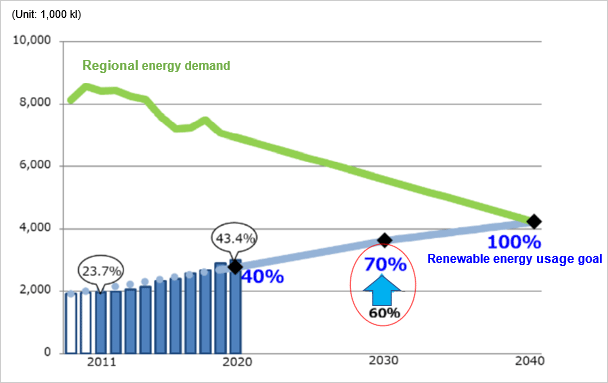 Note: The left axis above is related to the estimated regional energy demand, indicated by the green line (unit: thousand kiloliters).
Source: Fukushima Renewable Energy Promotion Vision 2021
The latest Vision contains details of past and expected changes in the composition of renewable energy used for power generation in the prefecture by source (see Figure 2). The largest proportion is attributable to large-scale hydroelectric power generation, represented by Japan's largest class projects developed in the Aizu region from early on (large-scale hydroelectric power stations located near the Tadami River). After the 2011 earthquake disaster, mega-solar power projects began to be developed mainly in the Hamadori region (note 3), which was severely affected by the nuclear accident, leading to an increase in photovoltaic power generation.
Wind power generation is expected to grow in the future. A number of onshore wind farm projects are planned, such as the project co-sponsored by the national and prefectural governments to build 108 turbines around the Abukuma Highlands, as well as a private sector-led plan with hundreds of turbines. In addition, Fukushima Prefecture has begun to invest in developing hydrogen energy technologies and launched a number of public and private hydrogen-related projects. Major examples are FH2R (note 2), which started operations for hydrogen production at the end of February 2020, and the Namie Hydrogen Station (note 4) which opened in December 2022.
Figure 2. Renewable energy used to generate power in Fukushima Prefecture by source
Source: Created by JETRO based on the Fukushima Renewable Energy Promotion Vision 2021
Fukushima Prefecture partners with municipalities in Europe
In order to advance its renewable energy policies, Fukushima Prefecture is seeking international partnerships, particularly with Europe, the world's leader in the field of renewable energy development. Until now, the government has signed a memorandum of understanding (MOU) with four partners from the region: 1. North Rhine-Westphalia (NRW), a German federal state with the country's largest local population (February, 2014); 2. the Royal Danish Embassy in Japan (December 2014); 3. Free and Hanseatic City of Hamburg, Germany (October 2019); and 4. Basque Country, Spain (October 2019). Fukushima is carrying out various economic exchange activities based on these agreements.
One such activity is the participation of each partner in exhibitions organized by the other. The Fukushima government, together with local business corporations, has a booth in E-world

, Europe's leading trade fair for the energy industry (Essen, NRW, Germany). Starting from 2014, the Fukushima joint booth has been showcasing products and technologies of Fukushima-based companies. In addition, international business matchmaking and seminar sessions were organized. Fukushima has also been participating in the international trade show WindEnergy Hamburg

, (Hamburg, Germany; biennial), starting in 2018 by hosting a seminar. In 2022, the prefecture set up a booth for regional companies to present themselves. The City of Hamburg, located in northern Germany, is known as the home of a wind power industry cluster.
In Fukushima, the Renewable Energy Industrial Fair (REIF Fukushima

) started in 2012 and is held annually. Based on the above-described MOUs, the four municipal and national governments are invited to send representative and business delegations to attend the fair. NRW in particular has been a regular participant for the past ten years since 2013 (note 5).
What has EAF learned from its counterpart in NRW?
The EnergyAgency.FUKUSHIMA (EAF) was established in April 2017 by the Fukushima government as a core function for nurturing and accumulating industries related to renewable energy. EAF has a team of experts to lead the prefectural government's renewable energy policies, planning and implementing various strategies to support local companies with business networking, sales channels development, overseas expansion, and international collaboration. In these activities, EAF is working with NRW and other European regions.
Yasuhiro Hattori comes from the energy-related private sector. He became president of the Fukushima Renewable Energy Research Association, a network platform to connect related businesses from inside and outside of the prefecture. The association was formed in July 2012, about one year after the earthquake disaster. In this capacity, he has been substantially engaged in the administration of the prefecture's renewable energy policy from the start.
Shortly after the 2011 earthquake disaster, Fukushima Prefecture was able to receive a subsidy in the field of renewable energy from the Ministry of Education, Culture, Sports, Science and Technology (MEXT). The main focus of this program was to support small and medium-sized enterprises (SMEs) in the prefecture through industry-academia collaboration in this field. EAF was established at the time of the completion of a subsidized program that helped Fukushima Prefecture to provide support to local SMEs independently. The agency was also tasked with developing specific cooperative activities based on the MOU signed in February 2014 between the governments of Fukushima and NRW. EnergyAgency.NRW, which was the counterpart of EAF at the time, strongly suggested to the Fukushima government that it should institute a working-level function to execute strategies to support the renewable energy business for inter-municipal cooperation, in accordance with the agreement.
In November 2017, six months after its launch, EAF concluded an MOU with EnergyAgency.NRW. This was followed by the conclusion of MOUs with appropriate renewable energy business support institutions from each of the other three European regions that had signed an MOU with the Fukushima government (note 6). Through signing partnership agreements with these specialized institutions, EAF aimed to enhance the working-level cooperation framework and advance the process of cross-border business matching, according to the cooperation framework set at the municipal government level.
To the above end, EAF runs industrial exchange programs, mainly for reciprocal participation in trade fairs, as described earlier, and individual matchmaking, looking to promote business between Fukushima and Europe, as well as assisting Fukushima-based SMEs with overseas expansion while encouraging foreign companies to advance into Fukushima. In addition, the agency hosts an annual workshop meeting with EnergyAgency.NRW inviting experts from the industry, academia and government sectors in the two countries to discuss business-related issues selected for the year.
EAF has continued its exchange activities with its European counterpart institutions, even during the COVID-19 pandemic. The agency has learned a lot especially from the relationship with EnergyAgency.NRW (note 7), for instance, the knowhow for organizational implementation of international cooperation, the necessity of public relations, and the importance of holding a neutral stance to all companies. Hattori appreciated the help given by the counterpart in NRW, saying, "It was also one of the challenges to gather human resources in the provinces. It was great to be able to consult with our counterparts in NRW on all matters, including these points."
Regarding the attractiveness of Fukushima for European companies, Hattori mentioned that it could be an entry point to the Japanese market. The ability to use Fukushima as a test site for demonstration experiments would also attractive. If the results prove to be successful, a company can then commercialize on a full-scale basis throughout Japan.
FOM enhances regional networks to develop local SMEs
The following is a story about Fukushima Wind Turbine O&M Association (FOM), another key player of economic exchange between Fukushima-based SMEs and European companies.
FOM specializes in the field of wind turbine maintenance. Wind farm projects involve a wide spectrum of operation and maintenance (O&M) processes (maintenance and inspection of electrical systems, repair of wind turbine components, such as the exterior and blades, oil changes for gearboxes, etc.). Wind power business operators and wind turbine manufacturers are responsible for performing O&M processes for facilities installed for about 20 years, the standard service life of the facility. In Japan, most of the wind farms adopt imports from foreign manufacturers for new constructions, and it is difficult for them to fully deal with O&M-related needs by themselves. Meanwhile, Fukushima has a lot of SMEs capable of providing technical services for wind turbine maintenance.
In this context, FOM plays a role as a go-between. The association acts as a one-stop service center to serve customers and suppliers who are both based in Fukushima. The former is exemplified by wind power business operators, wind turbine manufacturers and their sales agents, maintenance service providers, and the latter by SMEs in the prefecture that have the appropriate technology and manpower. This function can free customers from the need to pick out appropriate service providers to address issues in question from among many handling a diverse range of O&M processes, while at the same time offering jobs to local SMEs. As of today, FOM has registered a total of more than 15 business and other organizations as members and observers.
FOM was established on March 11, 2021, ten years after the occurrence of the earthquake disaster, under the leadership of Seidensha, which is based in Fukushima and serves as the secretariat of the association. Since its founding in 2003, the company has been principally engaged in construction and maintenance of railway electrical systems for the East Japan Railway Company. From 2017, the company began to launch operations for wind power generation and maintenance for wind power and other renewable energy projects.
In a recent interview, Tatsunori Kanno, Secretary-General of FOM (Manager of Development and Sales at Seidensha), described reasons for entering the wind power market, referring to his recognition of the strong possibility of developing successful wind power business in Fukushima by taking advantage of the region's appropriately windy climate conditions. He discussed the plan with Makoto Watanabe, President and CEO of the company, who approved the decision. In 2019, the company participated in REIF Fukushima, and joined matchmaking sessions with several major foreign wind turbine manufacturers. During the meetings, the company noticed a substantial demand for wind turbine maintenance services in and around Fukushima. The two company managers then decided to set up a business matchmaking function, resulting in FOM, to utilize the regional networks the company had built over the years.
Kanno said, "Seidensha, eventually, benefits from running FOM as a non-profit organization." Through FOM, the company shares with other local companies demand for wind turbine maintenance services, which range too extensively to be handled by a single small company, and negotiates with concerned local organizations, and this resulted in the expanded business networks of Seidensha. Also, FOM encourages cooperation among member companies in dealing with problems faced by individual members, specifically SMEs doing business with large foreign manufacturers, such as the language barrier (English communication) and slow payment procedures (long lead time for settlement). In such cases, members with appropriate experience and business scale help those in need while keeping a neutral position.
FOM is not a cooperative association, which means that the organization does not necessarily guarantee equal opportunities for members. However, it is designed to lower barriers for market entry so that companies interested in wind industry business, regardless of size, can increase opportunities. Seidensha and other FOM board members are able to focus on increasing opportunities for the local businesses rather than pursing profits as individual companies, which is the policy of FOM. This is made possible largely thanks to support given by EAF and the Fukushima Prefectural Government's Next Generation Industry Division for the creation of local industries and human resources development.
In August 2022, FOM opened a wind turbine maintainer specialized training facility, which is named FOM Academy. The site is a closed elementary school, which was transferred from the Fukushima City Government. The facility runs programs to develop necessary skills, referring to training contents provided by the Global Wind Organization (GWO), an industry group of world-leading wind turbine manufacturers and owners/operators. FOM Academy receives applications from many companies across Japan, including large corporations, partly due to the grave shortage of professional maintenance technicians equipped with adequate knowledge and skills, especially for safety, in the country. Instructors have been invited from Taiwan, a change from the initial plan for appointing a German company as a result of the spread of COVID-19.
FOM Academy (photo provided by FOM)
Trainees in session at FOM Academy (photo provided by FOM)
The above stories will hopefully help increase the understanding of the significant roles being played by supporting organizations represented by EAF and FOM in moving Fukushima's renewable energy policies forward.
Learning from experiences related to the Great East Japan Earthquake and the following nuclear disaster, Fukushima is enhancing international partnerships with Europe and other regions to accelerate its renewable energy industry promotion initiatives, aiming to become a frontrunner in this field in Japan.
---
1.

Prior to writing this article, the author conducted interviews with EAF and FOM separately, on October 11 and October 14, 2022, respectively.

2.

FH2R is equipped for 10 megawatt (MW) hydrogen electrolysis using renewable energy, representing the world's largest level capacity. It is a joint project developed in Namie, Fukushima, by the New Energy and Industrial Technology Development Organization (NEDO), Toshiba Energy Systems & Solutions Corporation, Tohoku Electric Power and Iwatani Corporation. Construction started in 2018, and operation started in February 2020.

3.

Fukushima Prefecture is geographically divided into three regions―Nakadori (the central region), Aizu (the western region), and Hamadori (the coastal region)―by two longitudinal features―the Abukuma Highlands and Ou Mountain Range. The Hamadori district faces the Pacific Ocean.

4.

A stationary hydrogen fuel station built in Namie, Fukushima, jointly developed by Date Juki (based in Namie Town, Fukushima Prefecture) and Japan H2 Mobility (JHyM; based in Tokyo). Capable of charging five FCVs per hour.

5.

In 2021, the event was held online as a measure against COVID-19.

6.

MOU signed with State of Green (Denmark) and Basque Energy Cluster (Spain) each in May 2019, and with Renewable Energy Hamburg Cluster Agency (Germany) in September 2019, one year prior to the inter-municipal MOU.

7.

EnergyAgency.NRW is known as Germany's first renewable energy business support institution. As described above, the institution suggested that an appropriate supporting function (present-day EAF) should be established.
Seeking to Become a Frontrunner in the Field of Renewable Energy, Fukushima Partners with Europe
(Part 1) Organizations that Support for Building Business Networks

Author

MORI Yuri
Europe Division, Research & Analysis Department, JETRO
Joined JETRO in January 2020. Prior to her current position (June 2022-), she was in the Innovation Promotion Division, Innovation and Intellectual Property Department (January 2020-May 2022). She served as a Researching Attache at the Embassy of Japan in Estonia (2012-2016).