Opening Ceremony of JETRO Munich and seminar "Innovation through German-Japanese cooperation"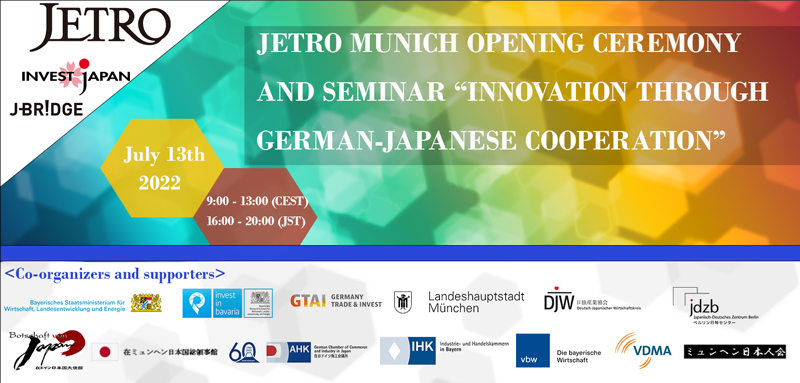 Please be informed that the registration for participation at the venue is now full. Thank you for your application.
Online registration is still available. Please join us!
On Wednesday, July 13th, the Japan External Trade Organization (JETRO) will hold the Opening Ceremony of the JETRO Munich office as well as a Seminar on "Innovation through German-Japanese cooperation" as a hybrid event. Since July 2020, the JETRO Munich office has been providing services to German and Japanese companies in southern Germany. To celebrate its opening, a ceremony will be held with high-ranking guests such as the Bavarian State Minister of Economic Affairs, Regional Development and Energy, the Mayor of the City of Munich and other representatives from Germany and Japan. The ceremony will be followed by a seminar in which the leading German and Japanese companies Siemens, BMW, DMG Mori, Toray Industries and the up-and-coming start-up TWAICE will discuss German-Japanese cooperation related to carbon neutrality. After the seminar, an opportunity for networking and enjoying sushi and other refreshments will be provided*. We are looking forward to meeting you there.
* For those who wish to attend at the venue: Due to the limited number of participants at the venue, we may invite you to attend online even if you have requested to attend at the venue, provided that the maximum number of participants has been reached. We thank you in advance for your understanding.
Program:

JETRO Munich Opening Ceremony and Seminar "Innovation through German-Japanese cooperation"(535KB)

Date and time:

Wednesday, July 13th 2022, 9:00 – 13:00 (CEST)

Event:

Hybrid Event (Participation online or at the venue/Simultaneous interpretation German-Japanese /Free of charge)
*Please register in advance. The reception at the end of the event is for participants at the venue only.

Venue:

Hotel Vier Jahreszeiten Kempinski

Language:

Simultaneous interpretation German-Japanese (*No interpretation or subtitles in English available)

Organizer:

Japan External Trade Organization (JETRO)

Co-Organizers:

Bavarian State Ministry of Economic Affairs, Regional Development and Energy, Invest in Bavaria, Germany Trade and Invest (GTAI), City of Munich, Embassy of Japan in Germany, Japanese Consulate General Munich

Supporters:

Bayerischer Industrie- und Handelskammertag (BIHK) e.V., Deutsche Industrie- und Handelskammer in Japan (AHK Japan), Vereinigung der Bayerischen Wirtschaft e.V (vbw), VDMA, VDMA Bayern, Deutsch-Japanischer Wirtschaftskreis (DJW), Japanisch-Deutsches Zentrum Berlin, Japan Club Munich e.V.

Program:

Opening Ceremony
Date
Summary
9:00-9:10(CEST)
【Opening remarks】

Nobuhiko Sasaki, JETRO Chairman & CEO

9:10-9:35
【Greetings from guests of honor】

Hubert Aiwanger, Bavarian State Minister of Economic Affairs, Regional Development and Energy
Kazuchika Iwata, Parliamentary Vice-Minister of Economy, Trade and Industry, Japan
Dieter Reiter, Mayor of Munich
Hidenao Yanagi, Japan's Ambassador to Germany

9:35-9:40
【MOC Signing Ceremony between JETRO Munich and Invest in Bavaria】

Hajime Takatsuka, Director General, JETRO Munich
Gudrun Weidmann, Executive Director, Invest in Bavaria

9:40-9:45
【Ribbon Cutting Ceremony】

Seminar (German-Japanese cooperation and innovations related to carbon neutrality)
Date
Summary
10:00-10:20
【Keynote】
Partnerships between German and Japanese companies to create innovation

Dr. Roland Busch, Chairman of the Asia-Pacific Committee of German Business (APA), President & CEO of Siemens AG

10:20-11:10
【Presentations from companies】

Irene Bader, DMG MORI Global Marketing GmbH, Director Global Marketing, Executive Officer
Miki Terada, Toray Industries Europe GmbH, Head of Toray Automotive Center Europe
Stefan Lutz, BMW Group Japan, Development Japan, Technology Office, Senior Manager
Lucas Reinfeld, TWAICE Technologies GmbH, Sales & Business Development Manager
Yujiro Maki, Corporate Executive Officer SVP, Global Product Liaison Office, Fujitsu Technology Solutions GmbH

11:10-11:55
【Panel Discussion/Activities of German and Japanese companies in the field of carbon neutrality】
Moderation of Panel Discussion:

Dr. Christian Geltinger, Chief representative, State of Bavaria – Japan Office

Panelists:

Presenters from the 5 companies above
Achim Hartig, Germany Trade and Invest (GTAI), Managing Director of Investor Consulting
Hajime Takatsuka, JETRO Munich, Director General

11:55-12:00
【Introduction to the business platform "J-Bridge", which facilitates collaboration between Japanese and overseas companies / Introduction to the "German-Japanese Innovation Initiative 160"】

Hajime Takatsuka, JETRO Munich, Director General

Reception *only for those present at the venue
Date
Summary
12:00-12:05
【Celebration Toast】

Nobutaka Maekawa, Japanese Consul General

 
12:05-13:00
Informal exchange
Link for registration

Registration Deadline

At the venue: Friday, June 24th, 2022
Online: Monday, July 11th, 2022
JETRO Munich(Ms. Okawara, Ms. Fendl)
E-mail: MUN@jetro.go.jp