Meet Japanese Companies with Quality
A Toast for the World with Quality Saké

Yoshikubo Brewing Co., Ltd
Website: Yoshikubo Brewing Co., Ltd


Category: Japanese Food
230 years of mastery
Founded as a rice company back in 1790, the delicious water of Mito, in Japan's Ibaraki Prefecture, provided the calling for a long history of saké brewing. Yoshikubo Brewing Co., Ltd has also benefited from a perfect climate, with intense summers and winters allowing unparalleled quality in rice wine. 230 years later, the artisanal skill has been mastered, with 12th-generation Hiroyuki Yoshikubo now leading the team of 18 local employees. The company's flagship label is Ippin—completely handmade, even down to polishing the rice—that balances aromatic dryness with a powerful burst of umami flavor. Umami, one of the five basic tastes after sweet, sour, bitter and salty, is a favorite among the people of Mito, who consume products like natto and soy sauce like there's no tomorrow. Ippin's blend has to be tasted to be understood—its unique, innovative flavor is the result of centuries of experience.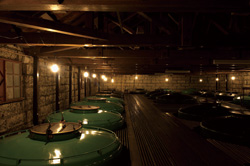 Entertaining the senses
"Saké is like an entertainer," proclaims Yoshikubo as he waxes passionately about the traditional beverage. An individual variety can come with a complex explanation, but what's more important for him is bringing joy to people. Just as with wine, each bottle of saké can be matched with its food counterpart, and Yoshikubo is committed to bolstering how one can complement the other. He believes saké can provide an alternative to white wine. One of many awards recently won by Ippin was a gold and silver medal at the 2014 San Francisco International Wine Competition. In one restaurant it was even nicknamed the "Chablis of the East." Aesthetics are important too, including the stylish logo created by an award-winning designer, and the wine's catchy name Ippin, meaning "the one and only." Yoshikubo's exploration continues to evolve as the team develops new products to stimulate consumers' five senses, with a much-anticipated sparkling saké about to hit the market.
Saké goes multicultural
Yoshikubo's lively character and strong vision keep the company moving. Now they distribute globally to destinations including Australia, the U.S., Singapore and Korea. When Yoshikubo was 16, he studied abroad in Thailand, where he was impacted by the poor reputation of Japanese goods. He became passionately committed to changing this mindset, by educating people's palates around the world. This sparked a booming overseas business with top-notch Japanese restaurants around the world clamoring to place Ippin on their menu. However, Yoshikubo won't content himself with Japanese restaurants. He sees potential for saké in Northern and Eastern Europe, where food staples like cheese and dried meat make a perfect match for the rice wine. Through products like Ippin, Yoshikubo wants to bring Japanese-style entertainment to the five senses of the world.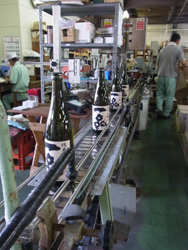 ---
Website: Yoshikubo Brewing Co., Ltd