Meet Japanese Companies with Quality
Machining Tool

Toko Co., Ltd.
Website: Toko Co., Ltd.


Category: Japanese Machinery
Three generations of honing tools
Makoto Terashima is the third-generation leader of Toko Co., Ltd., a firm founded 73 years ago by his grandfather. Terashima Senior was working for a tool company in Tokyo when he set up his own company in 1940 to distribute the products. Operations ceased after Japan's 1945 defeat in the Second World War. But the company was subsequently reorganized to manufacture tools when the Korean War created a US demand for Japan-produced parts. Today, Toko creates strong, durable tools used in manufacturing. Its wide product lineup includes drills, bores, high-speed steel tool bits, punches and cutting rings, and more.
Branching out
With Toko producing the tools used to churn out auto parts, Terashima comments that "Toko's footprint is mirrored in the growth of the automobile industry in Japan." Prior to the economic downturn that followed the Lehman Brothers collapse, "70 percent of sales were from the auto industry," says Terashima. But the foresighted CEO realized several years ago that an over-reliance on one industry could cause problems. What's more, technological developments have increased the viability of the electric vehicle, whose motor comprises some 10,000 fewer parts than a conventional gasoline engine. Consequently, Terashima decided to branch out.
New tools for new technologies
By 2007, Terashima had found two industries to supplement and eventually supersede auto parts-aircraft and medical equipment. The firm's experts developed tools now supporting production of the Boeing 787 Dreamliner, which unlike previous aluminum aircraft is made from the composite CFRP (carbon fiber reinforced plastics). New implements were required to drill holes in the material, and Toko was happy to create them.
Similar precision tooling is needed for prosthetics such as hip replacements, in which stainless steel drills make holes in bone and metal. Like many medical advancements, such as the discovery of Penicillin, Toko's initial involvement was accidental. Terashima recalls that a well-known company wanted help making implants, which he supposed were dental implants-not quite Toko's department. "When we finally saw the designs, we realized the implants were for prosthetics," Terashima chuckles. Toko still works with that company to wrest some of the global production of prosthetics from the US to Japan.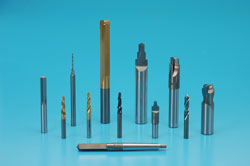 A family company
Toko is a family firm not just in the nature of its management but in its relationship with customers. Its experts partner with them to alleviate their concerns, offering know-how in material selection, design, processing and treatment. Moreover, they're happy to visit a customer's workplace to propose solutions. The company even boasts an on-time job completion record of 95 percent. But more than anything, Toko treasures its customer relationships, some of which have lasted for 60 years. Terashima drills to the core of his company's philosophy when he states his customers are "like family."
---
Website: Toko Co., Ltd.