Meet Japanese Companies with Quality
Reaming and Horning Machine, Tool

Takezawa-Seiki Co., Ltd.
Website: Takezawa-Seiki Co., Ltd.


Category: Japanese Machinery
Engineering excellence
Japan's engineering and technological industry has reached the summit of the global market. Fueled by their quest for perfection, the meticulous work and research that Japanese manufacturers put into their production guarantees output of the highest caliber. This reliability has rendered the "Made in Japan" tag all the more coveted among consumers. In fact, the only holes in the Japanese business plan are strategically placed and drilled to precision.
The hole story
The industrial machinery in many factories and businesses rely on are complex gadgets comprised of numerous small parts. But what allows for top-notch performance is how well those parts fit into the machine. As such, the demand is high for reamers-rotary tools that puncture steel to enlarge holes for pistons and bolts.
Catering to this need is Takezawa-Seiki Co., Ltd., a Tochigi Prefecture-based engineering company whose catalogue of machines dedicated to reaming and honing-a process of creating smooth surfaces on metal-has made it a sought-after brand.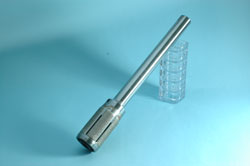 Innovation through trial and error
Takezawa-Seiki has also garnered high praise from consumers for its innovation, namely in its invention of the diamond reamer. Unlike standard tools, this reamer has diamond-coated drill bits, using the incredible hardness of the stone to manipulate metals.
"I used to experiment with the machining centers using diamond tools after hours," reminisces President Eiji Takezawa. His father established the company in 1962 as a small-parts manufacturer. Back then, the family business only had a handful of staff-one of whom was Takezawa himself-and much of the assembly was done manually. "Through trial and error, I would discover what materials worked," he says. "I found it interesting how each approach gave a different result."
"[We worked manually because] it was a small business, and we couldn't afford expensive machinery then. We relied on the efforts of our craftsmen."
Initially constructed for factory use to prevent spills and leakage in oil-powered machines, Takezawa-Seiki's diamond reamers were eventually promoted and became mainstays among its clientele, which includes automotive giants such as Toyota and Honda.
Expanding and exporting
Takezawa-Seiki's revolutionary technology has led to its reach expanding internationally. The company has been exporting to South Korean manufacturers for over two decades and is currently supplying Taiwan and China. Presently, the president is focused on bringing the firm's machines to North and South America.
Engineers work to customize products to suit each client's particular needs. But Takezawa-Seiki also aims to create a line of pre-made goods from which clients can choose, to help reduce costs and increase efficiency. "We want to create affordable products of the highest possible quality," Takezawa professes. Japan's reputation as a world leader in technology rests on mindsets like this.
---
Website: Takezawa-Seiki Co., Ltd.