Meet Japanese Companies with Quality
Seafood selected by the experts

Suiken Co., Ltd.
Website: Suiken Co., Ltd.


Category: Japanese Food
Quality seafood relies on expert eyes
As a country surrounded by water, Japan's food culture is fixated on fish. Throughout its history, the Japanese have looked at fish in a different way than other cultures and have a particularly strong preference for seafood. In Kyushu, there's one place in particular where fish is the focus—at the port where the fresh catches of the day land. At 3 a.m., an intense auction is held among the top fish experts who gather from every corner of Japan to make purchases for demanding consumers. Suiken Co., Ltd. sends eight employees there each day to cultivate their eyes to find the freshest quality of fish.
With this fresh daily start, Suiken has become renowned in the industry for its quality selections. In its 40-year history, Suiken has developed a strong knowledge as well as connections, with main branches right in Kyushu at the Nagasaki and Matsuura fishing ports. With skill, knowledge and history, Suiken has mastered the ability to select the best fish and get it to the right client.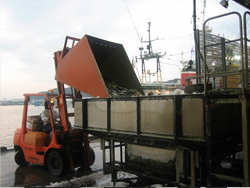 Coordinating various routes
Suiken now has clients in various industries, from supermarkets and food corporations to restaurant chains where processed fish are mainly sold. Accommodating the cost increase for factory work in the country, they send their staff overseas to ensure quality work is done abroad and to create a smooth route for products to be sent back to Japan. In Japan, Suiken prides itself on the mackerel and horse mackerel famous in Kyushu, yellowtail, squid and scallops, but it also sources fish overseas like salmon and mackerel from Norway. Though the fish may not always be from Japan, with Suiken's techniques and selective eyes, it's able to look for the best to bring back to the country. Keeping in mind clients' needs and price restrictions, Suiken is able to find a fish to match.
Delivering the right fish to clients all over the world
There's no need to say seafood consumption has increased. The popularity of sushi and Japanese foods, as well as greater health consciousness, has led to a fish-frenzy in recent years. Suiken would like to deliver the same Japanese-quality seafood to regions around the world. Given the company's knowledge in distinguishing and processing fish, it can provide the service to meet its clients' needs by taking into account the cost and preferences of certain palettes of people across the globe. Seafood's taste depends on its quality, so Suiken hopes to bring the best to each country to fit its needs.
The company is now in the business of sending hamachi (yellowtail) filets to the U.S., but it believes there will be more potential in other regions as the consumption of fish continues to increase. Suiken hopes to be of service to countries worldwide as true seafood professionals.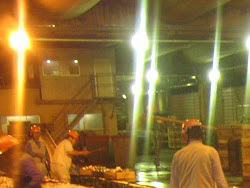 ---
Website: Suiken Co., Ltd.