Meet Japanese Companies with Quality
Meeting household needs in style

The SKATER Co. Ltd.
Website: The SKATER Co. Ltd.


Category: Japanese Design & Daily goods
Practical and versatile
The Skater is Japan's leading manufacturer and exporter of plastic household goods including lunchboxes, food containers, kitchenware, utensils, baby goods, outdoor goods, toilet and bath items, gadgets and gifts. The Skater has been in operation since 1950 and currently posts annual sales of more than 10 billion yen. Headquartered in Japan's ancient city of Nara, the company boasts offices in Korea, Taiwan, Shanghai and Hong Kong, and manufactures its products in Japan and China. The company has status as an OEM (Original Equipment Manufacturer) and an ODM (Original Design Manufacturer). That means it can produce original Skater products as well as licensed items featuring international characters, such as Snoopy and Sesame Street, and Japanese mainstays like Hello Kitty and Takara Tomy's TOMICA toys.
A box for every lunch
Lightweight, easy-to-carry, stylish and colorful lunchboxes are the hallmark of The Skater. The boxes are also microwavable, dishwasher safe, odor and stain-resistant, stackable, and can also be used as food storage containers.
Although lunchboxes make up 40 percent of sales, The Skater's designers are always developing new lines under the motto "Love in Heart, Dreams for Living." Over 200 items are introduced to the market each year to satisfy consumers' appetites for original, seasonal items. There are lunchboxes tailored specifically to children, women and men in a wide range of colors and shapes. Original lines for women include floral designs and patterns under the names of "Trend Line," "Joy Color," "Forest Color" and "Temariusagi."
New solutions to modern needs
The Skater's products merge modern functionality with a trendy design, while satisfying needs for convenience, reliability and food safety. "Change, challenge and speed" is the credo for product development, making The Skater a trend-setter in a fast-paced, ever-changing consumer environment. Latest items include a colorful pressure cooker usable in a microwave and the Kometogi rice washer in the form of a shaker. In 2013, The Skater received the "G-Mark" symbol of the Good Design Award from the Japan Institute of Design Promotion, for its "donburi stainless lunch jar" and its "slim torio set with chopstick, spoon and fork."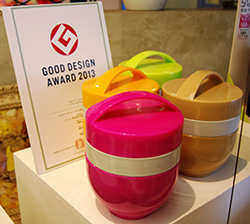 The Skater's main export markets include China, Taiwan, Korea, Western Europe and the US. And while overseas sales currently constitute only 3 percent of the total, CEO Ryouichi Konoike and his team are set on boosting the figure by expanding exports to Southeast Asia.
"We offer total lifestyle solutions with an original design and at an affordable price," says Konoike. "Our lunchboxes bring Japanese food culture and design, health and comfort-related values to foreign shores. I hope our lunchboxes will become as popular as karaoke overseas."
---
Website: The SKATER Co. Ltd.