Meet Japanese Companies with Quality
Super-fine inkjet printing

SIJ Technology, Inc.
Website: SIJ Technology, Inc.


Category: Japanese Machinery
It's a small world
Inkjet printing is hardly new, but with the invention of an inkjet principle that is different from existing technology, SIJ Technology has brought it forward by a giant leap. The company's groundbreaking device is capable of ultra-precision printing onto diverse materials on the sub-micrometer scale, with an internal camera to enable real-time observation. The printer head accurately jets out ink droplets just one-tenth the size and less than one-thousandth the volume of conventional droplets. SIJ Technology has even demonstrated the machine's capabilities by printing a tiny map of the world that is smaller than a grain of rice.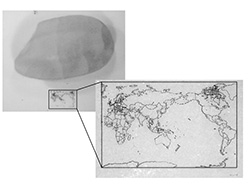 New functionality from inkjet technology
Dr. Kazuhiro Murata, the company's CEO, developed the super-fine inkjet technology when researching nanomaterials at Japan's National Institute of Advanced Industrial Science and Technology. He explained that ideally the inkjet technology could achieve close to 100% efficiency in material use, as it consumes only the necessary amount of materials using a minimal amount of energy. Additionally, Dr. Murata added that this kind of on-demand manufacturing technology is necessary for countries like Japan with high personnel costs, as manufacturing bases hoping to remain in the country going forward need to support high value-added production as well as production of small quantities with large variety.
Component creation made easy
Dr. Murata sees numerous practical applications for his printer. The most in-demand is printed electronics, where standard inkjet printers lack sufficient precision to create electronic circuits. Electronic devices have been following trends of becoming more compact and high-performance in recent years, and there are increasing needs for more minute metal wiring. The printer's technology can also contribute to a leap in improvements for biotechnology, including the precise arrangement of proteins and biochip creation.
The age of 3D printing
In a demonstration of super-fine inkjet printing, the printer head can move vertically, horizontally and diagonally, allowing it to create solid 3D objects. Because a solvent in the super-fine droplets dries extremely quickly after being released, ink with super-fine particles of gold and silver can be used to create bumps, pillars or solid wiring on circuit boards. The creation of cell scaffolds is also possible.
Super-fine inkjet equipment
Despite its groundbreaking technology, the surprisingly small size of SIJ Technology's printer means it fits easily on a countertop. Some may be concerned that applying an inkjet printer for general industry use would be difficult, but SIJ Technology's super-fine inkjet printer is easy for novices to operate with easy-to-exchange consumable parts, a low price and software that factors in usability. In regards to cost, Dr. Murata pointed out that mass production using equipment such as lithography may be efficient once running, but programming or adjusting the machine to changes in production plans takes time.
Searching for the killer app
Until recently, SIJ Technology's clients were mostly Japanese, but due to increasing requests from overseas, the company began sales to overseas customers in 2012. Customers at research institutions use it for their own research, while those at companies use it in conducting R&D with the intention of adopting it for use in their production line. The printed electronics field is new and has just started to grow, and Dr. Murata hopes that applications for his technology will be found that benefit many people and lead to the development of products that are useful to society.
---
Website: SIJ Technology, Inc.