Meet Japanese Companies with Quality
Firing up the future with traditional pottery

Shinemon Inc.
Website: Shinemon Inc.


Category: Japanese Design & Daily goods
The Arita tradition
In between the cities of Fukuoka and Sasebo in northern Kyushu lies the small town of Arita, long associated with the production of fine ceramics that were once exported through the Dutch East India Company to the titled nobility in Europe. Today, Kusuo and Hisakazu Baba continue to lead a team of expert craftsmen at the Shinemon Kiln in order to provide customers in Japan and overseas with exquisite ceramic wares, or Arita yaki. President Kusuo Baba (Shinemon II) is also the director of the Saga Art Association and a member of the Japan Contemporary Arts and Crafts Association (JCACA).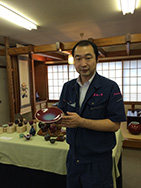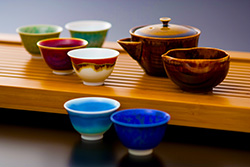 Craft and science
In 1972, Shinemon I (born Shinichiro) founded Shinemon Kiln using the sometsuke ("underglaze blue") technique to create large-sized white and indigo colored ceramics. Over time, his focus shifted to the yohen ("occasional accident") technique, in which the chemical composition of the glaze manifests itself in unexpected colors and patterns which emerge when fired in the kiln. Not merely craftsmanship, this is a method firmly rooted in the realm of science.
Glazing techniques
The Shinemon Kiln is widely admired for its large repertoire of original glazing techniques, in particular its yohen ware using finishes such as a cinnabar-and-crystal glaze, for which the kiln has been awarded many prizes. The ruby-red cinnabar ceramics have become synonymous with the Shinemon Kiln.
Another glazing technique the kiln is renowned for is yuteki tenmoku, where silvery white or golden brown crystals emerge like floating oil droplets on the background of a jet-black glaze. As well as creating typical yuteki tenmoku, Shinemon II has created his own original version, The Galaxy, which stunningly evokes the uncountable stars in the night sky.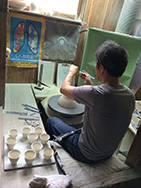 Evolving with the times
Kusuo Baba was initially reluctant to create everyday tableware, preferring to stick with tradition and make large-sized decorative ceramics such as flower vases. With domestic demand for such old-fashioned objets d'art dwindling since 2008, the Shinemon Kiln now aspires to develop not only striking gift items and furnishings but high-quality, daily-use tableware popular with the general public. Having successfully cultivated new demand in the Chinese market, where they supply major department stores, the kiln is reaching out to other countries through its comprehensive English-language website, where customers can browse and purchase items online.
Fusing cultural traditions
In September 2013, Kasama, a trade company from Thailand, joined forces with Shinemon Kiln to launch a new brand called Sara, a fusion of Japanese Arita and Thai celadon ceramics. With new products making great headway, the Shinemon Kiln is using the traditions of the past-and other cultures-to ignite its future.
---
Website: Shinemon Inc.