Meet Japanese Companies with Quality
Observing biomolecules moving at the nano level

Research Institute of Biomolecule Metrology Co., Ltd.
Website: Research Institute of Biomolecule Metrology Co., Ltd.


Category: Japanese Machinery
Advances in atomic force microscopy
Researchers are making great strides in constructing theories about biomolecular matter such as antibodies and DNA-but visually confirming such theories often poses a challenge. Thus, it was a great breakthrough when atomic force microscopy was developed in the 1980s to capture images of and measure matter at nanoscale resolution. The Research Institute of Biomolecule Metrology Co., Ltd. (RIBM), located in Japan's Tsukuba research hub in Ibaraki Prefecture, has advanced this technology a step further with commercialization of a high-speed atomic force microscope that creates high-speed video images of biological specimens.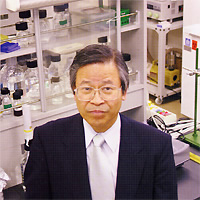 Becoming the only one
Dr. Takao Okada, whose background includes experience at Olympus Optical Co., Ltd., and serving as group leader of the Joint Research Center for Atom Technology, founded RIBM in 1999. RIBM bills itself as a trading, R&D and manufacturing-type venture capital organization whose aim is to lead technological advancement for measurements in nano-biology, which is the integration of biotechnology and nanotechnology. The company's staff of approximately 20 employees is highly skilled.
"Many have backgrounds in biology, so they can provide valuable know-how and support to clients," says Hagane Irikura from the Biomolecule Metrology Division. Their motto is to be "the only one," and they seem to have achieved that with their High-Speed Atomic Force Microscope (HS-AFM) Ando model.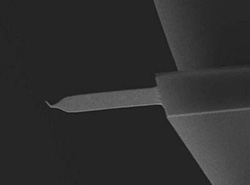 Smaller than a human hair
In 2011, RIBM commercialized a microscope, originally developed at Kanazawa University, that features a tiny cantilevered probe a mere 10 micrometers in length (the diameter of a human hair is between 17 and 180 micrometers). The ultra small and soft cantilever traces the contours of a specimen, while an optical lever detects its movements, allowing the atomic force microscope to produce topographical video images at a rate of 20 frames per second. The machine is the world's first such high-speed device, and the HS-AFM Ando model has even helped researchers observe dynamic phenomena such as movement by the myosin V protein akin to "walking."
Observing nanoscale dynamics through high-speed scanning
This is a ground-breaking, significant tool for researchers. Dr. Takashi Morii, a company director who also heads the Biomolecule Metrology Division, explains that the microscope offers many benefits. High-speed scanning makes it possible to observe the dynamics of molecules, such as their movement and response, and also enables high-resolution observation of soft materials in a liquid solution.
At the forefront of research
This sort of nano-biotechnology is at the forefront of research. RIBM sees potential application of their technology in the drug research conducted by pharmaceutical companies. Their primary customers in the current business phase, however, are leading research universities and national research organizations.
---
Website: Research Institute of Biomolecule Metrology Co., Ltd.