Meet Japanese Companies with Quality
For the Sake of Saké

MORIKAWA SHUZO CO.,LTD.
Website: MORIKAWA SHUZO CO.,LTD.


Category: Japanese Food
Keep calm and brew on
Morikawa Shuzo has weathered challenges aplenty in its 125-year-plus history of preparing high quality saké. Launched in 1887, the family brewery in the Hiroshima hills has survived wartime rice shortages, brewing limits and even the loss of the Morikawa house and business in floods. But with seventh-generation head Tomonori Morikawa at the helm, and younger brother and master brewer Motoharu at the vats, Morikawa Shuzo is looking to surmount a new—self-presented—challenge. Already providing much of East Asia, the U.K. and France with premium artisanal sake, the unique brewery aims to bring Japanese culture (in liquid form) to the rest of the world, too.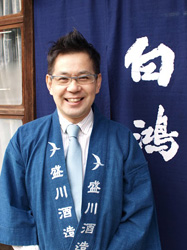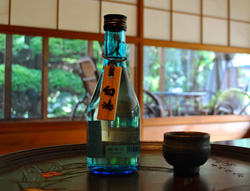 A game of tag
With the basic ingredients of polished rice, water, koji (a fungus) and yeast—plus alcohol in more complex varieties—saké shares characteristics with both beer and wine. This unique beverage is limited only by the creativity of the brewers. A more polished rice here, a different water source there, and a new flavor is born.
Riding the forefront of saké experimentation is Morikawa Shuzo's Hakuko Junmai Ginjo Blue Bottle. What sets it apart is its customizable wooden tag made from cryptomeria (a Japanese conifer). Though artfully tied onto the bottle's neck with twine, it's more than just decoration. Stir the drink ten times with the wooden tag, and taste a world of difference. Saké aged in cryptomeria barrels takes on a distinct flavor. While Morikawa Shuzo uses enamel vats, Morikawa decided to offer patrons a taste of specially infused saké.
Morikawa Shuzo produces a number of award-winning premium varieties which can be matched to meals in much the same way as wine. Some are light, others full-bodied; some are best chilled, while others may be drunk at any temperature. Experimentation will reveal subtle differences in flavor, making saké-tasting an exciting option for parties. It can even be paired with cheese or chocolate for something a little more ambrosial. The possibilities—like the varieties of saké—are endless.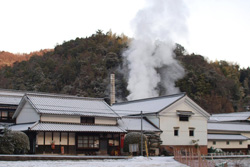 A river runs through it
Water is key to saké brewing, and Morikawa Shuzo has a secret weapon. The brewery sits upon the Noro River system, whose water is so soft it requires special brewing techniques. With this raw material, Morikawa Shuzo creates a clean, clear sake, free of discoloration and competing flavors. The resulting product is so well-matched to meals both simple and complex that it's served in several of Japan's Michelin-starred restaurants. And there might just be a second secret: locals whisper that the water has anti-aging properties. Could Morikawa Shuzo be sitting on the fountain of youth? Have a sip and see for yourself.
---
Website: MORIKAWA SHUZO CO.,LTD.