Meet Japanese Companies with Quality
A new way to examine metals in water

Micro Emission Ltd.
Website: Micro Emission Ltd.


Category: Japanese Machinery
From university lab to groundbreaking instrument
Before technology becomes commercial and easily accessible, the scientific principles that make it possible need to be researched and studied. In Japan, as with the rest of the world, the cutting-edge of technological research and innovation can be found on university campuses. One of the country's leading labs is the Japan Advanced Institute of Science and Technology (JAIST) in Nomi City, Ishikawa Prefecture.
On campus, there's a special building for companies to form research partnerships with the university. Here, organizations make use of the latest in scientific research and collaborate with faculty members to create products that take technology to places it has never been before. One such company is Micro Emission Ltd., founded by businessman and scientist Tamotsu Yamamoto and his close friend, Yuzuru Takamura, a JAIST professor at the School of Materials Science. Together, they've developed a groundbreaking new device to measure the volumes of metal in water at a micro-scale.
Analyzing water at the source
Currently, to get accurate readings of all trace elements in a sample of water, it must be sent to a lab and processed using large, specialized equipment. In countries like Japan, where samples don't need to travel too far, the system works fine; but in many parts of the world, the distances make the process time-consuming and difficult. With Micro Emission's MH-5000 Ultra Compact Elemental Analyzer, readings can be taken on-site and drastically reduce turnaround times and costs involved.
Quick, portable and accurate
The MH-5000 uses plasma inserted between electrodes to force elements in a water sample to separate and give off energy signatures that indicate what they are. Since it's battery powered, measuring water samples-even as small as 40 microliters-at the most remote locations can be done quickly and accurately. The device can also be tethered to a laptop and, with dedicated software, precise measurements can be logged, stored, compared and then shared.
It's currently being used in a number of universities and research centers in Japan and abroad as well as with companies in the agricultural and resource recovery industries. Micro Emission now has customers in Brazil, Taiwan and Finland and is looking to expand even further internationally. Their product is currently the only one of its kind and that gives them a strong advantage, but it hasn't stopped the company from improving on the current iteration and developing future prototypes. Micro Emission Ltd. is a prime example of an innovative Japanese company dedicated to using technology to improve the world.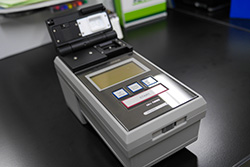 ---
Website: Micro Emission Ltd.