Meet Japanese Companies with Quality
Technology, wisdom and action

MECC Co., Ltd.
Website: MECC Co., Ltd.


Category: Japanese Machinery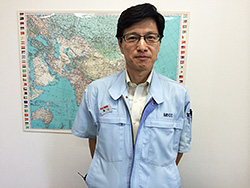 Spurred by invention
When Mechanics Electronics Computer Corporation (MECC) Co., Ltd, was founded in Fukuoka in 1973, there were just three staff members offering repair and maintenance of medical monitors. At the same time however, the company succeeded in developing key pieces of medical equipment, making its name as a pioneer in the field of equipment engineering. Currently, MECC's core business is producing equipment to spin nanofibers-fibers with a diameter of less than 100 nanometers. Its latest NF1001 model launched in January 2012.
Quality across four core businesses
The Nanofiber Division designs and manufactures that range of equipment, and creates its own nanofibers, too. But MECC has three other core lines, producing testing and driver equipment for LCD and OLED displays, broadcast equipment for cable TV, and testers for digital tuners. MECC also operates its own cable station.
After 2000, with the appearance of flat screen TVs and computer monitors, MECC began developing testing systems for LCD and OLED panels. Such systems are now used in the production of smart phones and tablets. At the same time, MECC established a local cable TV station, providing multi-channel broadcasting and internet services.
Collaborative design
MECC's patented technologies include an automatic cleaning system for needle tips to prevent clogging, a technique to create aligned nanofibers, and its multi-jet spinneret. Co-designed by researchers and equipment designers, these devices offer multi-functionality and ease of use. The spinneret runs at high productivity on a relatively low voltage, which has made it popular worldwide for allowing safer and more efficient production at a low cost.
Though MECC offers full maintenance, it rarely has to provide it-its devices simply do not break. Researchers across the globe have found MECC's customized designs and full technical supports allow them to get their jobs done better and faster.
Global recognition
Polymer nanofibers are applied for an increasing range of engineering applications, owing to unique properties such as a large surface-area-to-volume ratio. They can be used as tissue scaffolds in biological and healthcare fields and as chemical sensors and protective filters in the security sphere. MECC electro spinning devices have been used for backlight filters in mobile devices, anti-pollution facemasks, and cosmetic face packs. In Japan, MECC devices are a staple at top-level universities and corporations nationwide, and abroad with research institutes and universities. With a solid reputation for not breaking and requiring minimal maintenance, users in Myanmar, Egypt, Israel and Saudi Arabia-among other areas of the world-have come to rely on MECC products.
---
Website: MECC Co., Ltd.