Meet Japanese Companies with Quality
Form and function in silver harmony

KOYO SEIGA CO., LTD.
Website: KOYO SEIGA CO., LTD.


Category: Japanese Design & Daily goods
Preserving quality, preserving culture
Stepping into the orderly factory of Koyo Seiga Co., Ltd., one immediately observes the notable lack of automated equipment as compared to typical factories. This 100-year-old company still produces its mainstay product of ceramic tiles mostly the old-fashioned way: by hand. That's not to say machines are non-existent-feeders compress and flatten dirt and clay, while mechanical presses mold tiles prior to their baking in high-tech ovens. Koyo Seiga's painstaking methods of tile production not only ensure quality but also preserve a very important part of Japanese culture itself.
A fourth-generation family business
Koyo Seiga was started by company executive Natsuko Sasada's great-grandfather in 1937, in a quiet part of Himeji City in Hyogo Prefecture that was once a center of production for silvery ibushi roof tiles. Around 40 different companies serviced area temples, shrines and residences, yet changes in both production methods and roofing materials have seen that number dwindle to just two: Koyo Seiga and one other company with only a single craftsman. Sasada says both companies probably remain because they chose to become higher-end producers.
A careful production process
Large material manufacturers lowered costs for tiles with automated production but Sasada believes they subsequently lowered quality as well. More cheaply made tiles can develop cracks sooner, she says, due to shorter one-day or two-day baking times. In contrast, Koyo Seiga's baking process lasts four days, and temperatures are gradually increased to a maximum of 1,165 degrees Celsius before being gradually reduced at a nearly identical rate. Sasada says this helps produce a solid tile that can withstand extremes in either hot or cold temperatures. The tiles are then smoked to give their silvery finish known as ibushi. Comprised of just soil and carbon, the company says all their Koyo Ibushi tiles are safe for humans and the environment.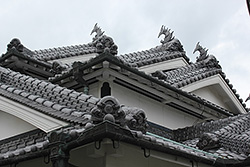 Renovating Himeji Castle's roof tiles
Koyo Seiga is currently a project member in producing tiles for the renovation of nearby World Heritage Site Himeji Castle among other domestic projects. Sasada also receives requests from customers abroad-such as restaurants in such far-flung places as Turkey and the U.S.-who seek authentic Japanese tiles in a variety of shapes and sizes.
Mosaic ibushi tiles for a modern look
Yet Sasada also saw the potential for the stately ibushi appearance to be used in other applications. Considering size and weight limitations for international shipping, Koyo Seiga developed small, square mosaic tiles in heights and widths of only 1.5, 2.9 or 3.4 centimeters and branded as "Arare." Glued onto larger sheets, they're applied to surfaces to create a stately look that's simultaneously modern and traditional. Sasada says the unique appearance has caught the eye of New York designers.
Elegance in Japan's traditional technology
Whether they prefer the traditional roof tiles or smaller mosaic panels, Sasada hopes customers both inside and outside Japan will appreciate the elegance of Koyo Seiga's ibushi tiles. "This is an important technology for Japan, and I'd like others to experience its quality," she says.
---
Website: KOYO SEIGA CO., LTD.